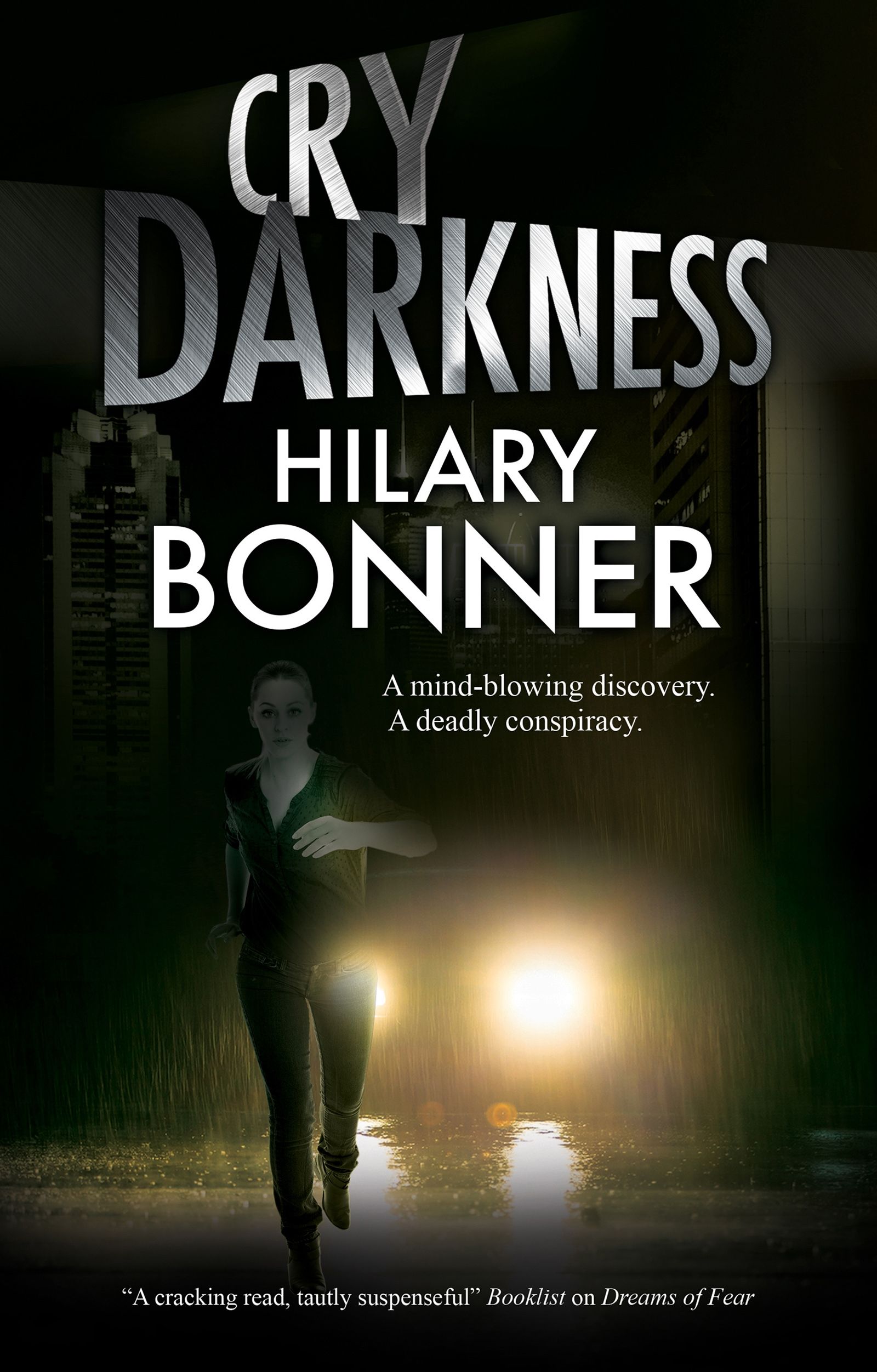 Cry Darkness
by Hilary Bonner
A mind-blowing discovery. A deadly conspiracy.
Caught off-guard when she receives an unexpected phone call from an old friend she hasn't seen in 20 years, Dr Sandy Jones gives Connie Pike a polite brush-off. A few days later, she learns that Connie has been killed in an explosion at her Princeton laboratory.
Consumed by guilt, Jones heads to New Jersey, determined to find out the truth behind Connie's death – and exactly what Connie had been trying to tell her in that last anxious phone call. Having previously participated in Connie's and her lab partner, Paul Ruder's, life's work, the study of the human mind, Jones becomes convinced the pair had made a momentous scientific discovery shortly before the explosion, a discovery that could change the world as we know it.
But who are the shadowy figures who are never far behind Jones as she continues her quest for the truth? As she gradually uncovers evidence of a terrifying global conspiracy, Sandy begins to fear for her life – and the lives of those around her.
Reviews
"An academic suspenser whose brainy bits and action scenes both work beautifully"
Kirkus Reviews
"A cracking read, tautly suspenseful"
Booklist on Dreams of Fear
"A crisply written crime novel that methodically reveals the pieces of a complex puzzle"
Kirkus Reviews on Dreams of Fear
"This taut thriller is filled with unexpected twists and turns, leading up to a shocker of an ending"
Booklist on Wheel of Fire
"A gripping novel that will draw admirers of Peter James and Val McDermid"
Library Journal on Deadly Dance
"A formidable crime writer ... Packed with Bonner's sharp eye for detail"
Daily Mail on Deadly Dance
"A suspenseful and disturbing page-turner ... Fully fleshed characters, a masterfully constructed plot, and a shock ending, make for a gripping read"
Booklist on Deadly Dance
Editions
Cry Darkness by Hilary Bonner is available in the following formats
| | | | | | |
| --- | --- | --- | --- | --- | --- |
| Hardback | 9780727890511 | 2nd March 2021 | 148 X 225mm | 272 | $29.99 |
| Hardback | 9780727890511 | 31st December 2020 | 148 X 225mm | 272 | £20.99 |
| Ebook | 9781448304868 | 1st February 2021 | N/A | 272 | $14.99 |
| Ebook | 9781448304868 | 1st February 2021 | N/A | 272 | £12.99 |
| Hardback - Large Print | 9781448308262 | 29th March 2022 | 144 X 223mm | 400 | $36.95 |
| Hardback - Large Print | 9781448308262 | 27th January 2022 | 144 X 223mm | 400 | £22.99 |
| Paperback | 9781780297484 | 31st August 2021 | 138 X 216mm | 272 | $17.95 |
| Paperback | 9781780297484 | 30th June 2021 | 138 X 216mm | 272 | £12.99 |
| Format | ISBN | Publication Date | Dimensions | Pages | Price |