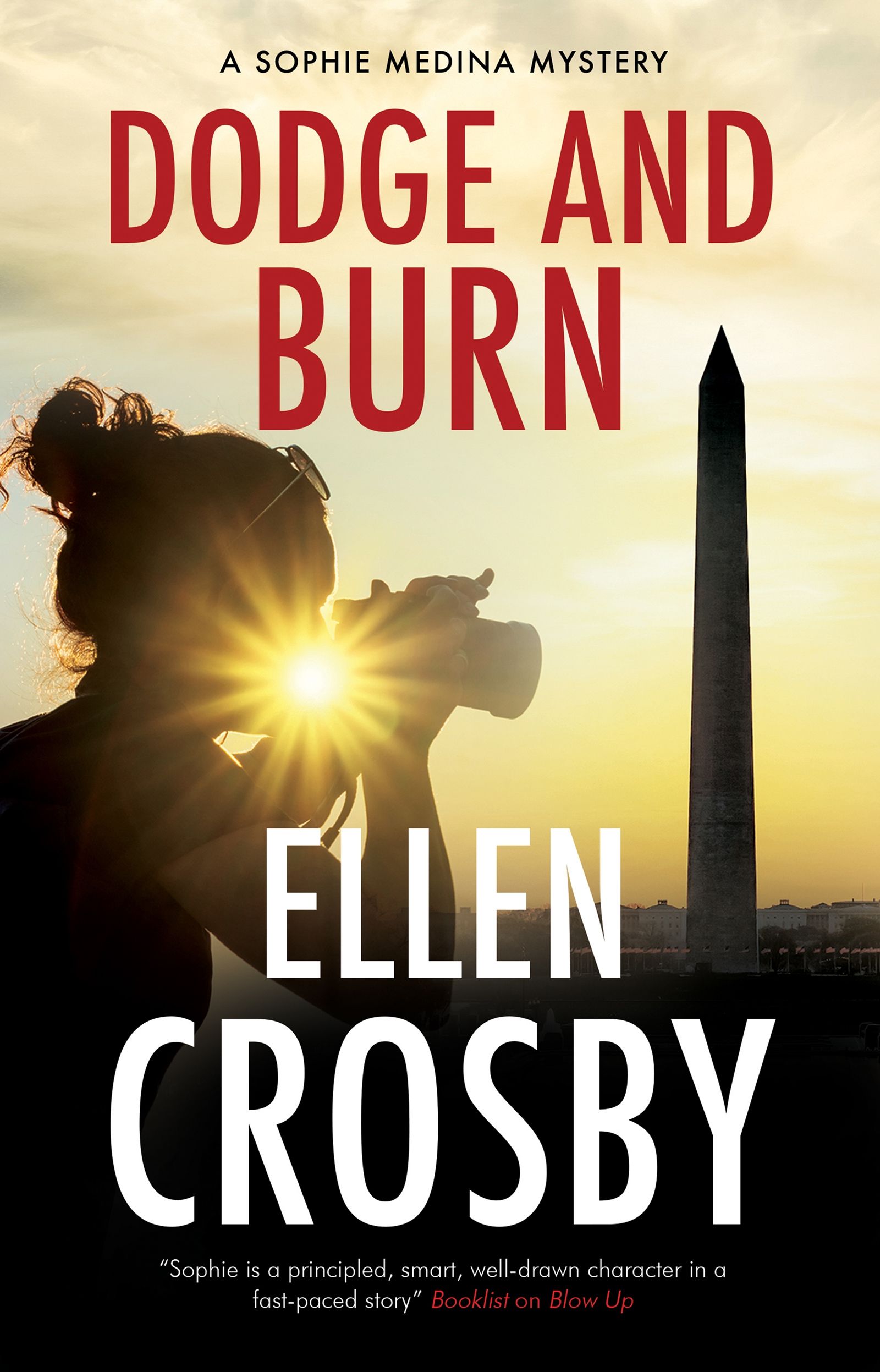 Dodge and Burn
by Ellen Crosby
Washington, DC-based photojournalist Sophie Medina is not a murderer – but someone is determined to make sure she goes down for a crime she did not commit . . .
When billionaire philanthropist and art collector Robson Blake hires Sophie Medina to take photographs for him, she doesn't expect to show up and find her client dead. It seems he was the victim of a burglary gone wrong. But why was his state-of-the-art security system turned off . . . and why, in a house of full priceless Old Masters, is the only thing missing a beautiful but insignificant Ukrainian religious icon?
Before long, Sophie finds herself in the crosshairs of a D.C. homicide detective who suspects she knows more than she is saying about Blake's murder – and he's not wrong. To Sophie's mixed delight and horror, she's recently learned she has a half-brother . . . who might also be an international art thief, with eyes on Blake's collection.
As the police get closer to finding Blake's killer, Sophie is certain someone is trying to frame her for his murder. Can she find the real killer in time – even if it means turning in her own brother to prove her innocence?
The latest instalment in this gripping series featuring fearless photojournalist Sophie Medina is a great choice for readers who enjoy high-flying female sleuths, deft red-herrings and page-turning plot twists, and glamorous settings.
Reviews
"Recommended for fans of Crosby and of novelists who specialize in intricate plots and amateur detectives"
Library Journal on Blow Up
"Boldly drawn characters shoulder mysteries set among elite Washington power brokers"
Kirkus Reviews on Blow Up
"Sophie is a principled, smart, well-drawn character in a fast-paced story with multiple plot lines, framed by details of homelessness, DC politics, and photography"
Booklist on Blow Up
Publishers Weekly on Bitter Roots
"Character-driven . . . A good mystery"
Kirkus Reviews on Bitter Roots
"Sophie is a tough, relatable heroine, and with her unconventional job—not to mention her ex-spy husband—this makes for a breezy read with just the right amount of thrills"
Library Journal on Ghost Image
"Intriguing . . . Compelling"
Publishers Weekly on Ghost Image
"A quick-moving mystery with a wealth of fascinating material"
Kirkus Reviews on Ghost Image
"Ghost Image has all my favorite elements--a strong and talented heroine in Sophie Medina, well-drawn and believable characters, fascinating science and history, a wonderful sense of place, and a thrilling race to find a killer and save a world-changing secret. A great read!"
New York Times bestselling author Deborah Crombie on Ghost Image
Editions
Dodge and Burn by Ellen Crosby is available in the following formats
| | | | | | |
| --- | --- | --- | --- | --- | --- |
| Hardback | 9781448311590 | 7th May 2024 | 147 X 222mm | 240 | $31.99 |
| Hardback | 9781448311590 | 7th May 2024 | 147 X 222mm | 240 | £21.99 |
| Ebook | 9781448311606 | 7th May 2024 | N/A | 240 | $24.99 |
| Ebook | 9781448311606 | 7th May 2024 | N/A | 240 | £20.99 |
| Format | ISBN | Publication Date | Dimensions | Pages | Price |