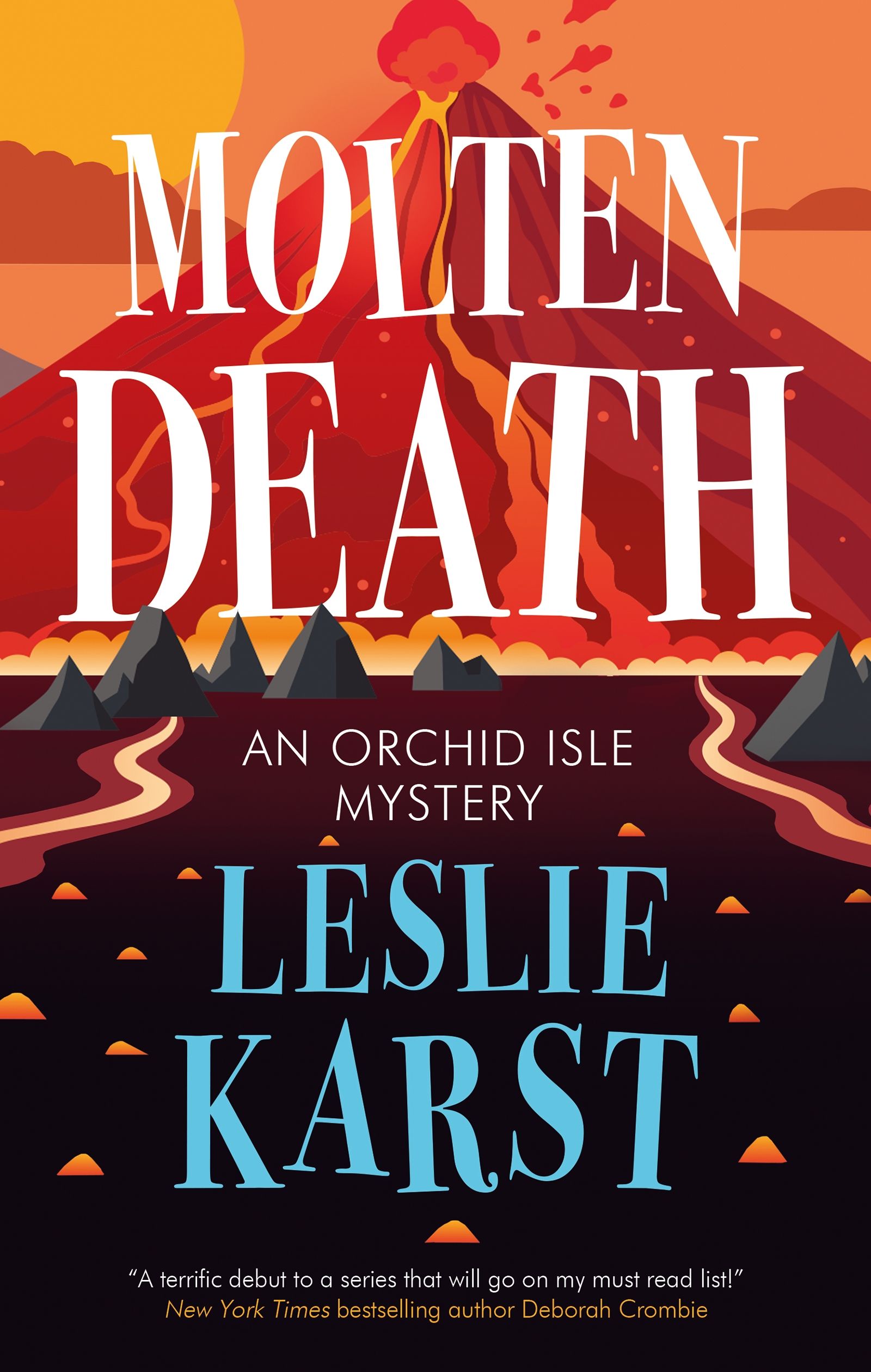 Molten Death
by Leslie Karst
A glimpse of a quickly melting corpse at the foot of a volcano has amateur sleuth and food enthusiast Valerie Corbin shocked. But how can she investigate a murder, when there's no evidence the victim ever existed?
The first Orchid Isle cozy mystery, set in tropical Hilo, Hawai'i, introduces a fun and feisty LGBTQ+ couple who swap surfing lessons for sleuthing sessions!
Retired caterer Valerie Corbin and her wife Kristen have come to the Big Island of Hawai'i to treat themselves to a well-earned tropical vacation. After the recent loss of her brother, Valerie is in sore need of a distraction from her troubles and is looking forward to enjoying the delicious food and vibrant culture the state has to offer.
Early one morning, the couple and their friend – tattooed local boy, Isaac – set out to see an active lava flow, and Valerie is mesmerized by the shape-shifting mass of orange and red creeping over the field of black rock. Spying a boot in the distance, she strides off alone, pondering how it could have gotten there, only to realize to her horror that the boot is still attached to a leg – a leg which is slowly being engulfed by the hot lava.
Valerie's convinced a murder has been committed – but as she's the only witness to the now-vanished corpse, who's going to believe her?
Determined to prove what she saw, and get justice for the unknown victim, Valerie launches her own investigation. But, thrown into a Hawaiian culture far from the luaus and tiki bars of glossy tourist magazines, she soon begins to fear she may be the next one to end up entombed in shiny black rock . . .
The amiable characters, stunning backdrop and culinary delights make this the perfect cozy of fans who enjoy a tropical vacation with a twisty murder mystery and compelling Hawai'ian culture – paired with an added bonus of recipes of local Hawai'ian dishes!
Reviews
"A suspenseful dive into the Hawai'i tourists don't see, introducing engaging protagonist Valerie Corbin and the fascinating, quirky island community she learns to love. And of course there is delicious food! A terrific debut to a series that will go on my must read list!"
New York Times bestselling author Deborah Crombie
"A gorgeous yet deadly setting, a tenacious amateur sleuth, and a real head-scratcher of a mystery. Will leave readers longing for their next trip to the Orchid Isle"
New York Times bestselling author Jenn McKinlay
"As mysterious as a Hilo rain, fragrant as lychee, melodious as Hawaiian pidgin, and tasty as loco moco, Leslie Karst's Molten Death transports the reader to the best that the Big Island can offer. You won't want to leave!"
USA Today bestselling author Naomi Hirahara
"With its compelling characters and engaging look at the culture and customs of the Big Island of Hawai'i, Molten Death is a delightfully immersive whodunnit. Fans of well-plotted, suspenseful mysteries with a foodie element will eat this one up!"
New York Times bestselling author Kate Carlisle
"Leslie Karst's passion and personal connection to Hawai'i shine on every page. She's created a heroine you'll adore and a mystery that's both touching and twisty. I loved it!"
USA Today bestselling author Ellen Byron
"A clever premise sets this mystery apart, but it's the chill island vibes, local traditions, and captivating couple, Valerie and Kristen, that will keep readers coming back"
Anthony Award finalist Rob Osler
"Culinary cozy fans will be in heaven"
Publishers Weekly on A Sense for Murder
"An enjoyable read for mystery mavens and foodies alike"
Kirkus Reviews on A Sense for Murder
"This well-done culinary cozy should win new fans for the ever enterprising Sally"
Publishers Weekly on The Fragrance of Death
"Lots of suspects and even more food"
Kirkus Reviews on The Fragrance of Death
Editions
Molten Death by Leslie Karst is available in the following formats
| | | | | | |
| --- | --- | --- | --- | --- | --- |
| Hardback | 9781448312160 | 2nd April 2024 | 147 X 222mm | 224 | $31.99 |
| Hardback | 9781448312160 | 2nd April 2024 | 147 X 222mm | 224 | £21.99 |
| Ebook | 9781448312177 | 2nd April 2024 | N/A | 224 | $24.99 |
| Ebook | 9781448312177 | 2nd April 2024 | N/A | 224 | £20.99 |
| Format | ISBN | Publication Date | Dimensions | Pages | Price |