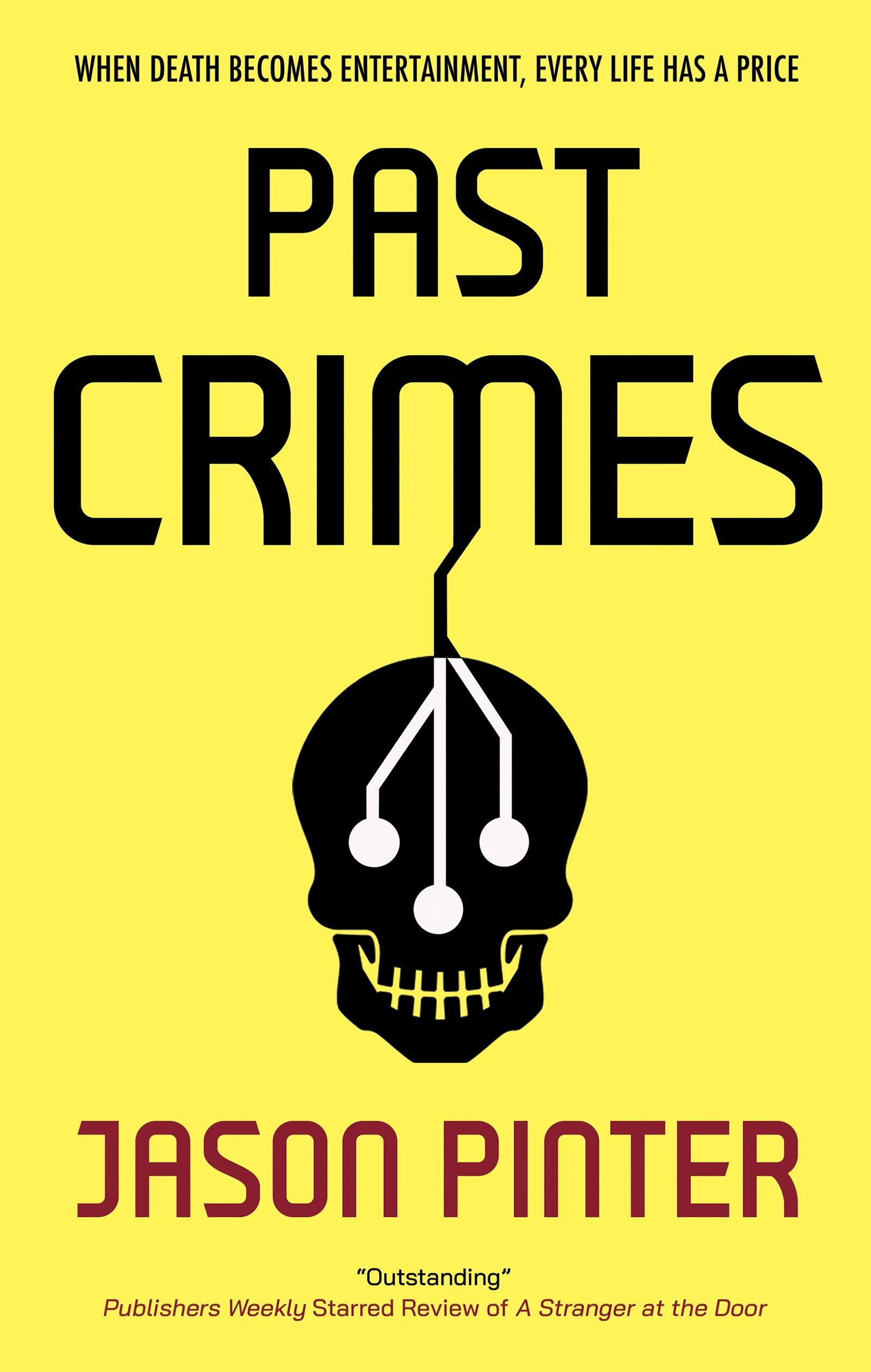 Past Crimes
by Jason Pinter
When death becomes entertainment, every life has a price. And Cassie West is about to find out how much hers is worth . . . Ready Player One meets Black Mirror in this stunning speculative thriller set in a future world in which virtual reality isn't just a game, it's daily life.
"Wow" Lee Child on Hide Away
"Absolutely addictive" Lisa Gardner on Hide Away
"You'll burn through the pages" David Baldacci on Hide Away
Welcome to Earth+. The year is 2037, and nearly all human interactions have migrated to the virtual world. Now, true crime fans don't just listen to podcasts or watch documentaries – they participate in hyper-realistic simulations and hunt for clues to solve the most famous and gruesome crimes in history. Criminal entertainment is a multibillion-dollar industry, and at the forefront is Past Crimes: known by its millions of fans as the Disneyland of Death.
Cassie West licenses crimes for V.I.C.E, spending long hours convincing grieving families to allow her to sell their tragedies to the highest bidder. Life is hard, and the cost of living high, but she and her husband Harris have never been happier. After years of trying, Cassie is finally pregnant.
But leaving work late one evening, Cassie starts to worry. Harris isn't responding to texts or calls. Even worse, dozens of emergency drones seem to be heading in the same direction as she is: straight to their home.
What she finds there changes everything. Soon, Cassie finds herself in a fight for survival, becoming a target in both the real and virtual worlds. But it's not just her own life at stake. If Cassie can't uncover the truth of what happened to her husband, thousands more may die . . .
Action-packed, satirical and beyond compelling, Past Crimes examines our obsession with true crime and how the pain of others has become a multi-billion-dollar industry, while also exploring the sinister possibilities of the virtual world.
Reviews
"Outstanding . . . a convincing, moving performance"
Publishers Weekly Starred Review of A Stranger at the Door
"Full-bodied characters in a compelling plot"
Booklist Starred Review of A Stranger at the Door
"Pinter's strong depictions of diverse types of love, respect, and loyalty resonate loudly in this nail-biter novel"
Library Journal on A Stranger at the Door
"Beneath the brutality in this suspenseful thriller lie bone-deep fear and a genuine concern for justice"
Kirkus Reviews on A Stranger at the Door
"Chilling and suspenseful, a page turner in the best sense"
William Landay, New York Times bestselling author on A Stranger at the Door
"Pinter does a masterful job of ramping up suspense . . . spinning an absolutely riveting plot with a cast of full-bodied, fallible characters . . . Fans of both domestic thrillers and police procedurals should get in at the start"
Booklist Starred Review of Hide Away
"Pinter's . . . outstanding series launch is a deft combination of domestic suspense and police procedural that recalls the works of Harlan Coben and Linwood Barclay. Both an unstoppable force of nature and painfully human, Rachel is a heroine readers will not soon forget"
Library Journal Starred Review of Hide Away
"Pinter creates engaging characters . . . and keeps the suspense taut"
Kirkus Reviews on Hide Away
"Without sacrificing character development, Pinter keeps the plot moving and the suspense high all the way to the satisfying ending. Readers will look forward to Rachel's further adventures"
Publishers Weekly on Hide Away
"Wow – I knew Pinter was good, but not this good. Hide Away kicks off what should be an amazing new series"
Lee Child, New York Times bestselling author on Hide Away
Editions
Past Crimes by Jason Pinter is available in the following formats
| | | | | | |
| --- | --- | --- | --- | --- | --- |
| Hardback | 9781448312122 | 6th February 2024 | 147 X 222mm | 288 | $31.99 |
| Hardback | 9781448312122 | 6th February 2024 | 147 X 222mm | 288 | £21.99 |
| Ebook | 9781448312139 | 6th February 2024 | N/A | 288 | $24.99 |
| Ebook | 9781448312139 | 6th February 2024 | N/A | 288 | £20.99 |
| Format | ISBN | Publication Date | Dimensions | Pages | Price |