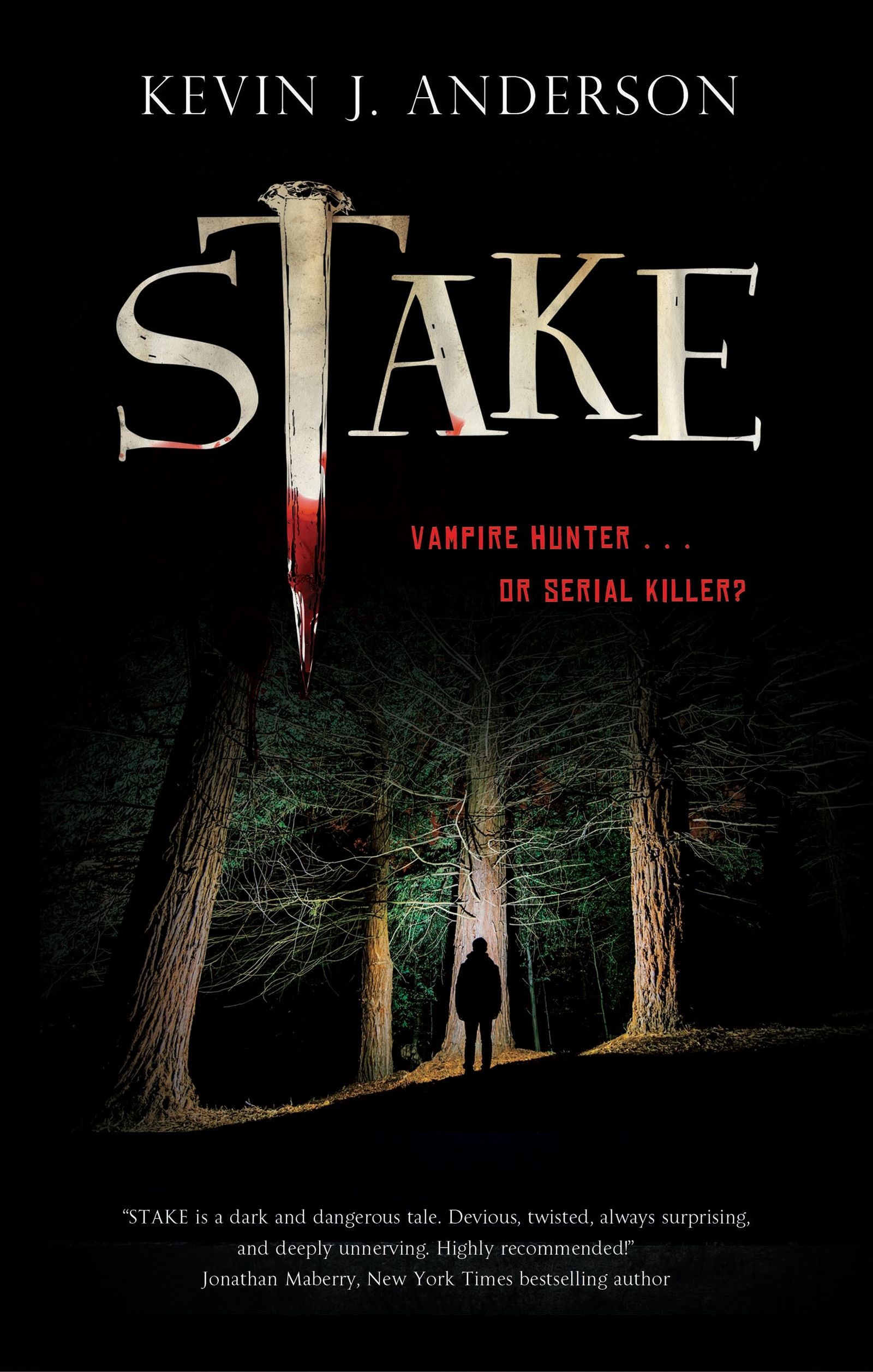 Stake
by Kevin J. Anderson
Vampire hunter or serial killer? That depends on whether vampires exist . . .

Simon Helsing believes the only way to stop a bad guy with fangs is a good guy with a stake. He has devoted his life to ridding the world of vampires. He hunts them, finds their daytime lairs, and pounds a stake through their hearts.
Lexi Tarada wants to believe. She's desperate to prove that the strange and impossible can be real. She runs a website for the unexplained and tries to sift through the crazy conspiracy theories to find out what is – or might be – real.
Detective Todd Carrow is a skeptic. Haunted by visions of brutal killings from a previous case, he sees the latest gruesome murders as nothing more than the actions of a madman targeting innocents.
Helsing is convinced he's doing good, but what if vampires aren't real and Carrow is right?
Reviews
"A freshly told tale that effectively incorporates elements of mystery and horror, with a trio of central characters who, each in their own way, command the reader's attention. A fine new novel from a writer who consistently delivers the goods"
Booklist
"A diverting mystery from Anderson, told with wit and brio … Fans of lighter vampire fare will want to check this one out"
Publishers Weekly
"Stake is a dark and dangerous tale. Devious, twisted, always surprising, and deeply unnerving. Highly recommended!"
Jonathan Maberry, New York Times bestselling author
"The pages turn almost by themselves, because you absolutely, categorically have to find out what happens next"
Kirkus Reviews on Spine of the Dragon
"Anderson creates a brisk and engaging narrative that should please readers"
Booklist on Spine of the Dragon
"Kevin J. Anderson has become the literary equivalent of Quentin Tarantino"
The Daily Rotation
"One of the greatest talents writing today, Kevin J. Anderson is a master of adventures that are filled with dynamic, unforgettable characters"
Sherrilyn Kenyon, bestselling author of the Dark-Hunter series
"A tension-filled thriller overlaid with fascinating science"
Booklist on Kill Zone
"Anderson's imagination is as vast as space itself"
Booklist on The Saga of the Seven Suns
Editions
Stake by Kevin J. Anderson is available in the following formats
| | | | | | |
| --- | --- | --- | --- | --- | --- |
| Hardback | 9780727890535 | 4th August 2020 | 148 X 225mm | 256 | $28.99 |
| Hardback | 9780727890535 | 30th April 2020 | 148 X 225mm | 256 | £21.99 |
| Ebook | 9781448304257 | 1st June 2020 | N/A | 256 | $10.99 |
| Ebook | 9781448304257 | 1st June 2020 | N/A | 256 | £8.99 |
| Hardback - Large Print | 9781780291710 | 30th March 2021 | 144 X 221mm | 368 | $36.95 |
| Hardback - Large Print | 9781780291710 | 29th January 2021 | 144 X 221mm | 368 | £22.99 |
| Paperback | 9781780297040 | 26th January 2021 | 137 X 215mm | 256 | $17.95 |
| Paperback | 9781780297040 | 30th November 2020 | 137 X 215mm | 256 | £13.99 |
| Format | ISBN | Publication Date | Dimensions | Pages | Price |