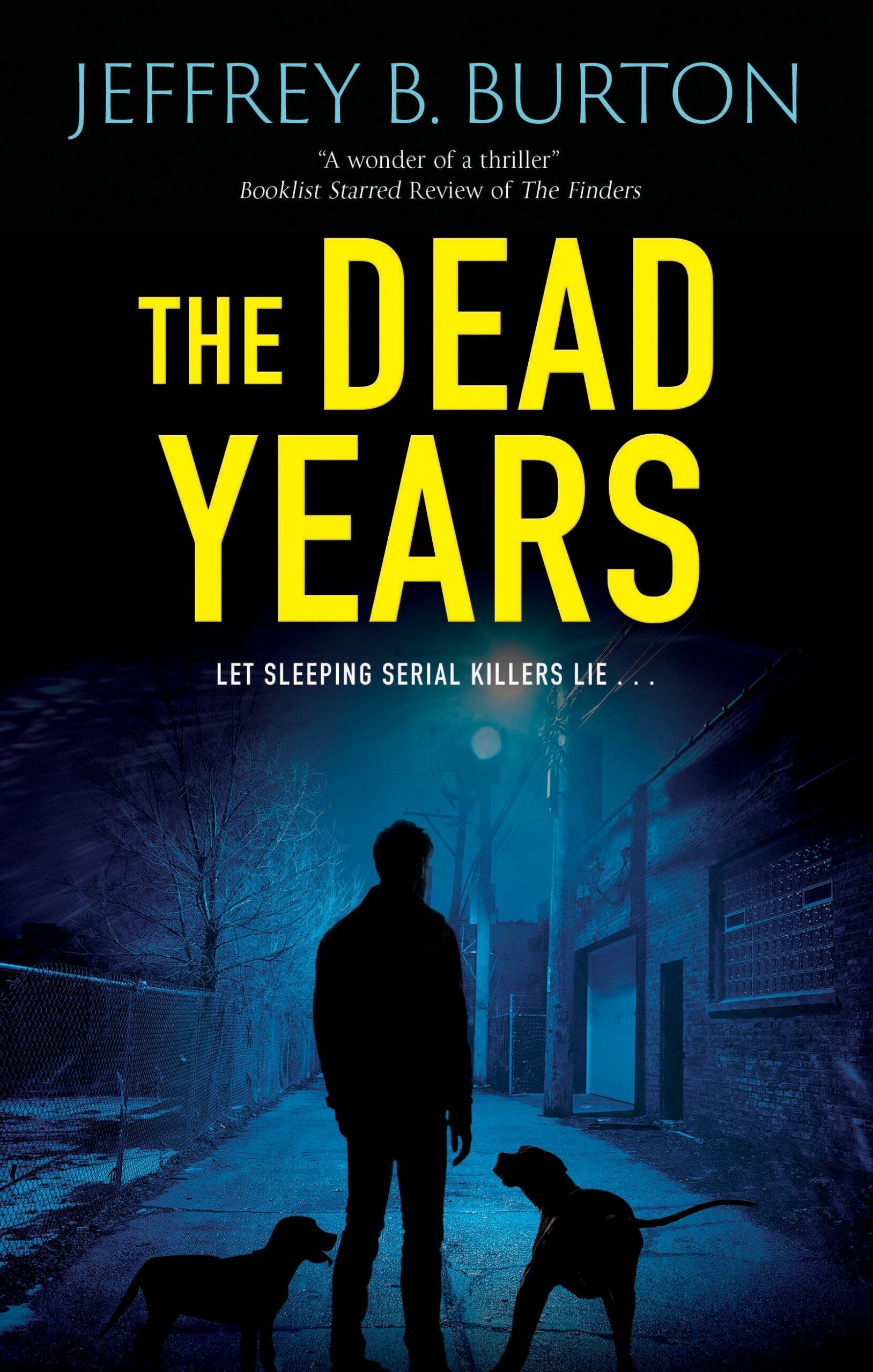 The Dead Years
by Jeffrey B. Burton
A serial killer, dormant for years, reawakens after viewing a Netflix docuseries depicting his string of homicides. The killer is not happy with his portrayal and no one in the cast and crew is safe! The first instalment of a gripping new thriller series set in Chicago and featuring a young sibling sleuth-duo and their working dogs.
Siblings Cory and Crystal Pratt are still trying to get their lives together after a tragic accident which killed their parents years ago. The only thing that distracts them now is their jobs. With Crystal working as a newly minted detective at the Chicago Police Department and Cory owning a dog training academy with two human remains detection dogs of his own, their professional paths cross every now and then.
Crime, and especially murder, in Chicago is nothing new, but when a string of killings happen that seem to be connected to a Netflix docuseries and its cast and crew, Cory and Crystal are called in to stop the number of bodies from piling any higher.
But when the siblings start poking around the killer's business, the killer sets their sights on the pair . . . and particularly on Cory and his dogs! Will they be able to escape the fury of the serial killer or become the newest victims?
This fast-paced thriller, with insight into a serial killer's mind, is a perfect up-all-night binge-read, and a great choice if you love spirited detectives, great action – and very good dogs!
Reviews
"Will keep readers turning the pages. Dog lovers are in for a treat"
Publishers Weekly on The Lost
"An intricately plotted, fast-paced story . . . For fans of K-9 mysteries"
Library Journal on The Lost
"Burton displays a too-rare knack for keeping the heat on while moving a complex story to its finale, all the while injecting welcome jolts of humor"
Booklist on The Lost
"The Lost grabs you with both hands and keeps you turning the pages to the very end. Burton's tremendous talent for storytelling is gripping, suspenseful, and spot on. And if you are a dog lover, this book is essential reading. I highly recommend it"
Allen Eskens, bestselling author of The Life We Bury, on The Lost
"A thriller that's not only compelling but offers a good many chuckles along the way. The plot is wonderfully twisty. Add to the mix a pack of cadaver dogs that'll charm your socks off, a wry narrative voice, and you've got the recipe for a deliciously delightful read. You'll savor this one, I guarantee it"
William Kent Krueger, New York Times bestselling author, on The Lost
"A high-octane thriller that will keep you guessing until the electrifying ending. Exceptional character development and breakneck pacing"
Liv Constantine, bestselling author of The Last Mrs. Parrish, on The Lost
"Corrupt politicians, the mob, a brutal killer, and a shocking death combine in a fast-paced story of an ordinary man and his extraordinary dogs. For fans of Paula Munier's or Susan Furlong's books featuring dogs"
Library Journal Starred Review of The Keepers
"The fast-paced, action-packed plot builds to a thrilling finale. Burton carefully crafts each dog's personality, ensuring that they, like the humans, are fully realized characters. Dog lovers are in for a treat"
Publishers Weekly on The Keepers
"[A] celebration of great mystery fiction, complex characters, and a smart and loveable cadaver dog. Riveting, scary, funny, and devious as hell! Highly recommended"
Jonathan Maberry, New York Times bestselling author, on The Keepers
"Taut and gritty, Burton expertly weaves a narrative that begs, 'just one more page . . .'"
J. D. Barker, New York Times bestselling author, on The Keepers
Editions
The Dead Years by Jeffrey B. Burton is available in the following formats
| | | | | | |
| --- | --- | --- | --- | --- | --- |
| Hardback | 9781448312412 | 5th March 2024 | 147 X 222mm | 224 | $31.99 |
| Hardback | 9781448312412 | 5th March 2024 | 147 X 222mm | 224 | £21.99 |
| Ebook | 9781448312405 | 5th March 2024 | N/A | 224 | $24.99 |
| Ebook | 9781448312405 | 5th March 2024 | N/A | 224 | £20.99 |
| Format | ISBN | Publication Date | Dimensions | Pages | Price |