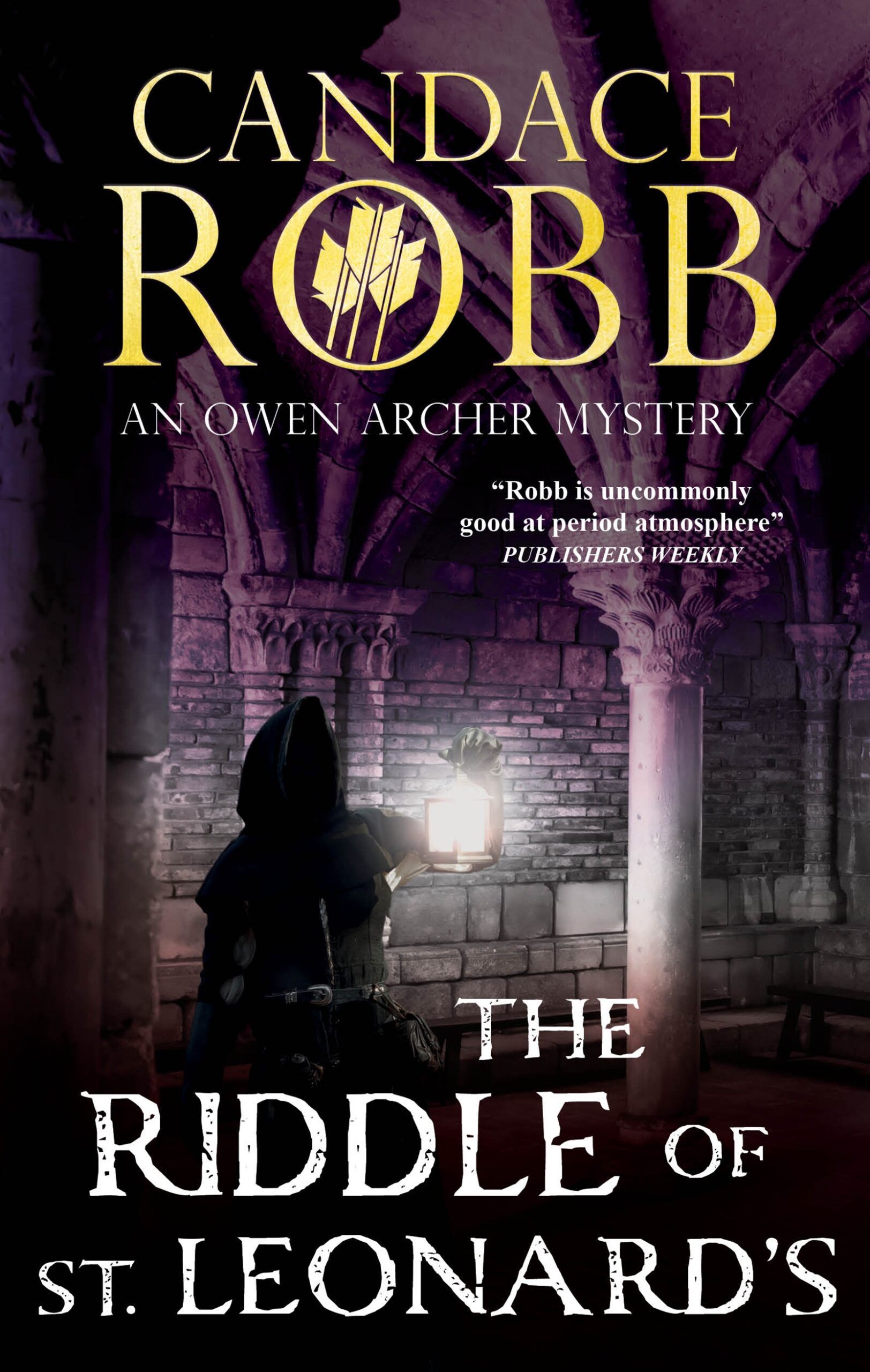 The Riddle of St. Leonard's
by Candace Robb
Is nowhere safe in York? As the plague wreaks havoc on the city, Owen Archer must solve a puzzle involving scandal, theft and murder sweeping through a local hospital.

York, 1369. As pestilence rages through the city of York, strange things are afoot at St. Leonard's Hospital. Corrodians are dying in mysterious circumstances and riches belonging to the hospital have been stolen.
AN EVIL THAT KNOWS NO BOUNDS.
When a fire claims the life of a corrodian and badly injures another, it's clear it was no accident – both men were violently attacked. With a suspicious death and a lay sister suspected of being behind the thefts, Sir Richard de Ravenser, Master of St. Leonard's, appeals to his uncle, the Archbishop of York, for Owen Archer's help.
A RIDDLE WITHIN A RIDDLE . . .
Can Owen restore harmony to the hospital? To solve the riddle of St. Leonard's, Owen must first solve a puzzle linked to one of the victims . . .
THE OWEN ARCHER MYSTERIES
1. The Apothecary Rose
2. The Lady Chapel
3. The Nun's Tale
4. The King's Bishop
5. The Riddle of St. Leonard's
6. The Gift of Sanctuary
7. A Spy for the Redeemer
8. The Cross-Legged Knight
9. The Guilt of Innocents
10. A Vigil of Spies
11. A Conspiracy of Wolves
12. A Choir of Crows
13. The Riverwoman's Dragon
14. A Fox in the Fold
Reviews
"Gripping and believable . . . you can almost smell the streets of 14th-century York as you delve deeper into an engrossing plot"
Prima
"Robb is uncommonly good at period atmosphere, immersing the reader in the everyday horrors of the plague; but she distinguishes herself, too, by putting together an engrossing puzzle"
Publishers Weekly
"Robb writes lyrically, as always, and her characters are vivid and believable"
Kirkus Reviews
"Robb reinforces her place among the top writers of medieval historicals"
Publishers Weekly Starred Review of The Fox in the Fold
"Meticulously researched, authentic and gripping"
Yorkshire Evening Post on Vigil of Spies
Editions
The Riddle of St. Leonard's by Candace Robb is available in the following formats
| | | | | | |
| --- | --- | --- | --- | --- | --- |
| Ebook | 9781448313280 | 26th December 2023 | N/A | 256 | $6.99 |
| Ebook | 9781448313280 | 26th December 2023 | N/A | 256 | £4.99 |
| Paperback | 9781448313464 | 26th December 2023 | 138 X 216mm | 256 | $18.99 |
| Paperback | 9781448313464 | 26th December 2023 | 138 X 216mm | 256 | £13.99 |
| Format | ISBN | Publication Date | Dimensions | Pages | Price |