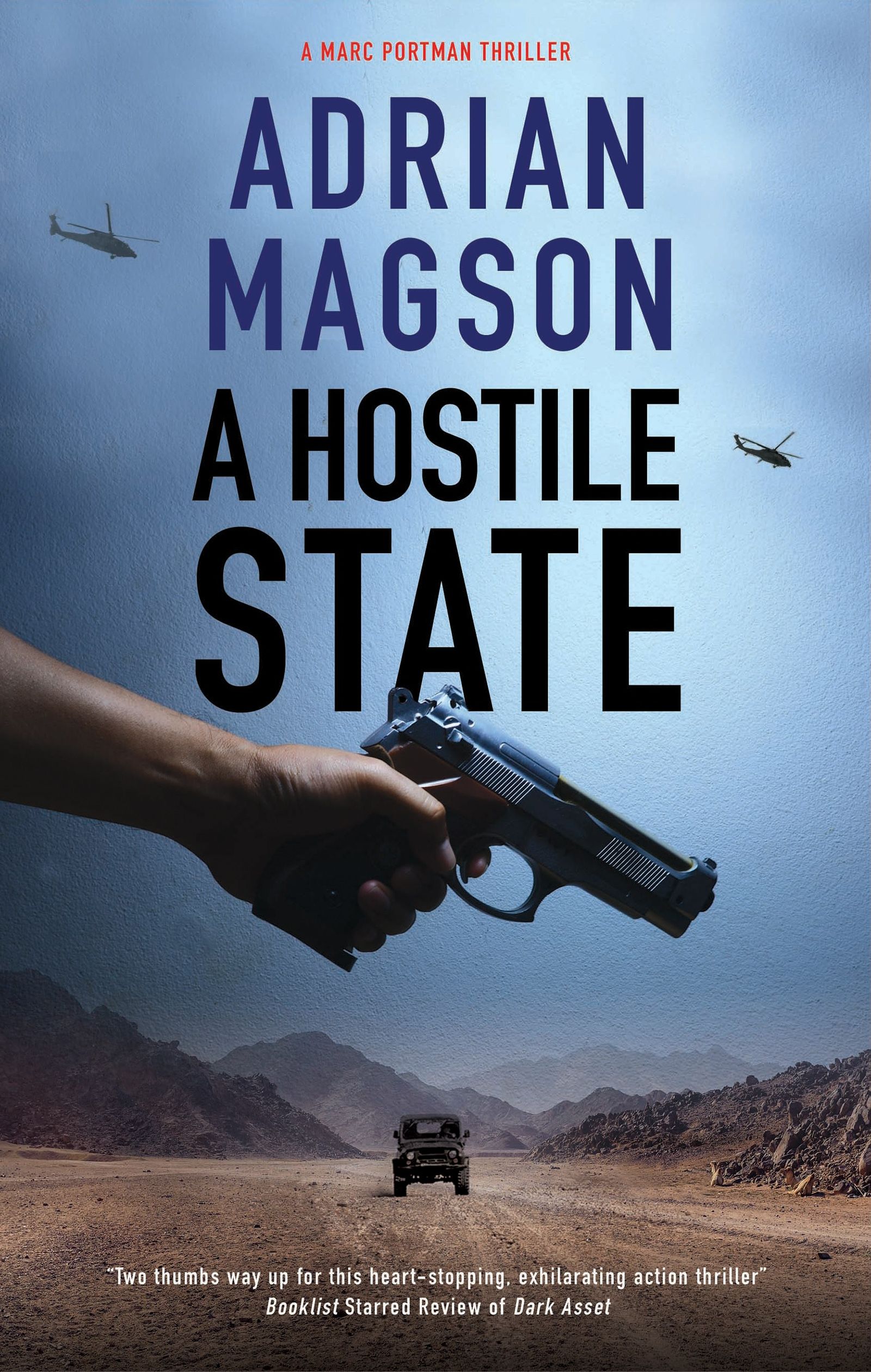 A Hostile State
by Adrian Magson
A routine assignment for deep cover specialist Marc Portman becomes something darker and deeper in this action-packed spy thriller.
Deep cover specialist Marc Portman is in Lebanon on a last-minute assignment. A straightforward collect-and-go job. At least it should have been.
Ambushed by a surprise attack, it's clear that someone must have had advance warning of Portman's arrival. But who is his unseen enemy – clearly one with considerable resources – and why do they want him dead? More importantly, how could his attacker have known of his movements with less than 24 hours' notice?
Concluding there must be an active leak at the heart of the CIA, Portman finds himself virtually alone and on the run, hung out to dry by the powers-that-be. If he is to survive, he must use his unique skill set to turn the tables on his pursuers . . . and beat them at their own game.
Reviews
"A diabolically clever plot … Fans of Magson's Marc Portman series know they can count on pulse-pounding action and plenty of surprising twists, and Magson delivers both in his latest"
Booklist
"A solid cat-and-mouse thriller with a refreshing breakout character"
Kirkus Reviews
"Engrossing … Readers will relate to the well-rounded, capable Portman, who never strays into superman territory as so many spy fiction heroes do"
Publishers Weekly
"The combination of pulse-pounding suspense, delicious twists, and daring heroes, makes for a highly satisfying read"
Booklist on Terminal Black
"Two thumbs way up for this heart-stopping, exhilarating action thriller, which will remind readers of Alex Berenson's John Wells novels"
Booklist Starred Review of Dark Asset
"Has grit, pace, and consistent suspense in its depiction of chases, weaponry, and the details of espionage"
Kirkus Reviews on Dark Asset
"Deft writing, high-octane action, taut suspense, and plenty of twists make this a gripping read"
Booklist on Hard Cover
"Magson writes well and informatively about the spy game"
Publishers Weekly on Hard Cover
Editions
A Hostile State by Adrian Magson is available in the following formats
| | | | | | |
| --- | --- | --- | --- | --- | --- |
| Hardback | 9780727850270 | 4th May 2021 | 145 X 222mm | 256 | $28.99 |
| Hardback | 9780727850270 | 26th February 2021 | 145 X 222mm | 256 | £20.99 |
| Ebook | 9781448305087 | 1st April 2021 | N/A | 256 | $14.99 |
| Ebook | 9781448305087 | 1st April 2021 | N/A | 256 | £12.99 |
| Hardback - Large Print | 9781448308712 | 28th June 2022 | 145 X 224mm | 368 | $36.95 |
| Hardback - Large Print | 9781448308712 | 28th April 2022 | 145 X 224mm | 368 | £22.99 |
| Paperback | 9781780297705 | 26th October 2021 | 140 X 215mm | 256 | $17.95 |
| Paperback | 9781780297705 | 26th August 2021 | 140 X 215mm | 256 | £18.99 |
| Format | ISBN | Publication Date | Dimensions | Pages | Price |
The Marc Portman thriller Series