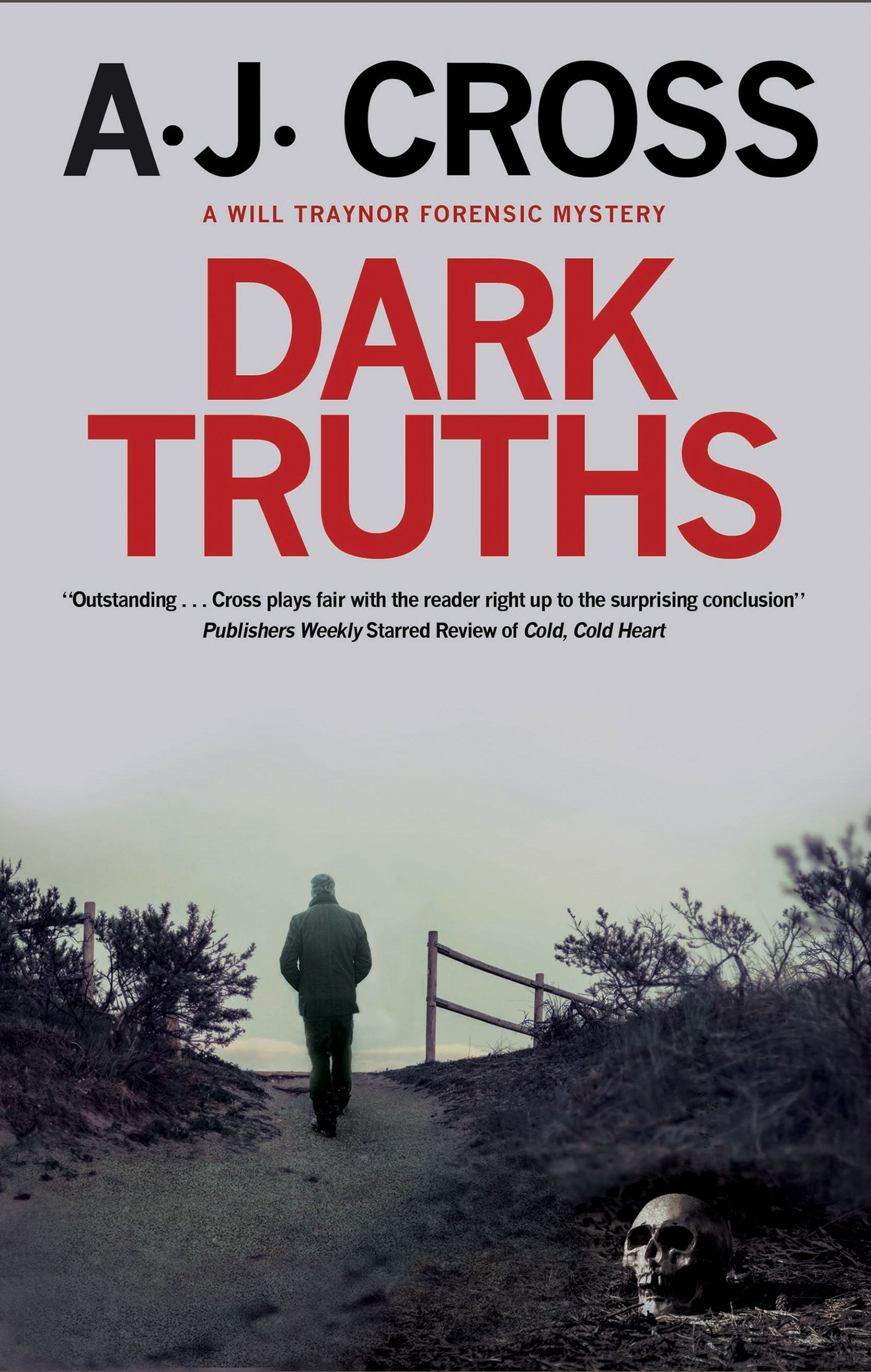 Dark Truths
by A.J. Cross
Introducing criminologist Will Traynor in the first of a gripping new forensic mystery series from an expert in the field.
When a headless body is discovered on a popular jogging trail, Detective Inspector Bernard Watts and his team are plunged headlong into a baffling murder investigation. Why would someone stab to death a young woman on her daily run – and take her head?
When a close examination of the crime scene results in a shocking discovery linking the present murder to a past crime, criminologist Will Traynor is brought in to assist the police. Aware of Traynor's troubled past and already having to deal with inexperienced rookie PC Chloe Judd on his team, Watts is sceptical that Traynor will bring anything useful to the investigation.
He's about to be proved very wrong …
Reviews
"Watching an old pro herd cats as he cracks a tough case should tickle procedural fans everywhere"
Kirkus Reviews
"This series debut is a solid, skillfully written police drama with plenty of twists"
Booklist
"Outstanding ... Cross, herself a forensic psychologist, plays fair with the reader right up to the surprising conclusion"
Publishers Weekly Starred Review of Cold, Cold Heart
"Another keep-'em-guessing instalment of this popular and sharply written crime series ... Characters with notable depth, a provocative plot, and a nifty twist make this a procedural to savor"
Booklist on Cold, Cold Heart
"All the elements of a winning puzzler: a sympathetic heroine, a complicated case, and a crisis to lend a sense of urgency that justice be served"
Kirkus Reviews on Cold, Cold Heart
"An intriguing fair-play puzzle, with an abundant set of plausible suspects and possible motives ... A highly satisfying mystery"
Publishers Weekly on Something Evil Comes
"A gripping, suspenseful, cleverly plotted story with plenty of unusual twists and a smart, independent heroine"
Booklist on A Little Death
Editions
Dark Truths by A.J. Cross is available in the following formats
| | | | | | |
| --- | --- | --- | --- | --- | --- |
| Hardback | 9780727889065 | 7th January 2020 | 145 X 225mm | 240 | $28.99 |
| Hardback | 9780727889065 | 30th September 2019 | 145 X 225mm | 240 | £20.99 |
| Hardback | 9780727889065 | 7th January 2020 | 145 X 225mm | 240 | $28.99 |
| Hardback | 9780727889065 | 30th September 2019 | 145 X 225mm | 240 | £20.99 |
| Ebook | 9781448303441 | 1st November 2019 | N/A | 240 | $10.99 |
| Ebook | 9781448303441 | 1st November 2019 | N/A | 240 | £8.99 |
| Hardback - Large Print | 9780727892966 | 2nd February 2021 | 148 X 225mm | 384 | $36.95 |
| Hardback - Large Print | 9780727892966 | 29th December 2020 | 148 X 225mm | 384 | £22.99 |
| Hardback - Large Print | 9780727892966 | 2nd February 2021 | 148 X 225mm | 384 | $36.95 |
| Hardback - Large Print | 9780727892966 | 29th December 2020 | 148 X 225mm | 384 | £22.99 |
| Paperback | 9781780296456 | 24th November 2020 | 140 X 216mm | 240 | $17.95 |
| Paperback | 9781780296456 | 30th September 2020 | 140 X 216mm | 240 | £12.99 |
| Paperback | 9781780296456 | 24th November 2020 | 140 X 216mm | 240 | $17.95 |
| Paperback | 9781780296456 | 30th September 2020 | 140 X 216mm | 240 | £12.99 |
| Format | ISBN | Publication Date | Dimensions | Pages | Price |
The Will Traynor forensic mystery Series