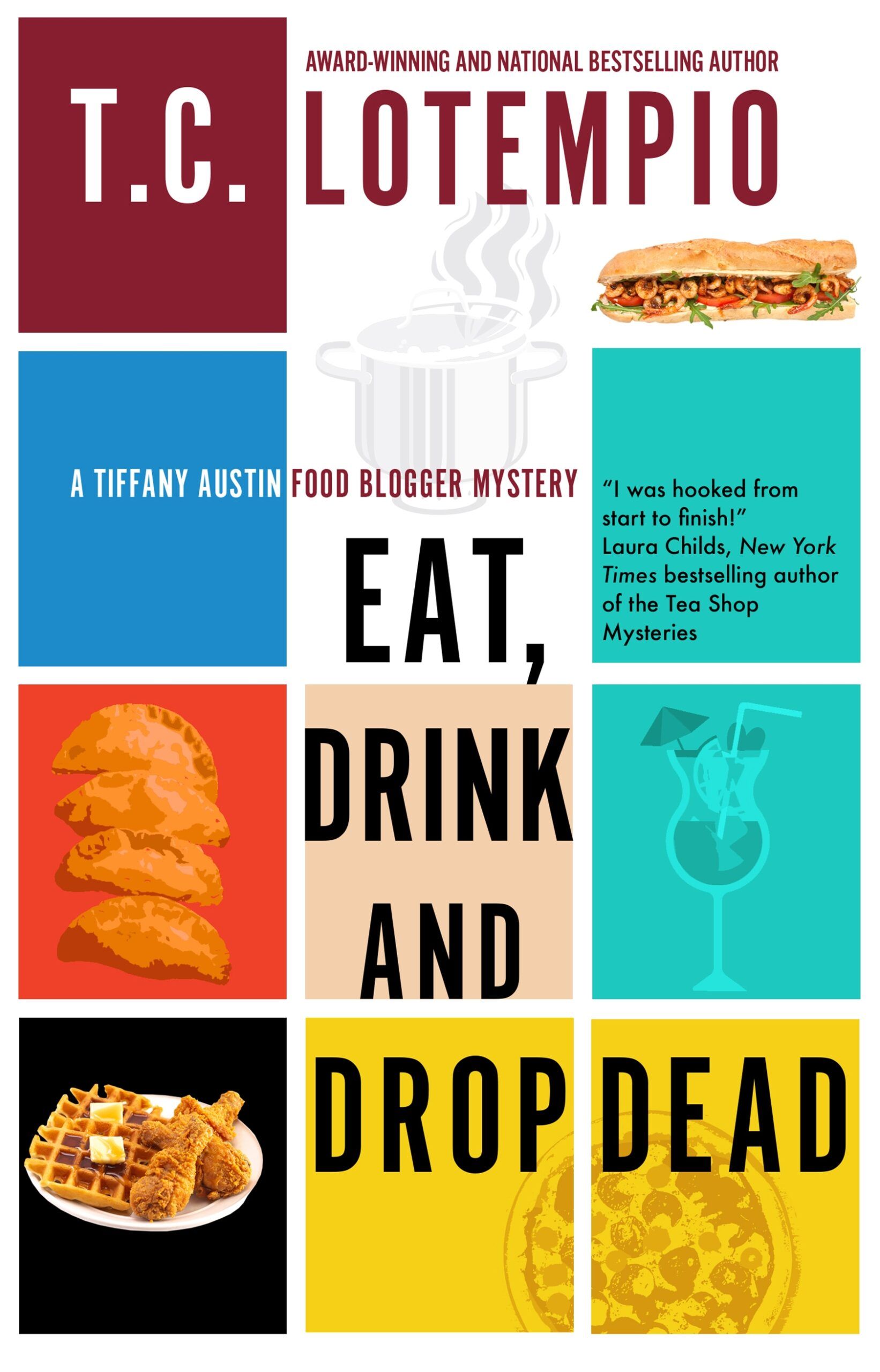 Eat, Drink and Drop Dead
by T.C. LoTempio
A former chef gets mixed up in murder when she moves back to her Southern home town in the first Tiffany Austin food blogger mystery – a culinary cozy that will make your brain work and your stomach rumble!

"I was hooked from start to finish!" Laura Childs, New York Times bestselling author of the Tea Shop Mysteries
Food critic and blogger Tiffany Austin has the best job in the world: she gets to eat for a living. At least, she hopes she has a job. Her trial period at Southern Style magazine is up – and rumors are swirling that management are making a choice between Tiffany and a rival columnist: the ambitious Jenny Lee Plumm.
Former chef Tiffany knows she has a battle on her hands . . . but she didn't realize it was to the death! When her rival's body is discovered after the two have a very public argument, Tiffany finds herself the prime suspect in a murder investigation. The lead detective might be very hot – but Tiffany's definitely not ready to go down for a crime she didn't commit.
Ably assisted by Hilary, her best friend and partner in (non) crime, and bolstered by the unconditional love of her Siamese cat Lily and King Charles Cavalier puppy Cooper, Tiffany plunges into an investigation of her own. After all, she has a degree from the CIA – the Culinary Institute of America – and she's not afraid to use it. But can she find the real killer before she's served up to the cops on a silver platter?
Eat, Drink and Drop Dead is a great pick for fans of delicious culinary cozies by Joanne Fluke, Lucy Burdette, Krista Davis and Jenn McKinlay – if you like smart, savvy female sleuths, twisty mysteries and delicious food, why not give it a try!
Reviews
"This light-hearted series debut has oodles of charm, mouth-watering descriptions of southern cuisine, and a sassy, savvy heroine"
Booklist
"Captivating characters and plenty of intrigue . . . Delightful"
Publishers Weekly
"It's sure to satisfy fans of Lucy Burdette's 'Key West Food Critic' mysteries"
Library Journal
"Easy enough to appeal to a variety of cozy palates"
Kirkus Reviews
"An exciting mystery – Tiffany and Hilary are a hoot! I was hooked from start to finish!"
Laura Childs, New York Times bestselling author of the Tea Shop Mysteries on Eat, Drink and Drop Dead
"Entertaining . . . Cozy fans will be satisfied"
Publishers Weekly on The Time for Murder is Meow
Kirkus Reviews on The Time for Murder is Meow
"What more could a cozy mystery reader want?"
Publishers Weekly on Death by a Whisker
"Reprises LoTempio's signature blend of cozy and cats in a mild mix sure to please fans of the subgenre"
Kirkus Reviews on Death by a Whisker
"An engaging series with a proactive, appealing sleuth . . . Sure to be a hit with cat lovers and cozy readers"
Library Journal on Purr M for Murder
Editions
Eat, Drink and Drop Dead by T.C. LoTempio is available in the following formats
| | | | | | |
| --- | --- | --- | --- | --- | --- |
| Hardback | 9781448310029 | 4th April 2023 | 147 X 224mm | 256 | $31.99 |
| Hardback | 9781448310029 | 4th April 2023 | 147 X 224mm | 256 | £21.99 |
| Hardback | 9781448313662 | 28th May 2024 | 147 X 222mm | 384 | $38.99 |
| Hardback | 9781448313662 | 28th March 2024 | 147 X 222mm | 384 | £23.99 |
| Ebook | 9781448310012 | 4th April 2023 | N/A | 256 | $14.99 |
| Ebook | 9781448310012 | 4th April 2023 | N/A | 256 | £12.99 |
| Paperback | 9781448310531 | 26th December 2023 | 140 X 215mm | 256 | $18.99 |
| Paperback | 9781448310531 | 26th October 2023 | 140 X 215mm | 256 | £13.99 |
| Format | ISBN | Publication Date | Dimensions | Pages | Price |
The Tiffany Austin Food Blogger Mystery Series