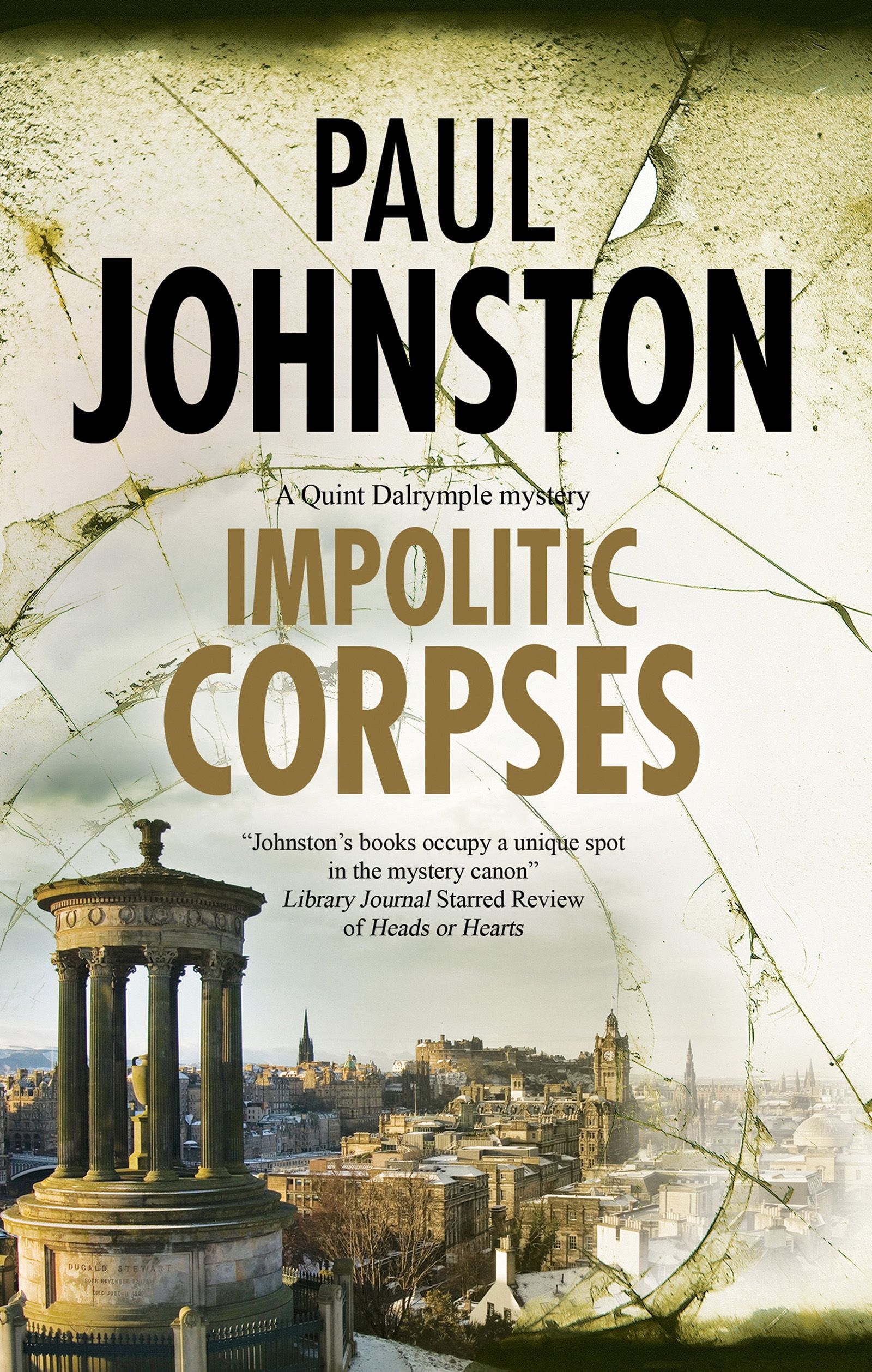 Impolitic Corpses
by Paul Johnston
"Exceptional … The plot twists frequently, building up to a jaw-dropping climax. Series followers and newbies alike will be hooked" – Publishers Weekly Starred Review

Quint Dalrymple investigates the strange disappearance of the Lord of the Isles in this gripping dystopian thriller.

November, 2038. Scotland has been reunified and Edinburgh's thirty-year experiment with supposedly benevolent totalitarianism is over. But there's still plenty of work for ex-investigator Quint Dalrymple, who's looking into an attempted strangling in Leith. A young man has been attacked by an assailant wearing a bizarre tree-fish costume.
Before Quint can make headway, he is asked by the head of government to look into the strange disappearance of the Lord of the Isles. How could Angus Macdonald, leader of the opposition, have vanished from inside his locked bedroom while his valet was sitting outside? And why has a severed finger been hidden in the room?
When a body is discovered, arranged in a disturbingly macabre pose, it becomes clear the two cases are linked. As Quint delves further, he is drawn into a complex web of deception whose threads lead far back into his past …
Reviews
"Exceptional … The plot twists frequently, building up to a jaw-dropping climax. Series followers and newbies alike will be hooked"
Publishers Weekly Starred Review
"Excellent ... As the stakes rise, Johnston keeps the logical twists coming while making his dystopian future plausible"
Publishers Weekly on Skeleton Blues
"Johnston's nightmarish Edinburgh is so densely imagined that it'll linger in the memory"
Kirkus Reviews on Skeleton Blues
"Entertaining and educational ... Johnston's books occupy a unique spot in the mystery canon, but Quint is a familiar character, dogged and committed to his work, similar to V. I. Warshawski or Elvis Cole"
Library Journal Starred Review of Heads or Hearts
"Johnston skilfully fleshes out his despotic future, making it easy for readers to buy into his imagined world"
Publishers Weekly on Heads or Hearts
Editions
Impolitic Corpses by Paul Johnston is available in the following formats
| | | | | | |
| --- | --- | --- | --- | --- | --- |
| Hardback | 9780727889089 | 1st December 2019 | 140 X 225mm | 256 | $28.99 |
| Hardback | 9780727889089 | 30th August 2019 | 140 X 225mm | 256 | £20.99 |
| Ebook | 9781448303397 | 1st October 2019 | N/A | 256 | $10.99 |
| Ebook | 9781448303397 | 1st October 2019 | N/A | 256 | £8.99 |
| Hardback - Large Print | 9781780291505 | 2nd February 2021 | 148 X 225mm | 384 | $36.95 |
| Hardback - Large Print | 9781780291505 | 29th December 2020 | 148 X 225mm | 384 | £22.99 |
| Paperback | 9781780296401 | 24th November 2020 | 140 X 216mm | 256 | $17.95 |
| Paperback | 9781780296401 | 30th September 2020 | 140 X 216mm | 256 | £12.99 |
| Format | ISBN | Publication Date | Dimensions | Pages | Price |
The Quint Dalrymple mystery Series