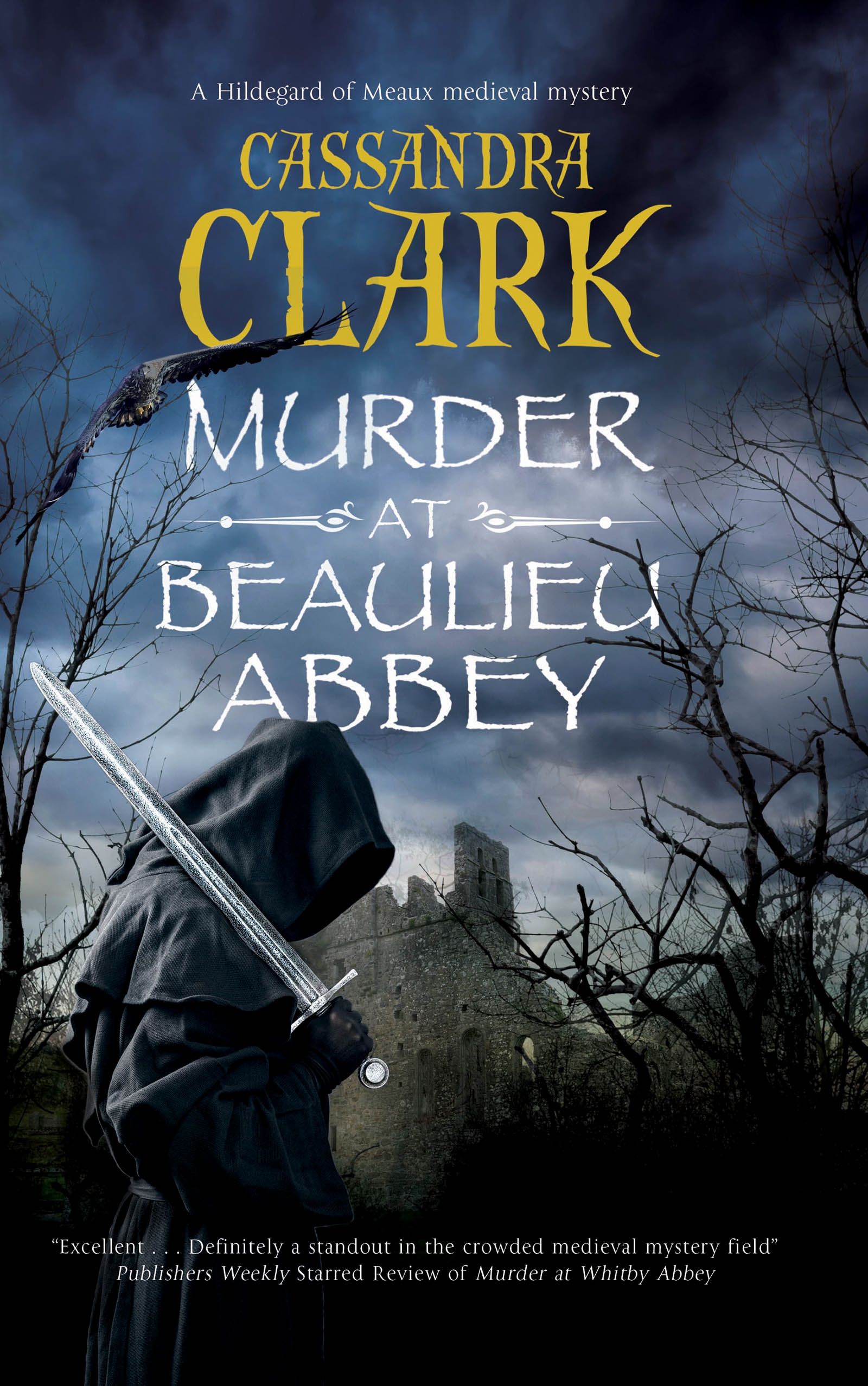 Murder at Beaulieu Abbey
by Cassandra Clark
Death and danger await intrepid nun Hildegard of Meaux when she undertakes a secret mission for the good of her Order, in this eleventh action-packed installment of the medieval mystery series.
February, 1390. Hildegard is given a special assignment by the Prioress of Swyne to escort a young heiress from Beaulieu Abbey to the northern stronghold of Sir William atte Wood. What could be more pleasant than to join a betrothal party, especially as she will be accompanied on the long journey to the New Forest by the two monks militant, Gregory and Egbert.
But there is a more urgent and secret purpose for her mission.
The Western Church is in Schism, with two popes battling for power. The Cistercians are split between the pope in Rome – supported by King Richard – and the pope in Avignon, an ally of the king's French enemies. Which pope will Beaulieu decide to follow? England's future depends on it, and who better than Hildegard to discover Beaulieu's allegiance? But to question such powerful forces brings only death and danger – and even her two militant monks may not be enough to save her.
This action-packed, page-turning medieval mystery is a great choice for fans of holy sleuths like Peter Tremayne's Sister Fidelma and Paul Doherty's Brother Athelstan.
Reviews
"A satisfying addition to the medieval-mystery genre"
Booklist
"Engrossing … Fans of medieval mysteries will be pleased"
Publishers Weekly
"Historical detail abounds in a fast-paced mystery that's one of Clark's best"
Kirkus Reviews
"Excellent … Definitely a standout in the crowded medieval mystery field"
Publishers Weekly Starred Review of Murder at Whitby Abbey
"Authentically mired in fourteenth-century religion, politics, and social unrest, the tenth volume in Clark's consistently superior medieval mystery series will not disappoint fans of the genre"
Booklist on Murder at Whitby Abbey
"One of the heroine's most perilous and exciting adventures"
Kirkus Reviews on Murder at Whitby Abbey
"Readers who favor the political tensions and historical aspects of Ellis Peters's "Brother Cadfael" mysteries will further appreciate this leisurely paced story"
Library Journal on Murder at Whitby Abbey
"A dramatic mystery lavishly studded with period details: Clark's best to date"
Kirkus Reviews Starred Review of The Dragon of Handale
"Fans of strong female sleuths like Peter Tremayne's Sister Fidelma will feel right at home"
Publishers Weekly on A Parliament of Spies
Editions
Murder at Beaulieu Abbey by Cassandra Clark is available in the following formats
| | | | | | |
| --- | --- | --- | --- | --- | --- |
| Hardback | 9780727890894 | 1st June 2021 | 144 X 214mm | 256 | $28.99 |
| Hardback | 9780727890894 | 31st March 2021 | 144 X 214mm | 256 | £20.99 |
| Ebook | 9781448305131 | 1st May 2021 | N/A | 256 | $6.99 |
| Ebook | 9781448305131 | 1st May 2021 | N/A | 256 | £4.99 |
| Hardback - Large Print | 9781448306091 | 27th January 2022 | 144 X 223mm | 368 | $36.95 |
| Hardback - Large Print | 9781448306091 | 25th November 2021 | 144 X 223mm | 368 | £22.99 |
| Paperback | 9781780297750 | 27th January 2022 | 140 X 215mm | 256 | $17.95 |
| Paperback | 9781780297750 | 25th November 2021 | 140 X 215mm | 256 | £12.99 |
| Format | ISBN | Publication Date | Dimensions | Pages | Price |
The Abbess of Meaux mystery Series