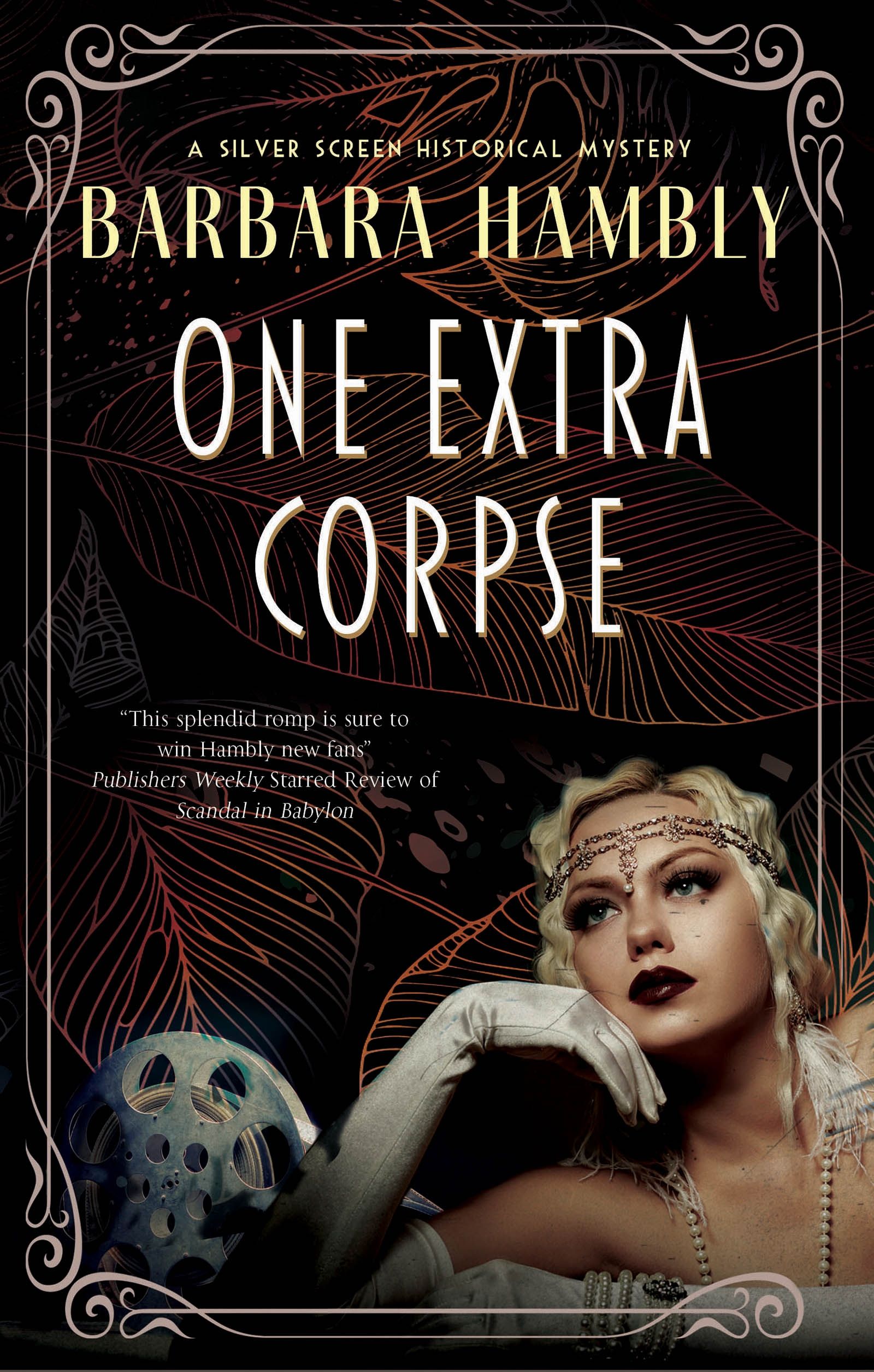 One Extra Corpse
by Barbara Hambly
Hollywood intrigue, glamor . . . and murder: Enter the roaring twenties in this thrilling Silver Screen historical mystery, starring two very different female sleuths.

"Excellent . . . Everything feels just right: the characters are abundantly human, the mystery is beautifully constructed, and the Hollywood milieu is vividly realized" Booklist Starred Review
May, 1924. It's been seven months since young British widow Emma Blackstone arrived in Hollywood to serve as companion to Kitty Flint: her beautiful, silent-movie star sister-in-law. Kitty is generous, kind-hearted . . . and a truly terrible actress. Not that Emma minds; she's too busy making her academic parents turn in their graves with her new job writing painfully historically inaccurate scenarios for Foremost Studios, in between wrangling their leading lady out of the arms of her army of amorous suitors.
So when one of Kitty's old flames, renowned film director Ernst Zapolya, calls Emma and tells her it's imperative he meet with Kitty that morning, she's not surprised. Until, that is, he adds that lives depend on it. Ernst sounds frightened. But what can have scared him so badly – and what on earth does cheerful, flighty Kitty have to do with it?
Only Ernst can provide the answers, and Kitty and Emma travel to the set of his extravagant new movie to find them. But the shocking discovery they make there only raises further questions . . . including: will they stay alive long enough to solve the murderous puzzle?
Reviews
"Excellent . . . Everything feels just right: the characters are abundantly human, the mystery is beautifully constructed, and the Hollywood milieu is vividly realized"
Booklist Starred Review
"This splendid romp is sure to win Hambly new fans"
Publishers Weekly Starred Review of Scandal in Babylon
"A wild lineup of possible killers mingles with historically accurate info in a fast-paced mystery"
Kirkus Reviews
"Exhilarating, exasperating, and dangerous . . . A sparkling series launch featuring Hollywood hijinks and a clever sleuth"
Kirkus Reviews on Scandal in Babylon
"Emma feels fresh: not merely another flapper-era amateur sleuth, but rather a vibrant, intelligent woman with whom readers will enjoy spending time"
Booklist on Scandal in Babylon
"Outstanding . . . Hambly's masterful historical detail, scrupulous character portrayal, and psychological analysis of human frailties contribute handsomely to her storytelling"
Publishers Weekly Starred Review of House of the Patriarch
"A fine entry in impressive series"
Booklist on House of the Patriarch
Booklist Starred Review of Lady of Perdition
Kirkus Reviews on Lady of Perdition
"Hambly's outstanding sequel to 2021's Scandal in Babylon showcases the author's wit and her compassion for the underdog"
Publishers Weekly Starred Review
Editions
One Extra Corpse by Barbara Hambly is available in the following formats
| | | | | | |
| --- | --- | --- | --- | --- | --- |
| Hardback | 9780727850799 | 7th March 2023 | 145 X 220mm | 256 | $30.99 |
| Hardback | 9780727850799 | 7th March 2023 | 145 X 220mm | 256 | £21.99 |
| Ebook | 9781448310234 | 7th March 2023 | N/A | 256 | $14.99 |
| Ebook | 9781448310234 | 7th March 2023 | N/A | 256 | £12.99 |
| Hardback - Large Print | 9781448312702 | 27th February 2024 | 147 X 222mm | 320 | $38.99 |
| Hardback - Large Print | 9781448312702 | 28th December 2023 | 147 X 222mm | 320 | £23.99 |
| Paperback | 9781448310319 | 28th November 2023 | 140 X 215mm | 256 | $18.99 |
| Paperback | 9781448310319 | 28th September 2023 | 140 X 215mm | 256 | £13.99 |
| Format | ISBN | Publication Date | Dimensions | Pages | Price |
The Silver Screen historical mystery Series