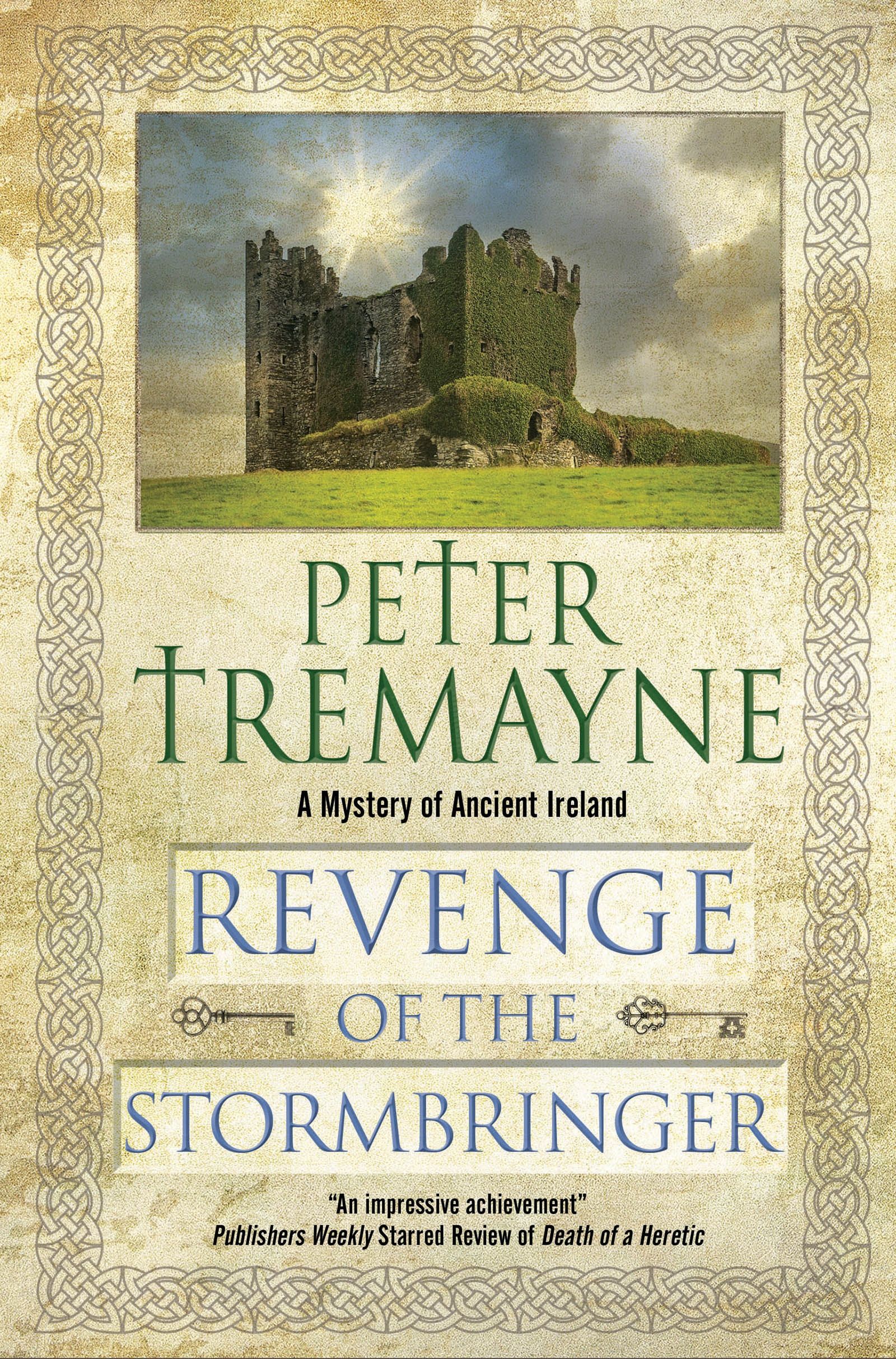 Revenge of the Stormbringer
by Peter Tremayne
Summer, AD 672. Princess Gelgéis has arrived in Cashel with her personal bodyguard, a troop of female warriors called the Daughters of the Storm. When one of them is found slain next to the sleeping chamber of the newly married king and queen and, a short time later, the stewardess of the royal house is poisoned, questions are raised as to everyone's safety . . .
Fidelma and Eadulf must first explain the 'locked room' mystery of how the attack took place in King Colgu's specially built secure apartment. Then they must interrogate the growing list of suspects – even Enda, the commander of the household guard, who had formed a romantic attachment to the murdered attendant, cannot be ignored . . .
As the fair being held to celebrate the king and queen's wedding approaches, tensions mount and Fidelma must work quickly to expose a ruthless killer before it is too late . . .
Sister Fidelma returns in Revenge of the Stormbringer, the thirty-fourth Celtic mystery by Peter Tremayne, acclaimed author of Death of a Heretic, The House of Death, and The Shapeshifter's Lair. If you love Ellis Peters, you'll be gripped by Revenge of the Stormbringer and the Sister Fidelma series.
Reviews
"Fascinating legends and mores of ancient Eire meld seamlessly with a complex mystery"
Kirkus Reviews
"An impressive achievement"
Publishers Weekly Starred Review of Death of A Heretic
"A mystery embedded in a revealing look at the violently differing theological views of early Christians"
Kirkus Reviews on Death of A Heretic
"Tremayne plays fair with the readers while evoking the period in vivid detail. This long-running series remains as fresh and inventive as ever"
Publishers Weekly on The House of Death
"A complex, lovingly written mystery notable for its historical detail and strong heroine"
Kirkus Reviews on The House of Death
"Tremayne expertly incorporates historical and legal details of the time into the suspenseful plot. This impressive volume bodes well for future series entries"
Publishers Weekly Starred Review of The Shapeshifter's Lair
"Fans of ancient history, myths, and swashbuckling adventures are likely to enjoy this tale set in seventh-century Ireland . . . this is a challenging and unusual but deeply satisfying and enjoyable historical thriller"
Booklist on The Shapeshifter's Lair
"One of the best cases for the complex, enchanting Fidelma"
Kirkus Reviews on The Shapeshifter's Lair
Editions
Revenge of the Stormbringer by Peter Tremayne is available in the following formats
| | | | | | |
| --- | --- | --- | --- | --- | --- |
| Hardback | 9781448309801 | 5th December 2023 | 147 X 222mm | 352 | $31.99 |
| Ebook | 9781448312580 | 5th December 2023 | N/A | 352 | $24.99 |
| Format | ISBN | Publication Date | Dimensions | Pages | Price |
The Sister Fidelma Mystery Series