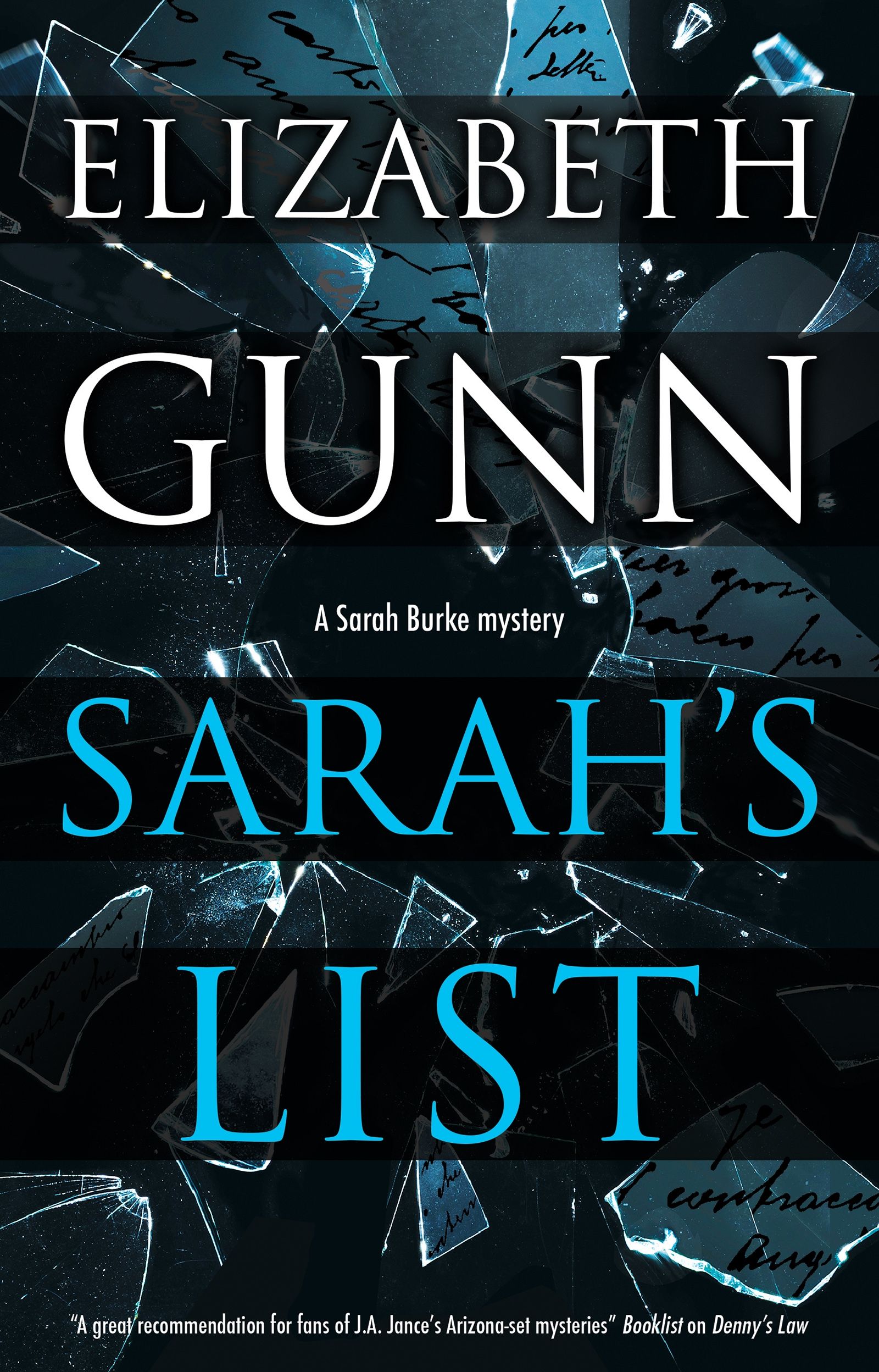 Sarah's List
by Elizabeth Gunn
A car chase ending with the murder of a senior living centre employee draws Detective Sarah Burke into a chilling case where her career – and her life – are soon at risk.
Detective Sarah Burke and new cop Zivko 'Bogey' Boganicevic are sent to an incident at Fairweather Farms senior living center in Tucson. The center's van has suddenly been chased at reckless speed by a carload of bandits firing high-powered rifles, and crashed into its own garage. Arriving at the scene, Sarah makes a grisly discovery: the driver, Enrique Lopez, was shot in the head during the chase. Why was a kindly man, dedicated to looking after the elderly, targeted and killed so dramatically by a team of hoodlums?
As Sarah works through her list of questions, she soon finds herself drawn into the high-stakes world of drugs, deception and mistaken identity where nothing is as it first appears, and she is forced to risk her career – and her life – in her search for answers.
Reviews
"A surprise ending and plenty of quirky characters add depth to this procedural"
Kirkus Reviews
"Fans of no frills police procedurals will be satisfied"
Publishers Weekly
"A great recommendation for fans of J.A. Jance's Arizona-set mysteries"
Booklist on Denny's Law
"An expert police procedural with plenty of quirks and twists that raise it well above the average"
Kirkus Reviews on Denny's Law
"A solid addition to a series that mixes procedural detail with domestic drama"
Booklist on Red Man Down
"Builds at a satisfyingly snappy pace. Partner with Carolyn Hart's classic Castle Rock or Steven F. Havill's long-running New Mexico-set series"
Library Journal on Red Man Down
Editions
Sarah's List by Elizabeth Gunn is available in the following formats
| | | | | | |
| --- | --- | --- | --- | --- | --- |
| Hardback | 9780727890498 | 4th August 2020 | 150 X 225mm | 192 | $28.99 |
| Hardback | 9780727890498 | 30th April 2020 | 150 X 225mm | 192 | £20.99 |
| Ebook | 9781448304271 | 1st June 2020 | N/A | 192 | $7.99 |
| Ebook | 9781448304271 | 1st June 2020 | N/A | 192 | £4.99 |
| Hardback - Large Print | 9781780291895 | 27th September 2021 | 145 X 224mm | 272 | $36.95 |
| Hardback - Large Print | 9781780291895 | 29th July 2021 | 145 X 224mm | 272 | £22.99 |
| Paperback | 9781780297064 | 26th January 2021 | 140 X 215mm | 192 | $17.95 |
| Paperback | 9781780297064 | 30th November 2020 | 140 X 215mm | 192 | £12.99 |
| Format | ISBN | Publication Date | Dimensions | Pages | Price |
The Sarah Burke mystery Series