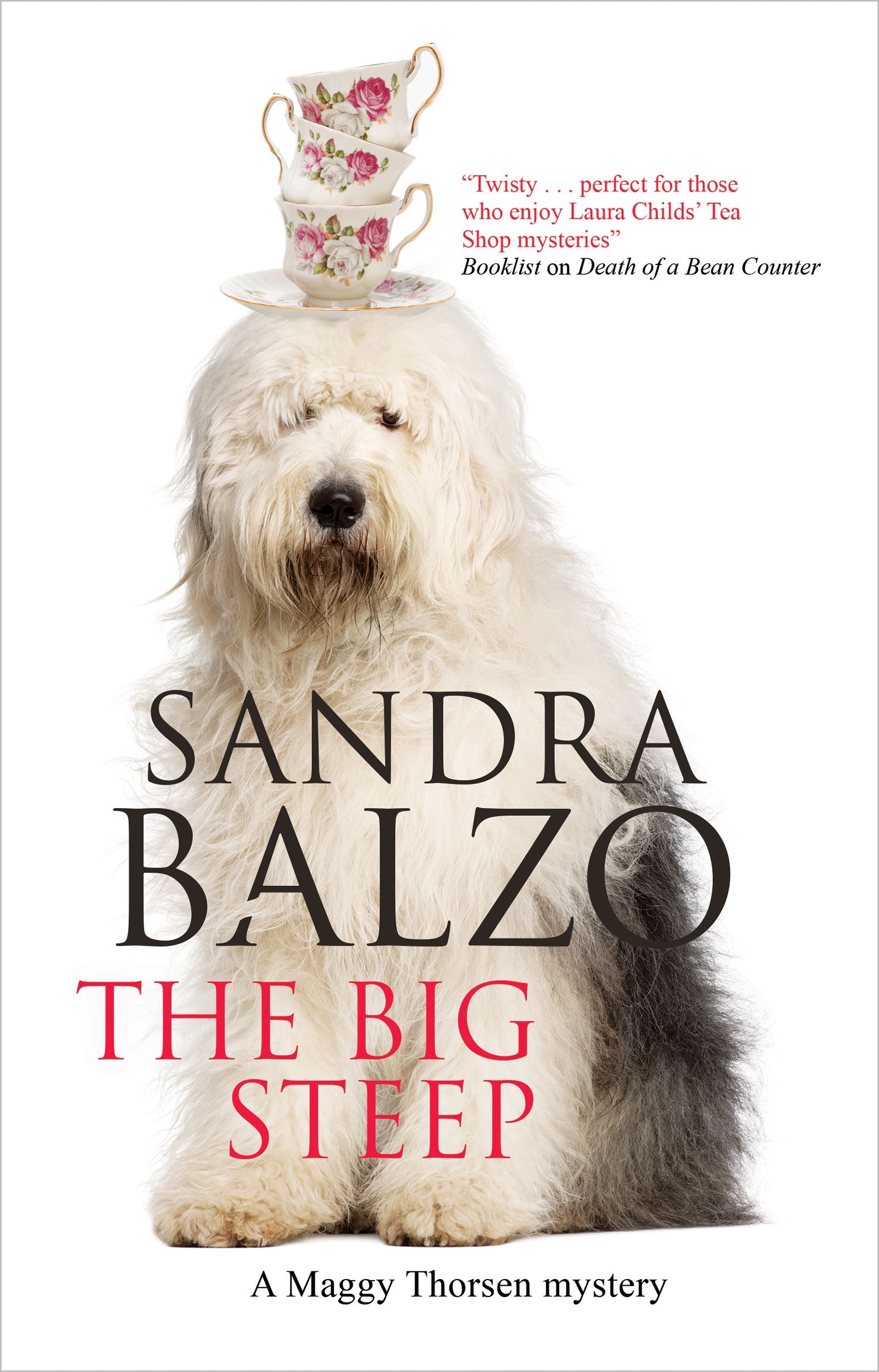 The Big Steep
by Sandra Balzo
Wisconsin coffeehouse owner Maggy Thorsen attempts to solve a mystery steeped in shocking family secrets, tragedy and murder.
Maggy Thorsen's new neighbours, Philip and Vivian Woodward, are forging ahead with their plans for The Big Steep tea shop. Philip's enthusiasm to turn the neglected cottage once owned by Vivian's reclusive grandparents, the Koepplers, into a tea lover's paradise is infectious, but Vivian seems less excited. And when Maggy's sheepdog Frank arrives at Uncommon Grounds coffeehouse bearing a 'gift' he discovered in the Woodwards' compost heap, the tea shop project takes a chilling turn . . .
As the Woodwards' backyard becomes a crime scene, a deadly chain of events is set in motion. Can Maggy dig up the truth of what happened at the cottage many years ago before further tragedy strikes?
Reviews
"Connecting murders past and present provides a welcome challenge for coffeehouse cozy fans"
Kirkus Reviews
"Lively, intelligent characters and Maggy's refreshingly anxiety-free relationship with her fiancé, Brookhills County Sheriff Jake Pavlik, make this stand out from the cozy pack. This is a perfect entry point for newcomers"
Publishers Weekly
"Numerous plot twists, nicely delineated characters, dry humor, and details of running a coffeehouse define this cozy. Suggest to those who enjoy Laura Childs' Tea Shop mysteries"
Booklist on Flat White
"Readers who like their heroines on the spunky side will enjoy Maggy's company"
Publishers Weekly on Flat White
"The twisty mystery is well supported by the coffeehouse frame ... And there are also two lovable dogs! A satisfying cozy, perfect for those who enjoy Laura Childs' Tea Shop mysteries starring Theodosia Browning"
Booklist on Death of a Bean Counter
"Balzo smoothly blends eccentric characters, lively dialogue, and a fair-play plot with a touch of discreet romance. Cozy fans will happily keep turning the pages"
Publishers Weekly on Death of a Bean Counter
"Plot twists, snippets of coffeehouse culture, and plenty of dogs and dog behavior are integrated nicely with the mystery. This character-rich series will appeal to readers who enjoy Laurien Berenson's Melanie Travis cozies, also featuring a host of canines"
Booklist on Murder a la Mocha
"Sure to please series fans"
Publishers Weekly on Murder a la Mocha
Editions
The Big Steep by Sandra Balzo is available in the following formats
| | | | | | |
| --- | --- | --- | --- | --- | --- |
| Hardback | 9780727890580 | 4th January 2022 | 140 X 225mm | 224 | $28.99 |
| Hardback | 9780727890580 | 28th October 2021 | 140 X 225mm | 224 | £20.99 |
| Ebook | 9781448306244 | 1st December 2021 | N/A | 224 | $10.99 |
| Ebook | 9781448306244 | 1st December 2021 | N/A | 224 | £7.99 |
| Hardback - Large Print | 9781448309535 | 28th February 2023 | 146 X 224mm | 304 | $36.95 |
| Hardback - Large Print | 9781448309535 | 29th December 2022 | 146 X 224mm | 304 | £22.99 |
| Paperback | 9781448306251 | 27th September 2022 | 135 X 210mm | 224 | $17.95 |
| Paperback | 9781448306251 | 28th July 2022 | 135 X 210mm | 224 | £12.99 |
| Format | ISBN | Publication Date | Dimensions | Pages | Price |
The Maggy Thorsen Mystery Series