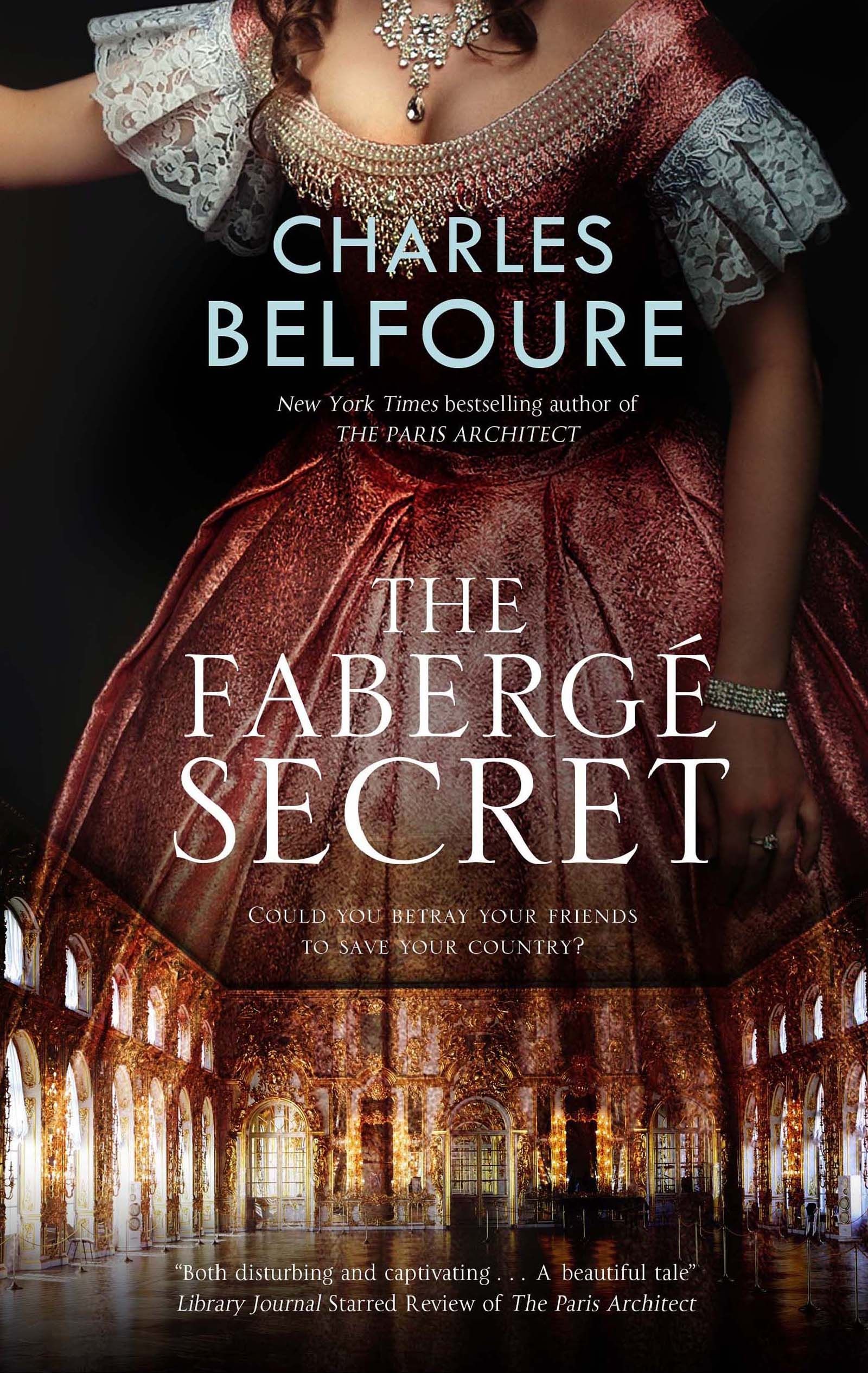 The Fabergé Secret
by Charles Belfoure
New York Times bestselling author Charles Belfoure takes readers on a breathless journey from the gilded ballrooms of Imperial Russia to the grim violence of the pogroms, in his latest thrilling historical adventure.
St Petersburg, 1903. Prince Dimitri Markhov counts himself lucky to be a close friend of Tsar Nicholas II and Tsarina Alexandra. Cocooned by the glittering wealth of the Imperial court, the talented architect lives a life of luxury and comfort, by the side of his beautiful but spiteful wife, Princess Lara. But when Dimitri is confronted by the death and destruction wrought by a pogrom, he is taken aback. What did these people do to deserve such brutality? The tsar tells him the Jews themselves were to blame, but Dimitri can't forget what he's seen.
Educated and passionate, Doctor Katya Golitsyn is determined to help end Russian oppression. When she meets Dimitri at a royal ball, she immediately recognizes a kindred spirit, and an unlikely affair begins between them. As their relationship develops, Katya exposes Dimitri to the horrors of the Tsar's regime and the persecution of the Jewish people, and he grows determined to make a stand . . . whatever the cost.
Reviews
"Offers a unique take on the historically popular Romanov family ... Readers who enjoy Martha Hall Kelly and J'nell Ciesielski will want to give this one a try"
Booklist
"Exceptional . . . A standout"
Publishers Weekly Starred Review of The Fallen Architect
"In his brisk prose style, Belfoure presents a splendidly diverse cast of characters, constructing a multifaceted puzzle and evoking a vivid sense of place in the process. Fine entertainment"
Booklist on The Fallen Architect
"Engrossing . . . a most memorable, evocative read"
Publishers Weekly Starred Review of House of Thieves
"Belfoure displays a brisk prose style, well-developed plot, and interesting architectural details . . . A roisterous, supremely entertaining adventure"
Booklist Starred Review of House of Thieves
"Both disturbing and captivating . . . [A] beautiful tale"
Library Journal Starred Review of The Paris Architect
Editions
The Fabergé Secret by Charles Belfoure is available in the following formats
| | | | | | |
| --- | --- | --- | --- | --- | --- |
| Hardback | 9780727890863 | 5th January 2021 | 150 X 232mm | 256 | $28.99 |
| Hardback | 9780727890863 | 30th October 2020 | 150 X 232mm | 256 | £20.99 |
| Ebook | 9781448304462 | 1st December 2020 | N/A | 256 | $14.99 |
| Ebook | 9781448304462 | 1st December 2020 | N/A | 256 | £12.99 |
| Hardback - Large Print | 9781780291772 | 27th July 2021 | 145 X 223mm | 384 | $36.95 |
| Hardback - Large Print | 9781780291772 | 31st May 2021 | 145 X 223mm | 384 | £22.99 |
| Paperback | 9781780297255 | 26th June 2021 | 140 X 217mm | 256 | $17.95 |
| Paperback | 9781780297255 | 29th April 2021 | 140 X 217mm | 256 | £13.99 |
| Format | ISBN | Publication Date | Dimensions | Pages | Price |