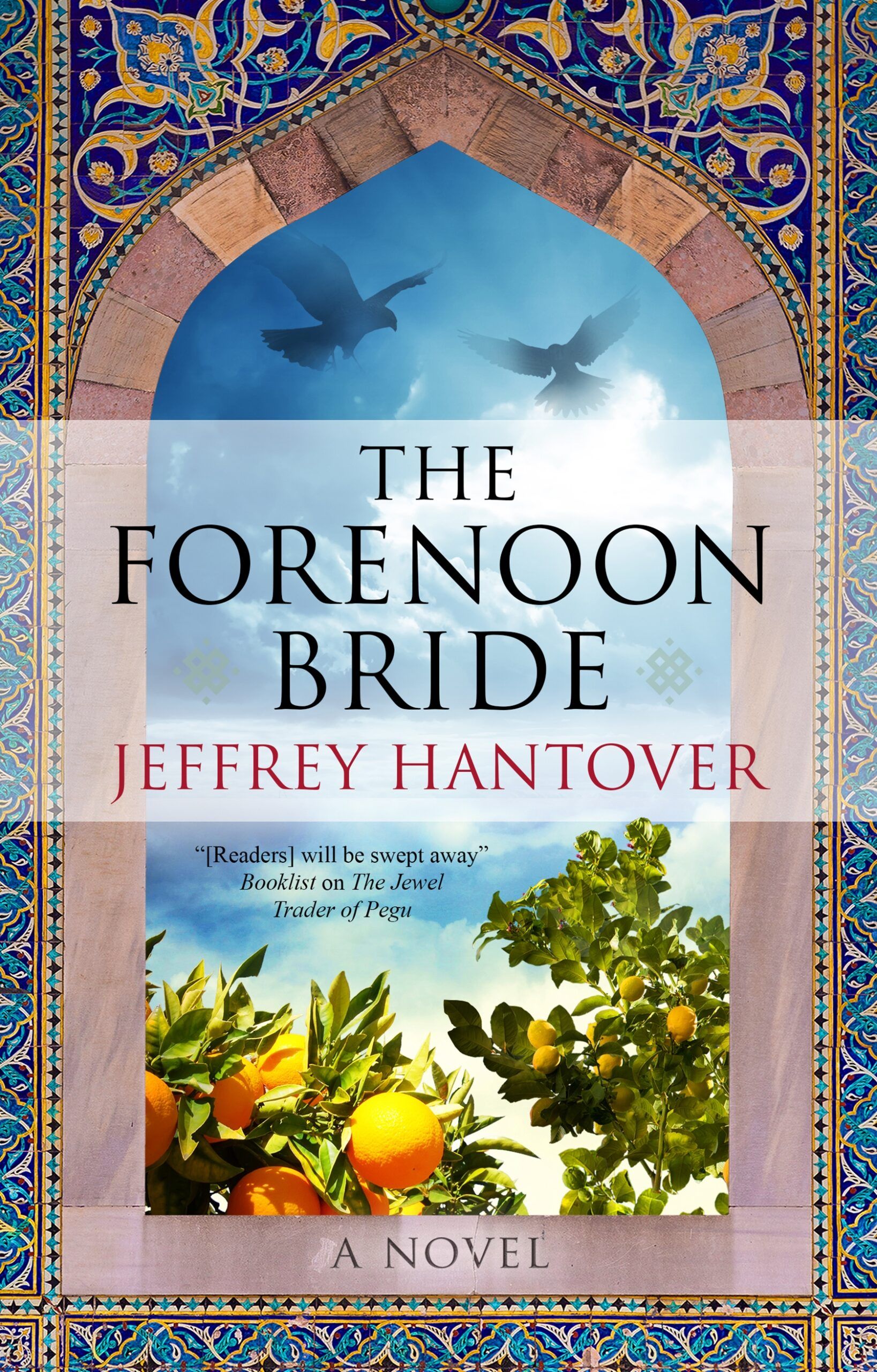 The Forenoon Bride
by Jeffrey Hantover
When given the choice between love and honor, what are you willing to sacrifice? Destiny, longing and betrayal await you in this sweeping historical novel set in Elizabethan England and the Ottoman Empire of the late 16th century.
England, 1591. Eager to see the world and travel the seas before settling down with a wife, English Lord William Bateman sets out for adventure while leaving his secret admirer, a local young lady named Elizabeth, behind.
However, during his journey to the East, he is falsely imprisoned as a spy by the Ottoman governor of Rhodes. William is given two choices: endure torture in an Ottoman prison or convert and serve the Sultan, Murad III. Staying true to his family, faith and country, William refuses to give in.
By a twist of fate, William gains an unexpected ally in the form of the young governor's daughter Safiye who falls in love with the mysterious and handsome prisoner. Captivated by their immediate bond and attraction, both vow to remain faithful for seven years until they can be together again.
Meanwhile in England, William's family suffers tragedies and misfortune. The years of absence left their estate in jeopardy but turned Elizabeth – still hopelessly in love with him and awaiting his return – into a beautiful and spirited woman. Can William escape his fate in Turkey and save his legacy . . . and if he does will he keep his promise or betray his honor?
The Forenoon Bride is the second novel by Jeffrey Hantover, inspired by the centuries' old British ballad Lord Bateman. This book is a great read for everyone who enjoys historical fiction with a romantic twist!
Reviews
"A crisp and lyrical romance with a protofeminist subtext and authentic period flavor"
Kirkus Reviews
"This is a first novel of merit, a quiet and thoughtful read about different kinds of freedoms, about prejudice and about finding oneself, about culture shock and cultural differences . . . A book to reread and cherish."
The Historical Novels Review on The Jewel Trader of Pegu
"Hantover intercuts Abraham's letters with short chapters from Mya's point of view with delicacy and grace. He evokes the lush setting and gives clear voice to Abraham's doubts, fears and passions."
Publishers Weekly on The Jewel Trader of Pegu
"A vivid setting . . . Appealing."
Kirkus Reviews on The Jewel Trader of Pegu
"[Readers] will be swept away by Hantover's lavish descriptions of an exotic, lost Asian kingdom; the gentle love story; and the tale of one man's thoughtful journey to his heart's home."
Booklist on The Jewel Trader of Pegu
"A vivid portrait of life in Southeast Asia of the 16th century . . . Abraham's travails sweep the reader along in this compelling debut novel."
The American Jewish World on The Jewel Trader of Pegu
"A thinking reader's tale with all the trappings of an exotic historical romance."
Debra Dean, bestselling author of The Madonnas of Leningrad on The Jewel Trader of Pegu
"Dreamy and lyrical, steeped in the customs and atmosphere of a world long lost, The Jewel Trader of Pegu takes the reader on a deep emotional journey through the meanings of what is precious."
Liza Dalby, author of The Tale of Murasaki on The Jewel Trader of Pegu
Editions
The Forenoon Bride by Jeffrey Hantover is available in the following formats
| | | | | | |
| --- | --- | --- | --- | --- | --- |
| Hardback | 9781448310272 | 6th June 2023 | 144 X 225mm | 192 | $31.99 |
| Hardback | 9781448310272 | 6th June 2023 | 144 X 225mm | 192 | £21.99 |
| Ebook | 9781448310289 | 6th June 2023 | N/A | 192 | $24.99 |
| Ebook | 9781448310289 | 6th June 2023 | N/A | 192 | £20.99 |
| Paperback | 9781448312368 | 27th February 2024 | 140 X 215mm | 192 | $18.99 |
| Paperback | 9781448312368 | 28th December 2023 | 140 X 215mm | 192 | £13.99 |
| Format | ISBN | Publication Date | Dimensions | Pages | Price |