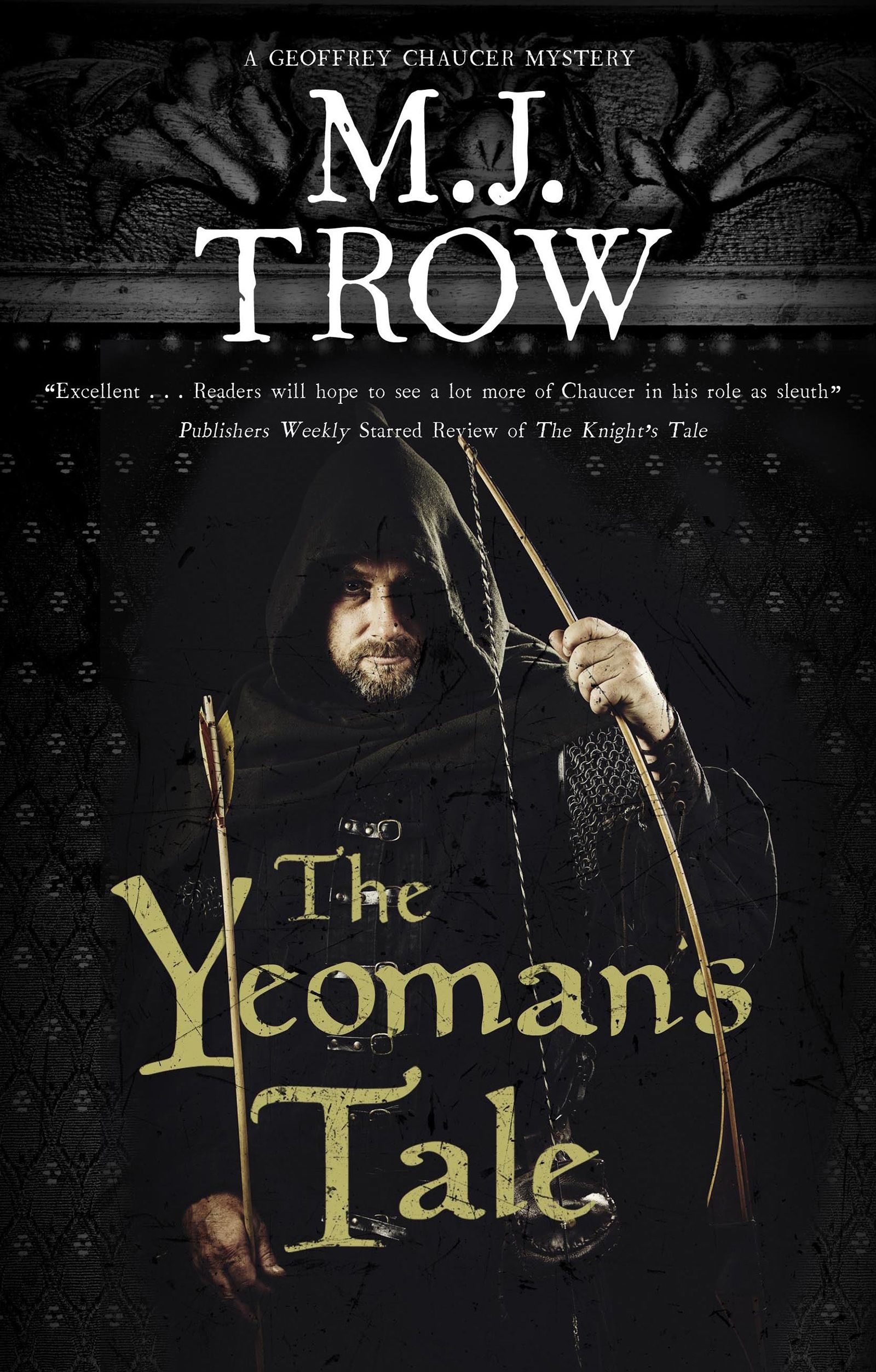 The Yeoman's Tale
by M.J. Trow
Poet-sleuth Geoffrey Chaucer is caught up in the chaos of the Peasants' Revolt as he attempts to track down a brutal killer.
June, 1381. Embarking on his annual pilgrimage to Canterbury, Geoffrey Chaucer and his fellow travellers are forced to turn back when confronted with a horde of armed and angry peasants, intent on marching to London. Returning to the city to warn the authorities of the approaching danger, the pilgrims hole up at the Tabard Inn and prepare for the coming invasion.
That same night, a woman's body is fished out of the River Thames, her throat cut. When he discovers that the victim was the wife of one of his fellow pilgrims, Chaucer determines to investigate. Could the woman's henpecked husband be responsible for her death? A jealous business rival? Or was she murdered by one of the pilgrims? Does a cold-hearted killer lurk within the Tabard?
As the army of rebellious peasants approaches, Chaucer finds himself in a race against time to uncover the truth before anarchy descends.
Reviews
"Touches of humor enhance this well-paced mystery as a string of clever clues leads to the killer's unveiling. Fans of medieval historicals will be satisfied"
Publishers Weekly
"Trow creates in his hero/sleuth a larger-than-life character, spicing the stew with acerbic wit, suspense, and a gripping plot"
Booklist
"A grim but often amusing historical mystery leaving plenty of tales yet to tell"
Kirkus Reviews
"An excellent series launch . . . Chaucer's intelligence, kindness and insights into human nature serve him well in his efforts to catch a killer. Readers will hope to see a lot more of him in his role as sleuth"
Publishers Weekly Starred Review of The Knight's Tale
"With twists aplenty, ribald humor, intriguing and varied characters, and vivid descriptions, this suspenseful, playful and funny mystery will appeal to a broad range of readers"
Booklist on The Knight's Tale
"A proven ability to make historic characters feel contemporary and relatable"
Kirkus Reviews on The Knight's Tale
"Stellar . . . Trow reinforces his place at the top of the Elizabethan mystery subgenre"
Publishers Weekly Starred Review of The Reckoning
"Subtle humor, colorful characters, and a shock ending are all on display in abundance"
Booklist on The Reckoning
Editions
The Yeoman's Tale by M.J. Trow is available in the following formats
| | | | | | |
| --- | --- | --- | --- | --- | --- |
| Hardback | 9780727850683 | 5th July 2022 | 145 X 224mm | 224 | $28.99 |
| Hardback | 9780727850683 | 5th July 2022 | 145 X 224mm | 224 | £20.99 |
| Ebook | 9781448307562 | 5th July 2022 | N/A | 224 | $14.99 |
| Ebook | 9781448307562 | 5th July 2022 | N/A | 224 | £12.99 |
| Paperback | 9781448307579 | 26th December 2023 | 138 X 216mm | 224 | $18.99 |
| Paperback | 9781448307579 | 26th October 2023 | 138 X 216mm | 224 | £13.99 |
| Format | ISBN | Publication Date | Dimensions | Pages | Price |
The Geoffrey Chaucer mystery Series