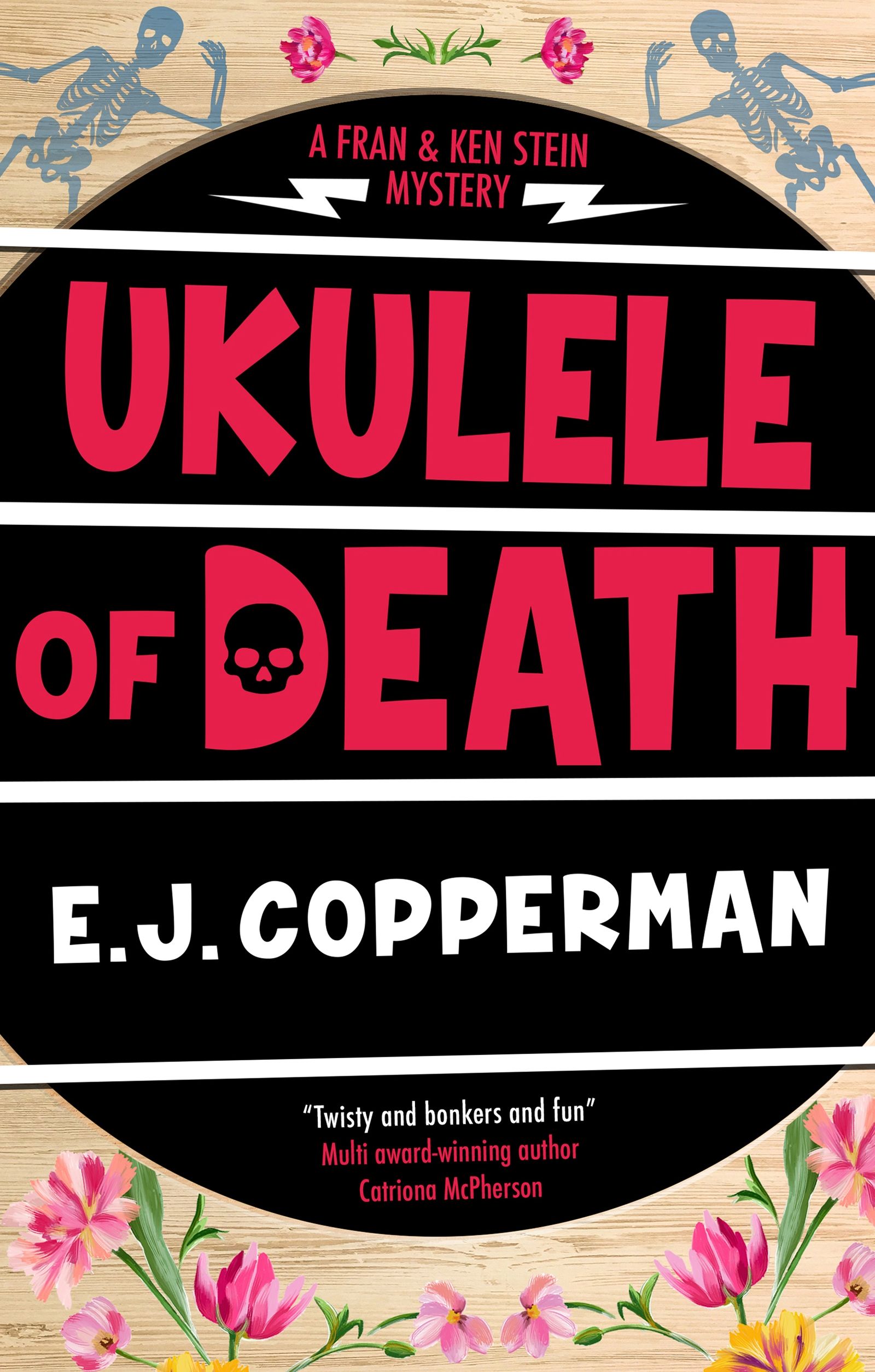 Ukulele of Death
by E.J. Copperman
Meet Fran and Ken Stein – a private investigator duo who refuse to let a little thing like being not entirely human stop them from doing their jobs.
"Twisty and bonkers and fun" Multi award-winning author Catriona McPherson
After losing their parents when they were just babies, private investigators Fran and Ken Stein now specialize in helping adoptees find their birth parents. So when a client asks them for help finding her father, with her only clue a rare ukulele, the case is a little weird, sure, but it's nothing they can't handle.
But soon Fran and her brother are plunged into a world where nothing makes sense – and not just the fact that a very short (but very cute) NYPD detective keeps trying to take eternal singleton Fran out on dates.
All Fran wants to do is find the ukulele and collect their fee, but it's hard to keep your focus when you're stumbling over corpses and receiving messages that suggest your (dead) parents are very much alive.
Ukuleles aside, it's becoming clear that someone knows something they shouldn't – that Fran and Ken Stein weren't so much born, as built . . .
The Ukulele of Death is the first in a new series of light-hearted, paranormal tinged mysteries that are filled with off-beat humor, heart and the wry wisdom that's E.J. Copperman's signature style.
Reviews
"
With unique, larger-than-life characters (literally), and an outlandish premise, this one
may appeal to Janet Evanovich fans
"
Booklist
"Loads of fun . . . zips along at a fast and furious pace"
Publishers Weekly
"With an enjoyable mix of sci-fi and mystery elements, Copperman's latest features an intriguing and likable pair of detectives"
Library Journal
"Wacky premise . . . [Features Copperman's] most offbeat protagonist to date"
Kirkus Reviews
"Twisty and bonkers and fun"
Multi award-winning author Catriona McPherson on The Ukulele of Death
"Sprightly characters and smart dialogue drive the plot . . . Those seeking pure escapist fare will be delighted"
Publishers Weekly on And Justice For Mall
"Copperman has [zaniness] on tap for his latest dose of legal mayhem"
Kirkus Reviews on And Justice For Mall
"Copperman knows how to entertain"
Publishers Weekly Starred Review of Witness for the Persecution
"Crafty and zany, with a well-clued solution"
Kirkus Reviews on Witness for the Persecution
"Readers who enjoy streetwise protagonists and intelligent courtroom scenes will appreciate Copperman's latest"
Library Journal on Witness for the Persecution
Editions
Ukulele of Death by E.J. Copperman is available in the following formats
| | | | | | |
| --- | --- | --- | --- | --- | --- |
| Hardback | 9781448309702 | 2nd May 2023 | 132 X 198mm | 240 | $31.99 |
| Hardback | 9781448309702 | 2nd May 2023 | 132 X 198mm | 240 | £21.99 |
| Ebook | 9781448310494 | 2nd May 2023 | N/A | 240 | $24.99 |
| Ebook | 9781448310494 | 2nd May 2023 | N/A | 240 | £20.99 |
| Paperback | 9781448312337 | 26th December 2023 | 140 X 215mm | 240 | $18.99 |
| Paperback | 9781448312337 | 26th October 2023 | 140 X 215mm | 240 | £13.99 |
| Format | ISBN | Publication Date | Dimensions | Pages | Price |
The Fran and Ken Stein Mystery Series