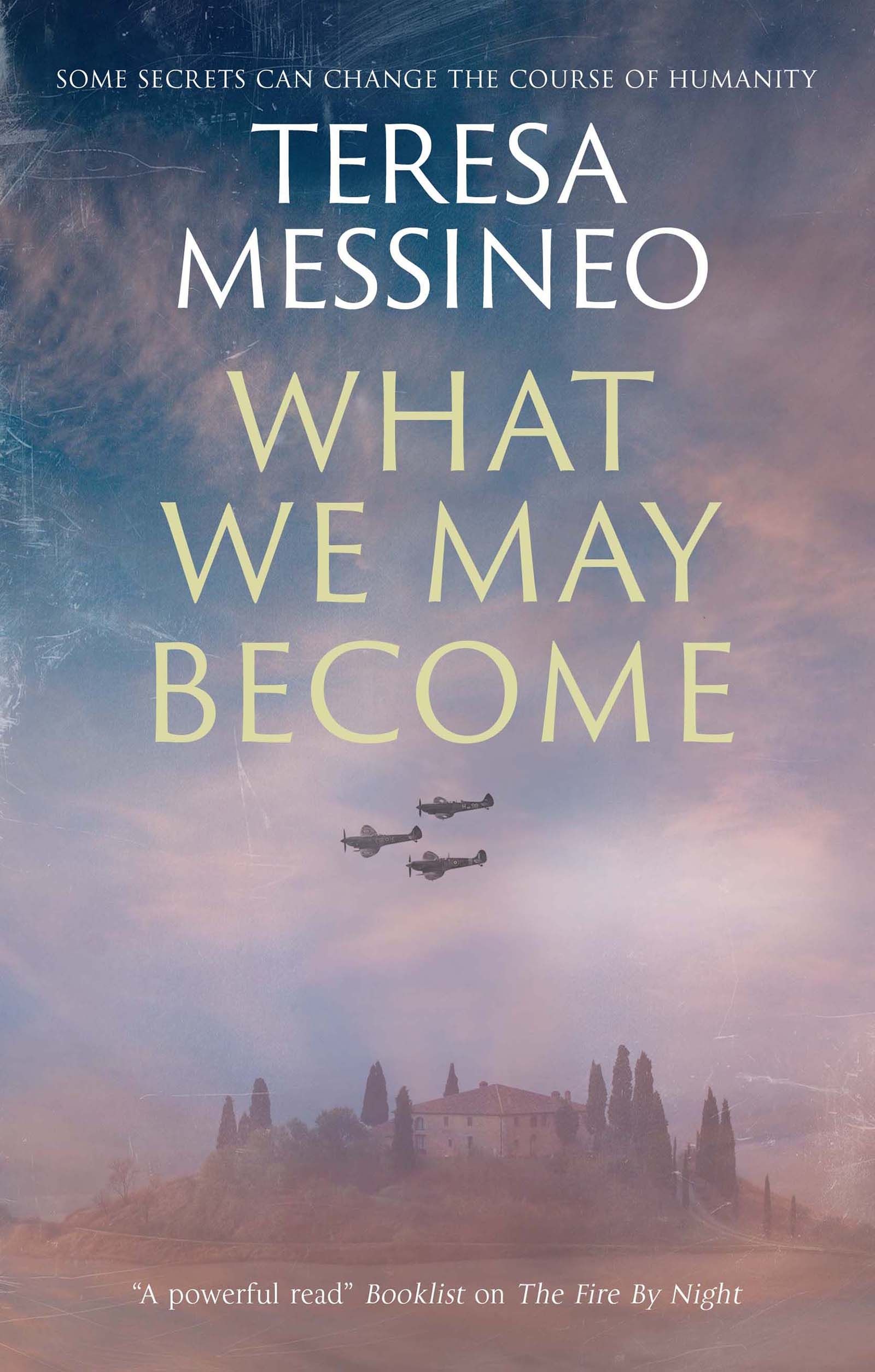 What We May Become
by Teresa Messineo
In 1945 secrets hidden at an Italian estate could prove just as vital to humanity's fate as the war efforts on the frontlines . . . if nurse Diana Bolsena can get to them first.
Tuscany, 1945. As the war in Europe ends, American Red Cross nurse Diana Bolsena finds herself separated from her unit. Unable to reconnect with the American army, she's left to survive with nothing but her spirit, her talents as a nurse, and her nightmares of the horror of war.
Determined to return to active duty in the Pacific, to earn her way back Diana begins caring for a child with disabilities on the estate of the enigmatic Signora Bugari. Amidst the ravages of war, it is a peaceful existence until a visiting German officer, Herr Adler, arrives demanding Bugari return what is rightfully his.
When a shocking murder attracts more people to the isolated estate, Diana suspects Adler's hidden secrets could affect the course of history. But who will uncover them first? And what will happen to humanity if they fall into the wrong hands?
Reviews
"A brutally atmospheric tale of the horrors of war"
Kirkus Reviews
"An entertaining mix of mystery and romance"
Booklist
Booklist on The Fire by Night
"Engaging . . . The novel's strength lies in how well it conveys the selflessness and bravery of nurses during the darkest hours"
Publishers Weekly on The Fire by Night
"This story will stay with readers long after they have finished the book"
Library Journal on The Fire by Night
"A vibrant telling of the nurses nightmares during a brutal war"
Kirkus Reviews on The Fire by Night
"Will inspire readers of dramatic historical novels to celebrate the resiliency of humanity through hope, grit, and first loves"
School Library Journal on The Fire by Night
Editions
What We May Become by Teresa Messineo is available in the following formats
| | | | | | |
| --- | --- | --- | --- | --- | --- |
| Hardback | 9781448308675 | 7th June 2022 | 150 X 220mm | 192 | $28.99 |
| Hardback | 9781448308675 | 31st March 2022 | 150 X 220mm | 192 | £20.99 |
| Ebook | 9781448308866 | 1st May 2022 | N/A | 192 | $14.99 |
| Ebook | 9781448308866 | 1st May 2022 | N/A | 192 | £12.99 |
| Hardback - Large Print | 9781448309504 | 28th February 2023 | 147 X 224mm | 272 | $36.95 |
| Hardback - Large Print | 9781448309504 | 29th December 2022 | 147 X 224mm | 272 | £22.99 |
| Paperback | 9781448308859 | 31st January 2023 | 140 X 210mm | 208 | $17.95 |
| Paperback | 9781448308859 | 24th November 2022 | 140 X 210mm | 208 | £12.99 |
| Format | ISBN | Publication Date | Dimensions | Pages | Price |