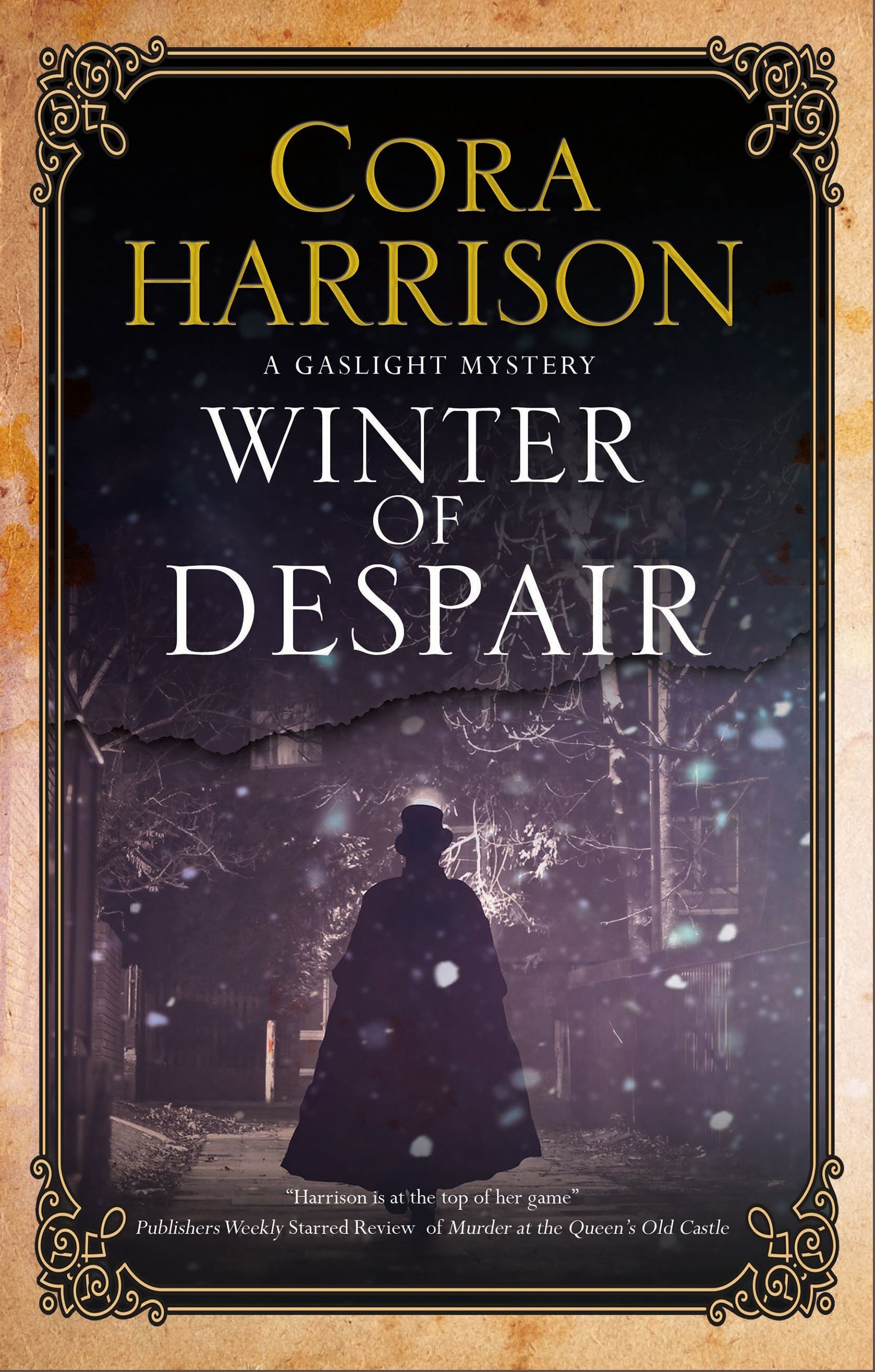 Winter of Despair
by Cora Harrison
Wilkie Collins must prove his brother is innocent of murder in the second of the compelling new Gaslight mystery series.

November, 1853. Inspector Field has summoned his friends Charles Dickens and Wilkie Collins to examine a body found in an attic studio, its throat cut. Around the body lie the lacerated fragments of canvas of a painting titled A Winter of Despair.
On closer examination, Wilkie realizes he recognizes the victim, for he had been due to dine with him that very evening. The dead man is Edwin Milton-Hayes, one of Wilkie's brother Charley's artist friends. But what is the significance of the strange series of faceless paintings Milton-Hayes had been worked on when he died? And why is Charley acting so strangely?
With his own brother under suspicion of murder, Wilkie Collins and Charles Dickens set out to uncover the truth. What secrets lie among the close-knit group of Pre-Raphaelite painters who were the dead man's friends? And who is the killer in their midst?
Reviews
"Stellar … Superior plotting and characterization lift this entry. Fans of Harrison's Burren mysteries will be pleased"
Publishers Weekly Starred Review
"Engaging … Another strong entry in a series tailor-made for the Masterpiece crowd"
Booklist
"Harrison deftly taps into the heart and soul of Victorian London and the strata of society – from the slums to the studios of Pre-Raphaelite painters"
Historical Novel Review
"A surprising conclusion, coupled with vivid characters, authentic period details, and a constantly zigzagging plot, makes this a good choice for fans of historical murder mysteries"
Booklist on Season of Darkness
"Harrison is at the top of her game ... The fair-play puzzle is among her finest"
Publishers Weekly Starred Review of Murder at the Queen's Old Castle
"Highly readable ... Perfect for fans of authors who focus on a vivid locale such as Andrea Camilleri or Ann Cleeves"
Library Journal on Murder at the Queen's Old Castle
"Engrossing ... Reverend Mother will appeal to admirers of Ellis Peters's 'Brother Cadfael' mysteries"
Library Journal Starred Review of Death of a Novice
Editions
Winter of Despair by Cora Harrison is available in the following formats
| | | | | | |
| --- | --- | --- | --- | --- | --- |
| Hardback | 9780727889126 | 7th January 2020 | 145 X 221mm | 240 | $28.99 |
| Hardback | 9780727889126 | 30th September 2019 | 145 X 221mm | 240 | £20.99 |
| Ebook | 9781448303465 | 1st November 2019 | N/A | 240 | $10.99 |
| Ebook | 9781448303465 | 1st November 2019 | N/A | 240 | £7.99 |
| Hardback - Large Print | 9781780291758 | 31st August 2021 | 144 X 223mm | 320 | $36.95 |
| Hardback - Large Print | 9781780291758 | 24th June 2021 | 144 X 223mm | 320 | £22.99 |
| Paperback | 9781780296470 | 30th November 2021 | 140 X 215mm | 240 | $17.95 |
| Paperback | 9781780296470 | 30th September 2021 | 140 X 215mm | 240 | £12.99 |
| Format | ISBN | Publication Date | Dimensions | Pages | Price |
The Gaslight Mystery Series