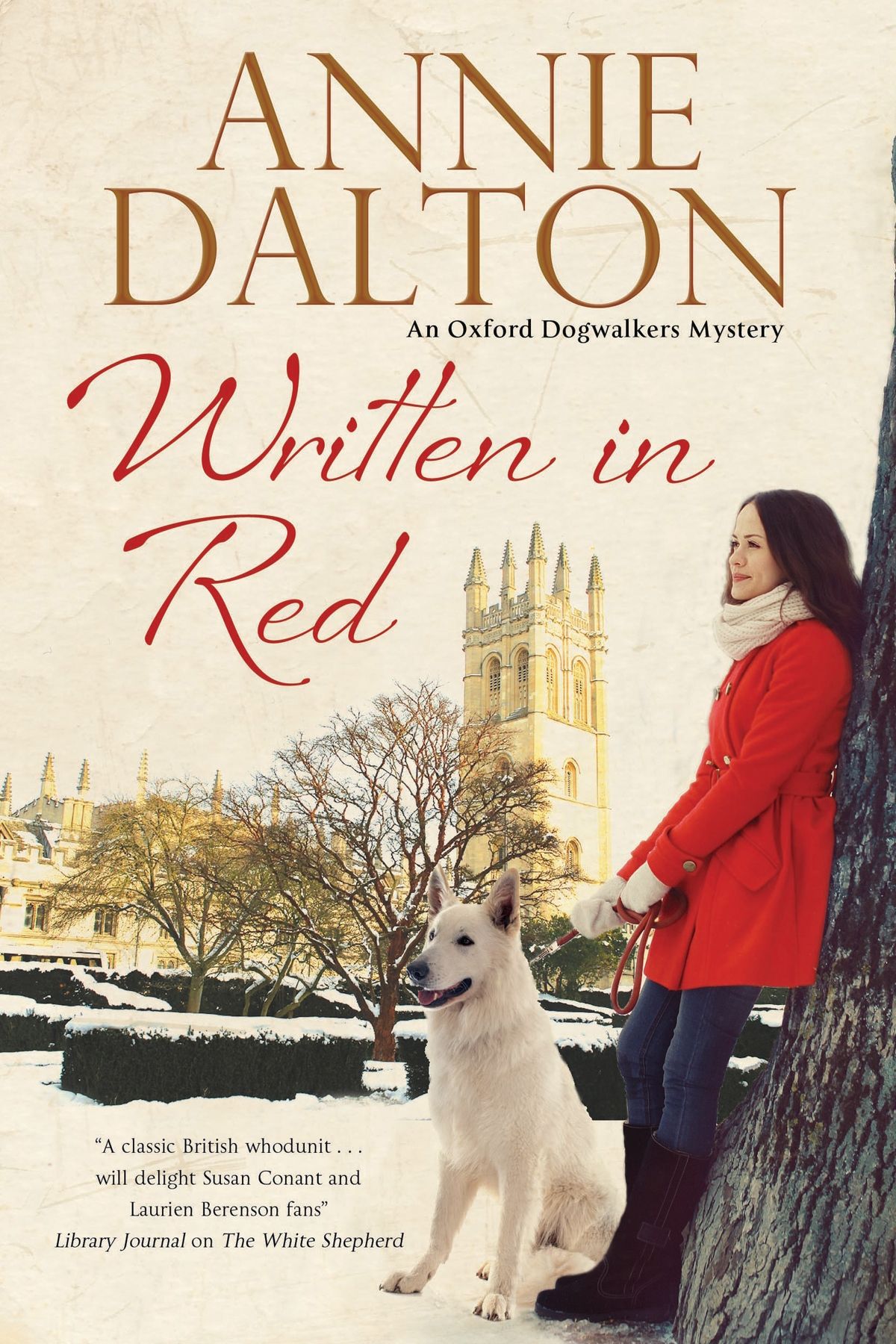 Written in Red
by Annie Dalton
The murder of a college professor has its roots in the Cold War: the new Oxford Dogwalkers mystery from award-winning YA writer Annie Dalton.
Shortly before Christmas, Professor James Lowell is found brutally attacked in his rooms at Walsingham College, where Anna Hopkins works as an administrator. Baffled as to why anyone would wish to harm such a gentle, scholarly man, Anna discovers that Lowell had a connection with her fellow dogwalker, Isadora Salzman, who knew him as an undergraduate in the 1960s, a co-member of the so-called Oxford Six. It turns out that Isadora has been keeping a surprising secret all these years. But someone else knows about Isadora's secret: someone who has sent her a threatening, frightening letter.
Could the attack on Professor Lowell have its roots in a 50-year-old murder? And who is targeting Isadora and the surviving members of the Oxford Six? Anna, Isadora and Tansy, the dogwalking detectives, make it their business to find out.
Reviews
"I seriously loved this book; lovers of crime and mystery will adore it, but it will also appeal to lovers of literary fiction, romance, and even chick-lit alike. Well, well worth a read!"
Stephanie C, reviewer
"Even if you're not a dog-loving Anglophile, give this well-written mystery a try."
L Tilden, librarian
"This taut, suspense-filled, nail-biter of a mystery is chock-full of surprises and will appeal to a wide range of mystery lovers"
Booklist
"Dog lovers will enjoy the canine interludes"
Publishers Weekly
"This is a fascinating mystery filled with unique, well-developed characters. Annie is a flawed young woman, haunted by a tragedy in her past which keeps her isolated from forming deep relationships with others. But when someone to whom she feels a tie needs help, she will leave her comfort zone and spring into action. I loved many things about this book - the complex motives of the characters, the beauty of the Oxford setting and the way the author uses dogs to further the plot. I highly recommend this book."
N Rose, bookseller
Editions
Written in Red by Annie Dalton is available in the following formats
| | | | | | |
| --- | --- | --- | --- | --- | --- |
| Hardback | 9780727885951 | 29th February 2016 | 143 X 224mm | 240 | £20.99 |
| Ebook | 9781780107608 | 1st June 2016 | N/A | 240 | $10.99 |
| Ebook | 9781780107608 | 1st June 2016 | N/A | 240 | £8.99 |
| Hardback - Large Print | 9780727894960 | 31st January 2017 | 143 X 222mm | 368 | $36.95 |
| Hardback - Large Print | 9780727894960 | 30th November 2016 | 143 X 222mm | 368 | £23.99 |
| Paperback | 9781847516992 | 30th December 2016 | 138 X 215mm | 240 | £12.99 |
| Paperback | 9781847516992 | 30th December 2016 | 138 X 215mm | 240 | £13.99 |
| Format | ISBN | Publication Date | Dimensions | Pages | Price |
The Anna Hopkins Mystery Series