Author Q&A: Eleanor Kuhns on her new Ancient Crete mystery series
by Severn House on 13 October 2023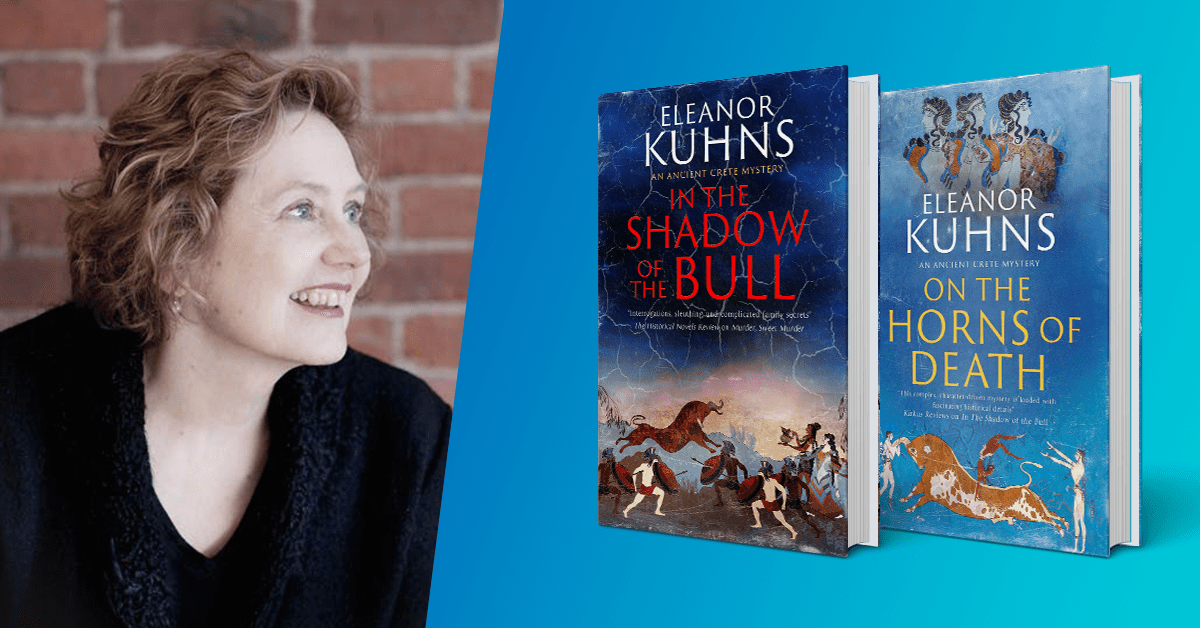 Eleanor Kuhns is a previous winner of the Minotaur Books/Mystery Writers of America First Crime Novel competition for A Simple Murder. The author of eleven Will Rees mysteries, as well as the brand-new Ancient Crete mystery series, she is now a full-time writer after a successful career as the Assistant Director at the Goshen Public Library in Orange County, New York.
Her new series – set in Ancient Crete and filled with intriguing history and mythology – launched with In the Shadow of the Bull in July. The second book in the series – On the Horns of Death – will be released in April 2024.
---
This new series is a very different time period, full of mystery and ancient rituals – what drew you to this specific period in history?
I've always loved historical fiction and read a lot of it. The really early history, Ancient Egypt and the prehistory, especially drew me. Maybe I'm a frustrated wannabe archaeologist. The Bronze Age in early Crete is an exotic culture – very sophisticated with indoor toilets, something not seen again for millennia – and very woman centered. Plus, we are still learning about it so there is a lot to know and to say.
Your protagonist, Martis, is only 16-years-old, living in what feels to modern readers as a very harsh world, and she deals with many adult issues – where do you get your story inspiration from?
First, I think we have to remember that since the lifespan was much shorter, everything happened earlier. Young women married in their teens, had families and were grandmothers in their thirties.
Women in Crete were important, although no one is sure whether it was political or just religious. The murals and statuary show women in a dominant position. But, since women have always had the primary care of the children, they were tied to the home. That limited their options, even in a culture like this one.
Martis, who is within a year or two of marriage, resists. She wants to do something that matters. Since bull leapers were the rock stars of their day, she chooses that. And, of course, bull leapers had to be young, athletic, and fearless.
I have always been captivated at the thought of running toward a charging bull and jumping over his back. When I began thinking of the story, the bull leaping was where I began. Everything flowed from that.
There are wonderful descriptions and details in both books of ancient Crete. You are a librarian in the real world: did this help when it came to researching the time period?
I had access to a variety of magazines (Archaeology, World Archaeology, National Geographic for example) as well as books written by and about the archaeologists who excavated Knossos. The magazines are really helpful since they contain articles with the very newest information as well as photographs of statuary, seals, mosaics and the like.
I also visited Knossos a few years ago and that really helped to set the scene.
The choice of profession for a woman at this time in history is very limited. If you lived in Martis's world, what would you do? Bull leaper? Healer? Weaver?
Handweaving is a hobby of mine but I agree with Martis- if I had to do it full time I would find it tedious. Not sure I have the courage to jump over a bull's back so I'm left with Healer.
Another profession women followed was Priestess but I think I've shown Martis doesn't have the temperament!