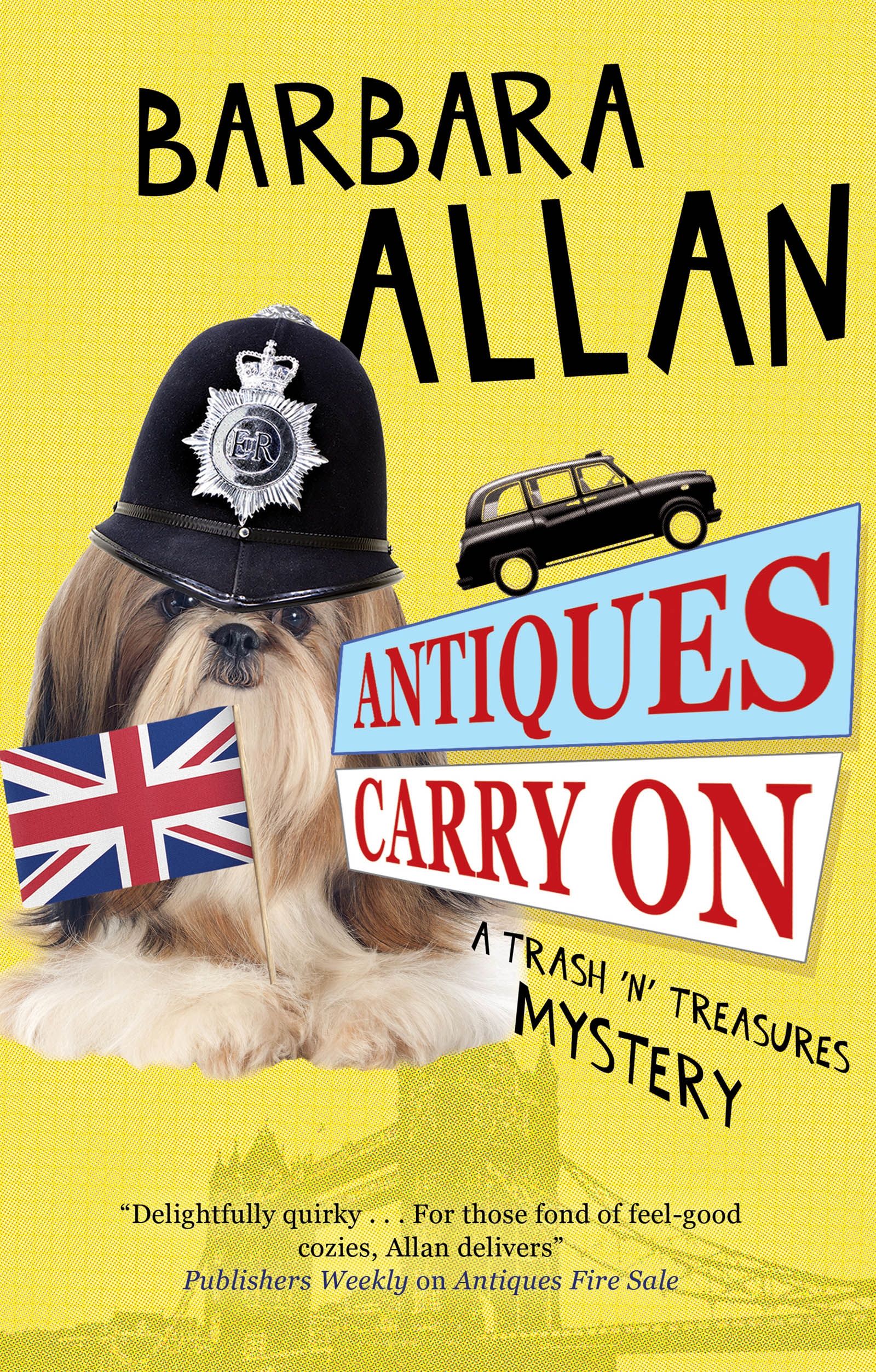 Antiques Carry On
by Barbara Allan
Look out London – eccentric antiques dealer Vivian Borne and her daughter Brandy are bringing their own brand of mayhem and mischief to the British capital, in the fifteenth installment of the award-winning Trash 'n' Treasures cozy mystery series.
Vivian Borne – true-crime author, antiques dealer and ex-sheriff of Serenity, Iowa – is looking forward to meeting her new editor in London. Flying first class, rooms at the Savoy . . . Her long-suffering co-author, daughter Brandy, worries the trip will bankrupt them both, but the alternative – Mother travelling alone – is unthinkable. Brandy's almost tempted to make her fiancé, Tony – Serenity's Chief of Police – call Scotland Yard and warn them Vivian's coming.
But even Brandy doesn't predict their vacation will end in murder . . . or that she and Mother will be unceremoniously ejected from the country, with an order to leave things well alone.
Vivian and Brandy need a case to write about, and Mother doesn't care which one. But as the intrepid sleuths – ably supported by doggy detective Sushi – investigate a promising local prospect, they're plunged into a complex mystery that stretches right back to London . . . with no choice but to carry on.
Looking for a laugh-out-loud, quirky mystery to brighten your mood? Trash 'n' Treasures is "one of the funniest cozy series going" (Ellery Queen Magazine) – and if you're new to the series, it's safe to jump right in.
Reviews
"Delightfully quirky ... For those fond of feel-good cozies, Allan delivers"
Publishers Weekly on Antiques Fire Sale
"The usual mix of humor, detection, and flamboyant personalities adds sparkle"
Kirkus Reviews on Antiques Fire Sale
"One of the best in Allan's long-running series, which is always humorous and full of tips for antiques hunters"
Kirkus Reviews on Antiques Ravin'
"This humorous cozy – with its well-drawn, quirky characters – is a hoot"
Booklist on Antiques Ravin'
"Amusing ... Series fans and newcomers alike will have fun"
Publishers Weekly on Antiques Ravin'
"Fans of J.C. Eaton's "Sophie Kimball" books may want to try this series"
Library Journal on Antiques Ravin'
Editions
Antiques Carry On by Barbara Allan is available in the following formats
| | | | | | |
| --- | --- | --- | --- | --- | --- |
| Hardback | 9780727890818 | 6th July 2021 | 140 X 220mm | 208 | $28.99 |
| Hardback | 9780727890818 | 29th April 2021 | 140 X 220mm | 208 | £20.99 |
| Hardback | 9780727890818 | 6th July 2021 | 140 X 220mm | 208 | $28.99 |
| Hardback | 9780727890818 | 29th April 2021 | 140 X 220mm | 208 | £20.99 |
| Ebook | 9781448305223 | 1st June 2021 | N/A | 208 | $25.99 |
| Ebook | 9781448305223 | 1st June 2021 | N/A | 208 | £18.99 |
| Ebook | 9781448305223 | 1st June 2021 | N/A | 208 | $25.99 |
| Ebook | 9781448305223 | 1st June 2021 | N/A | 208 | £18.99 |
| Hardback - Large Print | 9781448308545 | 31st May 2022 | 150 X 220mm | 272 | $36.95 |
| Hardback - Large Print | 9781448308545 | 31st March 2022 | 150 X 220mm | 272 | £22.99 |
| Hardback - Large Print | 9781448308545 | 31st May 2022 | 150 X 220mm | 272 | $36.95 |
| Hardback - Large Print | 9781448308545 | 31st March 2022 | 150 X 220mm | 272 | £22.99 |
| Paperback | 9781780297842 | 30th December 2021 | 140 X 215mm | 208 | $17.95 |
| Paperback | 9781780297842 | 28th October 2021 | 140 X 215mm | 208 | £12.99 |
| Paperback | 9781780297842 | 30th December 2021 | 140 X 215mm | 208 | $17.95 |
| Paperback | 9781780297842 | 28th October 2021 | 140 X 215mm | 208 | £12.99 |
| Format | ISBN | Publication Date | Dimensions | Pages | Price |
The Trash 'n' Treasures mystery Series