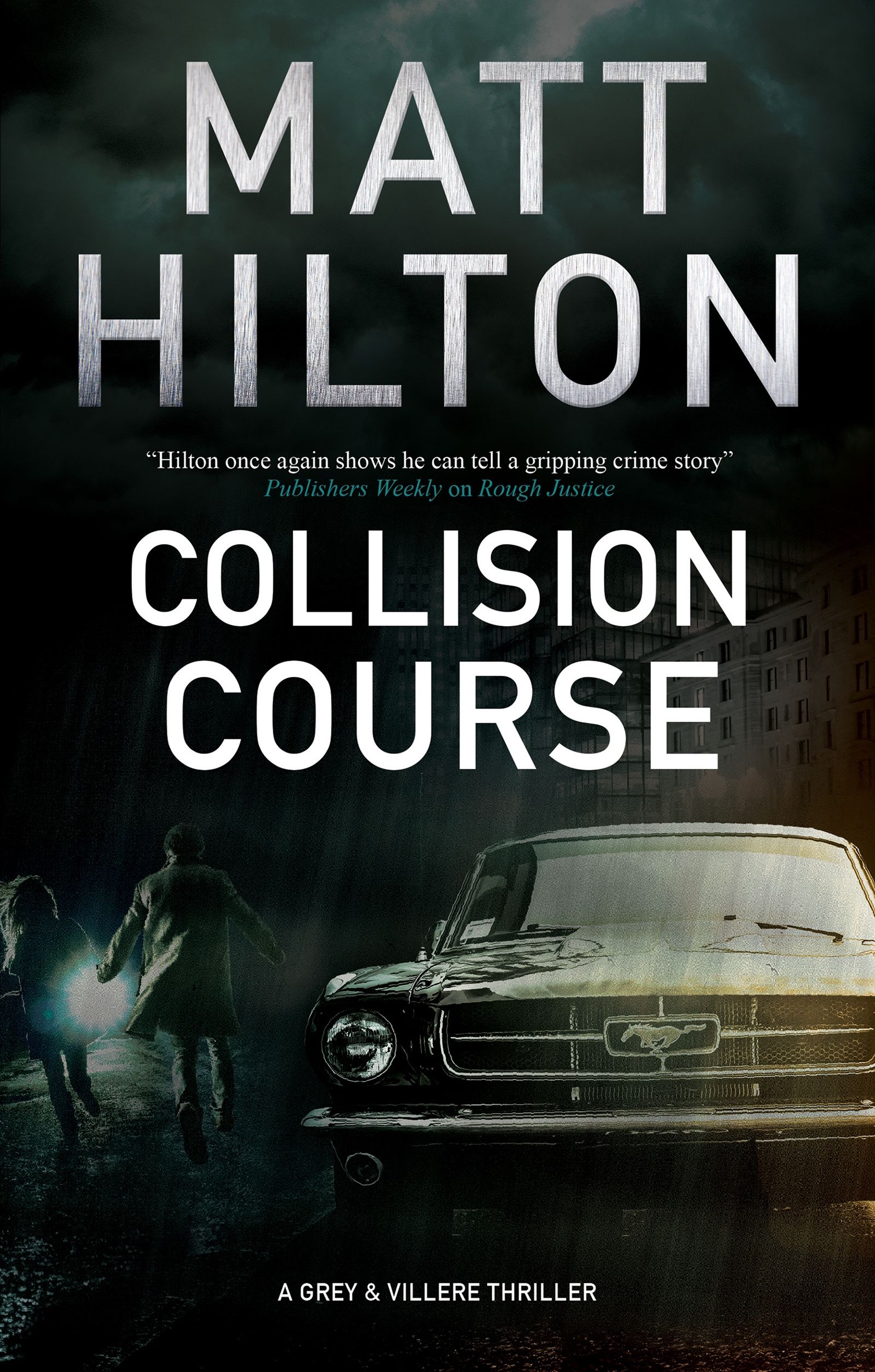 Collision Course
by Matt Hilton
Private investigator Tess Grey feels duty bound to help when the missing girl she has been asked to find becomes involved a high-stakes case of extortion.
Private investigator Tess Grey's latest case involves tracking down Hayley Cameron, a young girl who has fled after discovering that she was adopted. Tess, aided by her fiancé Po Villere, traces Hayley to the apartment of Madison Toner – one of Hayley's college friends – in Bangor, Maine.
Despite Tess's pleas, Hayley refuses to return to her adoptive mother. Both Tess and Po believe there's more to her running away than it seems, especially when they see Madison's father bloodied and beaten. Concerned for Hayley's well-being, they conduct a stake-out.
When thugs turn up to extort Madison and Hayley, Tess and Po feel duty bound to get involved. But what are the girls embroiled in? Who are after them and to what lengths will they go? Tess and Po don't know it yet, but events are about to grow deadly.
Reviews
"Hard-boiled but soft-hearted … Readers will hope Tess and Po will be back soon"
Publishers Weekly
"A riotous action read, luring readers into cheering when Po has a scumbag at his mercy and exclaims, "I've only just gotten started with you." "
Booklist
"Action galore. The circular firing squad that ends the tale and several characters is a particularly nice touch"
Kirkus Reviews
"Points of view shifts ratchet up the suspense, and shifting alliances and motives keep the reader alert . . . A gripping crime story"
Publishers Weekly on Rough Justice
"Crack! Pow! Ouch! Repeat as needed"
Kirkus Reviews on Rough Justice
"Hilton provides a doozy of a wham-bam finale. A high-energy fifth thriller . . . Fans will eagerly await their next adventure"
Publishers Weekly on False Move
"A satisfyingly slow building tension leading to a satisfactorily violent finale"
Booklist on False Move
"A beautifully constructed and written suspenser"
Booklist on Worst Fear
"A fast-paced, terrifying, free-for-all finale . . . That Tess and Po always prevail when they kick butt is part of this series' appeal"
Publishers Weekly on Worst Fear
Editions
Collision Course by Matt Hilton is available in the following formats
| | | | | | |
| --- | --- | --- | --- | --- | --- |
| Hardback | 9780727890467 | 1st December 2020 | 147 X 227mm | 240 | $28.99 |
| Hardback | 9780727890467 | 30th September 2020 | 147 X 227mm | 240 | £20.99 |
| Ebook | 9781448304509 | 1st November 2020 | N/A | 240 | $14.99 |
| Ebook | 9781448304509 | 1st November 2020 | N/A | 240 | £12.99 |
| Hardback - Large Print | 9781780291857 | 31st August 2021 | 143 X 223mm | 352 | $36.95 |
| Hardback - Large Print | 9781780291857 | 24th June 2021 | 143 X 223mm | 352 | £22.99 |
| Paperback | 9781780297293 | 27th July 2021 | 139 X 217mm | 240 | $17.95 |
| Paperback | 9781780297293 | 31st May 2021 | 139 X 217mm | 240 | £13.99 |
| Format | ISBN | Publication Date | Dimensions | Pages | Price |
The Grey and Villere Thriller Series