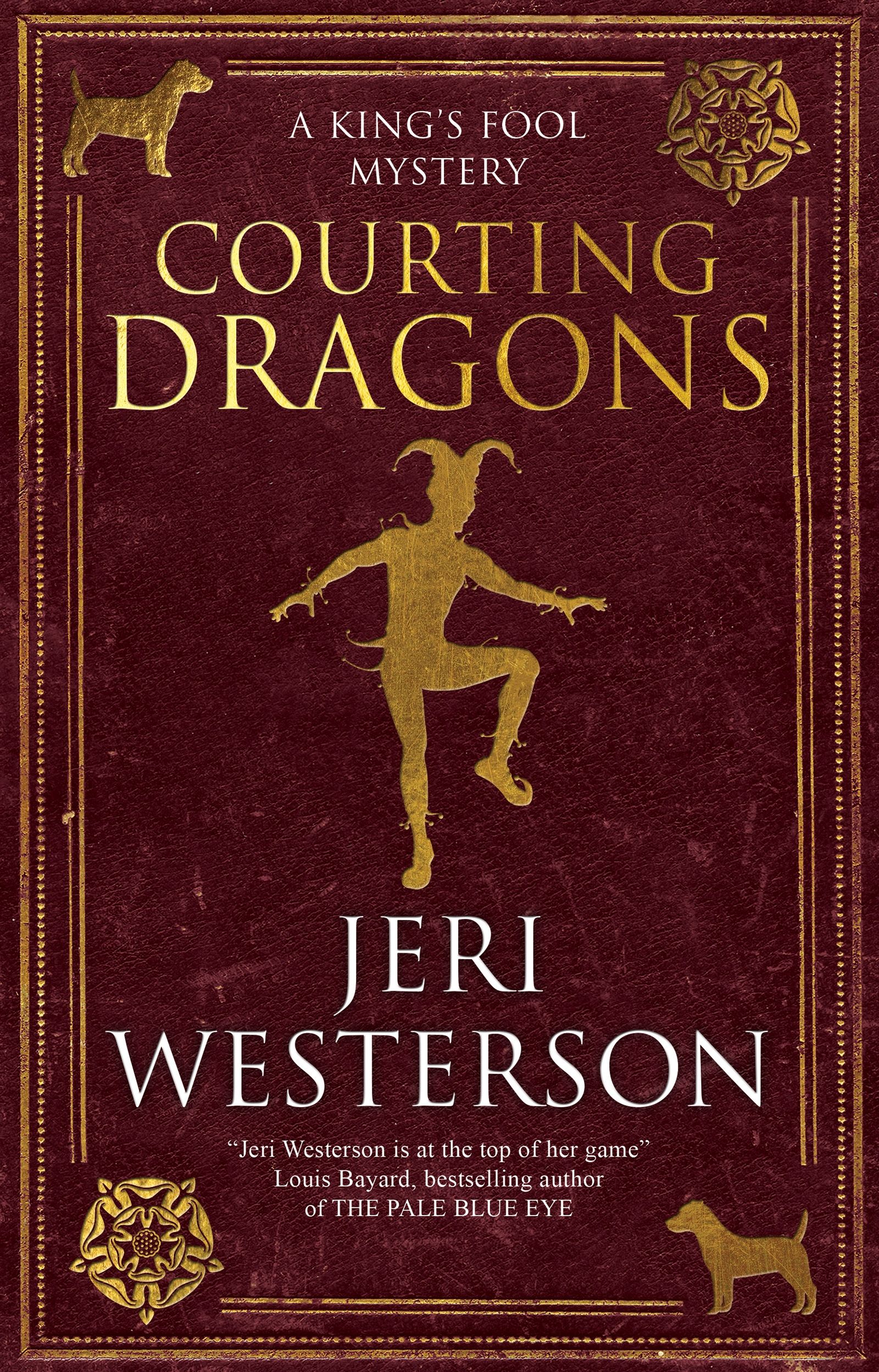 Courting Dragons
by Jeri Westerson
Introducing Will Somers, the king's jester but nobody's fool in this exuberant, intriguing and thoroughly entertaining mystery set in Tudor England – the first in a new series from the author of the critically acclaimed Crispin Guest Medieval Noir series.
1529, London. Jester Will Somers enjoys an enviable position at the court of Henry VIII. As the king's entertainer, chief gossip-monger, spy and loyal adviser, he knows all of the king's secrets – and almost everyone else's within the walls of Greenwich Palace.
But when Will discovers the body of Spanish count Don Gonzalo while walking his trusted sidekick Nosewise in the courtyard gardens, and a blackmail note arrives soon after demanding information about the king, is one of his own closely guarded secrets about to be exposed? Trouble is afoot at the palace. Are the king's enemies plotting a move against him? Will must draw on all his wit and ingenuity to get to the bottom of the treacherous and deadly goings-on at the court before further tragedy strikes . . .
Reviews
"Jeri Westerson is at the top of her game"
Louis Bayard, bestselling author of THE PALE BLUE EYE
"Devotees of Alan Gordon's Fools' Guild mysteries will welcome this promising series"
Publishers Weekly
"For readers who enjoy accurate, in-depth historical details in a mystery"
Library Journal
"The Tudor court as seen through the eyes of wily Will Somers, Henry VIII's jester, comes to vivid life in this sparkling mystery"
C.W. Gortner, bestselling author of THE TUDOR SECRET
"Familiar historical figures seen from a different viewpoint add spice to the mystery"
Kirkus Reviews
"An appropriate end to Westerson's series. Long-time fans will be eager to see if Crispin can triumph over the past, and anyone who enjoys medieval mysteries can follow it easily"
Library Journal Starred Review on The Deadliest Sin
"Westerson's acclaimed series mixes historical detail with a deep dive into the character of a flawed but honorable hero'"
Kirkus Reviews on Spiteful Bones
"This latest in the always enjoyable, crisply written series delivers an agreeable mix of adventure and atmosphere"
Booklist on Sword of Shadows
"History, mythology, and mystery mix in a rollicking adventure that offers a fresh perspective on the famous Arthurian legend'"
Kirkus Reviews on Sword of Shadows
"Well plotted and comes with a deeply satisfying resolution. Another winner"
Booklist on The Deepest Grave
Editions
Courting Dragons by Jeri Westerson is available in the following formats
| | | | | | |
| --- | --- | --- | --- | --- | --- |
| Hardback | 9781448309870 | 3rd January 2023 | 146 X 224mm | 224 | $30.99 |
| Hardback | 9781448309870 | 3rd January 2023 | 146 X 224mm | 224 | £21.99 |
| Ebook | 9781448309887 | 3rd January 2023 | N/A | 224 | $14.99 |
| Ebook | 9781448309887 | 3rd January 2023 | N/A | 224 | £12.99 |
| Paperback | 9781448309894 | 26th September 2023 | 138 X 216mm | 224 | $18.99 |
| Paperback | 9781448309894 | 27th July 2023 | 138 X 216mm | 224 | £13.99 |
| Format | ISBN | Publication Date | Dimensions | Pages | Price |
The King's Fool mystery Series