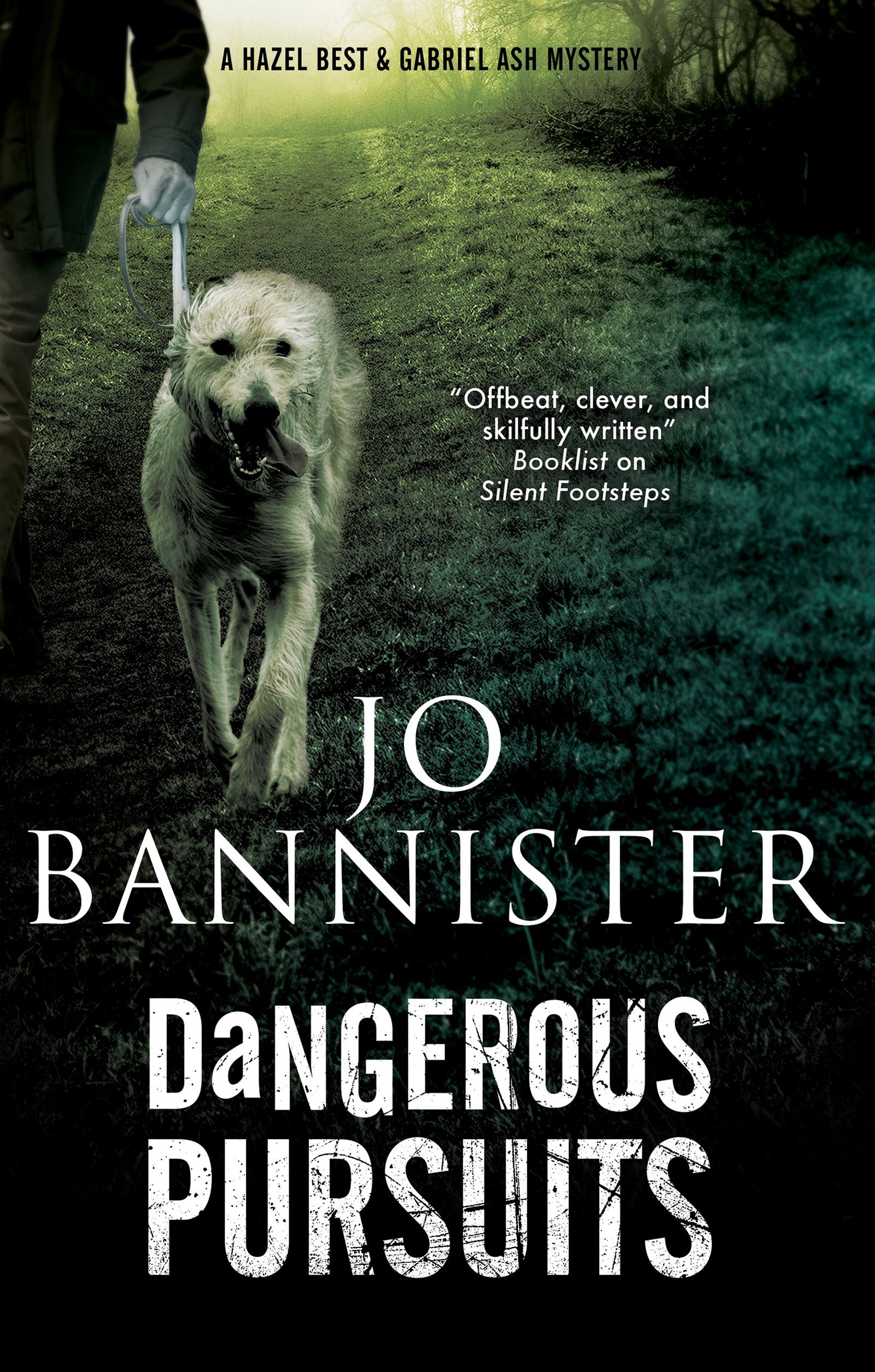 Dangerous Pursuits
by Jo Bannister
When Gabriel Ash comes across a terrified young woman fleeing a brutal attacker, he and Hazel Best are drawn into a complex and baffling investigation.
Rachel Somers, running . . . Something appalling happened in the wood. When Gabriel Ash and his dog come to her aid, she thinks she's safe. But this is Norbold, where things aren't always as they seem.
Detective Chief Inspector Gorman thinks this is his worst nightmare: a predatory paedophile who's prepared to kill rather than be taken. Constable Hazel Best thinks she's helping both the Somers family and her friend Ash, but her tendency to follow her heart rather than her orders is about to get her into trouble again. And the people of Norbold have noticed that descriptions of the attacker, sketchy as they are, fit Ash better than they fit anyone else.
With panic stalking the town, DCI Gorman needs to make an arrest before more young girls are attacked, before someone else dies, before the vigilantes who burned Ash's shop decide to burn him too. But the parameters keep shifting, and almost none of the facts he's relying on will turn out to be true. The solution to the mystery is more shocking, and more tragic, than even these three could have imagined.
Reviews
"Bannister's latest in this popular series is one of her best. Strong characters, well-set-up twists, gentle humor, and a shock ending make for a fine read"
Booklist
"Enjoyable … The gradual change in the rapport between Gabriel and Hazel will please series fans. Newcomers will be likewise enchanted by this distinctive pair"
Publishers Weekly
"Fine, no-frills detective work that repeatedly throws disturbing new lights on every member of its limited cast"
Kirkus Reviews
"Offbeat, clever, and skillfully written ... Memorable characters, gentle humor, a twisty plot - and chocolates"
Booklist on Silent Footsteps
"Diverting ... Fans of offbeat police procedurals will be rewarded"
Publishers Weekly on Silent Footsteps
"Bannister's cleverly plotted, gripping story offers an effective combination of straightforward police procedural and suspense thriller"
Booklist on Kindred Spirits
"What continues to shine in this series is the warts-and-all friendship that makes Bannister's hero and heroine such an unlikely team"
Kirkus Reviews on Kindred Spirits
"A cracking-good read. Whether you're a fan of the series or a newcomer, you'll be hooked from the get-go"
Booklist on Other Countries
Editions
Dangerous Pursuits by Jo Bannister is available in the following formats
| | | | | | |
| --- | --- | --- | --- | --- | --- |
| Hardback | 9780727890870 | 2nd July 2020 | 146 X 225mm | 240 | $28.99 |
| Hardback | 9780727890870 | 31st May 2020 | 146 X 225mm | 240 | £20.99 |
| Ebook | 9781448304394 | 1st July 2020 | N/A | 240 | $10.99 |
| Ebook | 9781448304394 | 1st July 2020 | N/A | 240 | £8.99 |
| Hardback - Large Print | 9781780291628 | 27th April 2021 | 144 X 221mm | 336 | $36.95 |
| Hardback - Large Print | 9781780291628 | 26th February 2021 | 144 X 221mm | 336 | £22.99 |
| Paperback | 9781780297187 | 27th April 2021 | 140 X 217mm | 240 | $17.95 |
| Paperback | 9781780297187 | 25th March 2021 | 140 X 217mm | 240 | £12.99 |
| Format | ISBN | Publication Date | Dimensions | Pages | Price |
The Hazel Best & Gabriel Ash Mystery Series