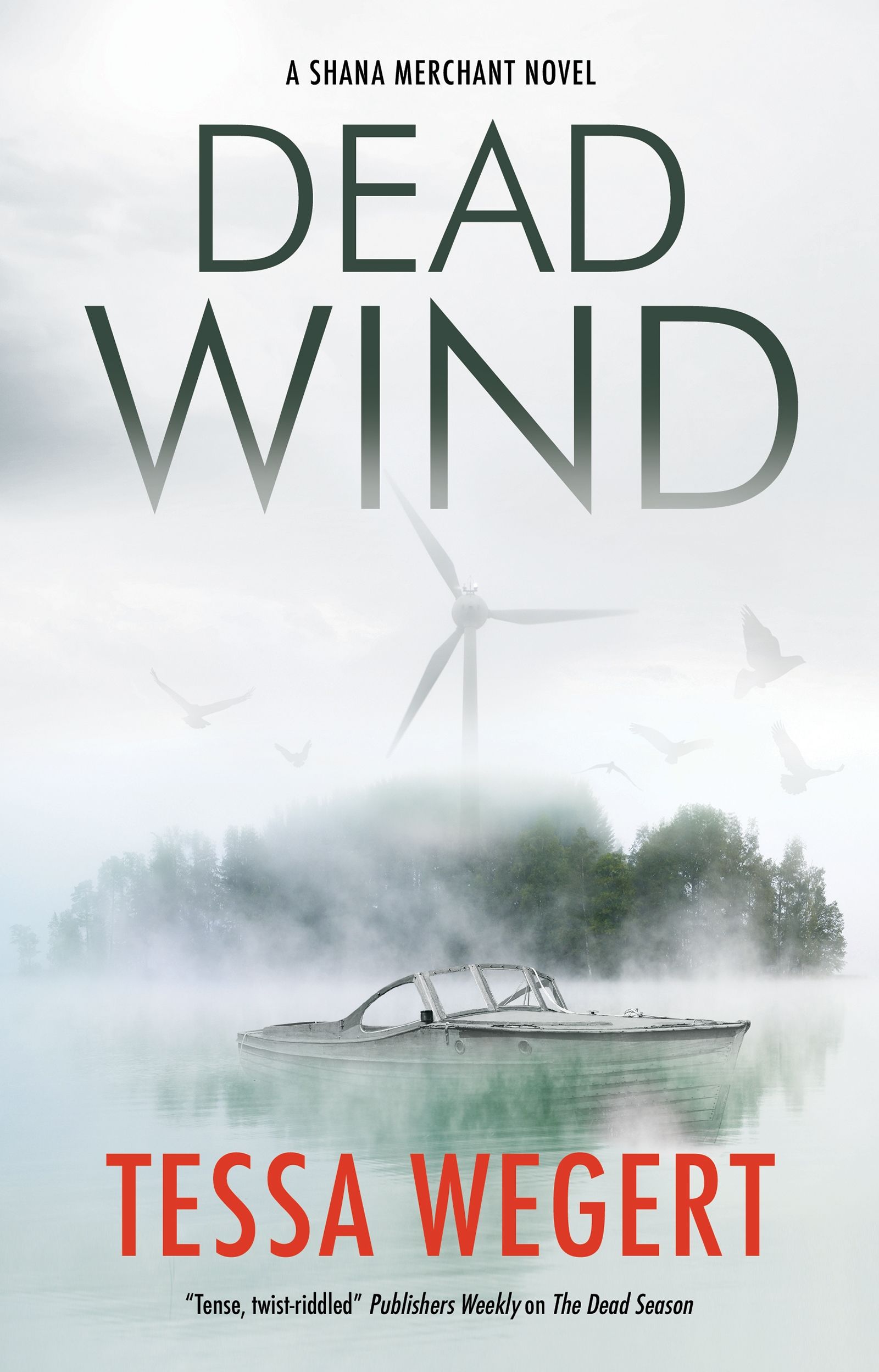 Dead Wind
by Tessa Wegert
Senior Investigator Shana Merchant must dredge up dark secrets and old grudges if she's to solve the murder of a prominent local citizen in the Thousand Islands community she now calls home.
"Wegert nicely balances plot and characterization. Fans of Denise Mina's Alex Morrow will be pleased" – Publishers Weekly Starred Review
"Louise Penny meets Ruth Ware in this small town mystery that bubbles with secrets and intrigue" – Charlie Donlea, internationally bestselling author of Twenty Years Later
"An atmospheric, sophisticated thriller with layers upon layers of secrets" – Sarah Stewart Taylor, author of the Maggie D'arcy mysteries
"A bone-chilling mystery that crackles with suspense"– Joanna Schaffhausen, author of the Annalisa Vega novels
The body is discovered on Wolfe Island, under the shadow of an enormous wind turbine. Senior Investigator Shana Merchant, arriving on the scene with fellow investigator Tim Wellington, can't shake the feeling that she knows the victim – and the subsequent identification sends shockwaves through their community in the Thousand Islands of Upstate New York.
Politics, power, passion . . . there are dark undercurrents in Shana's new home, and finding the killer means dredging up her new friends and neighbors' old grudges and long-kept secrets.
That is, if the killer is from the community at all. For Shana's keeping a terrible secret of her own: eighteen months ago she escaped from serial killer Blake Bram's clutches. But has he followed her, to kill again?
The Shana Merchant novels are a brilliant blend of chilling psychological thriller and gripping police procedural, set in an atmospheric island community with a small-town vibe.
Reviews
"Louise Penny meets Ruth Ware in this small town mystery that bubbles with secrets and intrigue"
Charlie Donlea, internationally bestselling author of Twenty Years Later, on Dead Wind
"A bone-chilling mystery that crackles with suspense"
Joanna Schaffhausen, author of the Annalisa Vega novels, on Dead Wind
"An atmospheric, sophisticated thriller with layers upon layers of secrets"
Sarah Stewart Taylor, author of the Maggie D'arcy mysteries, on Dead Wind
"Wegert melds the police investigation so deftly with Shana's endless family drama"
Kirkus Reviews
Publishers Weekly on The Dead Season
"Jan Burke fans should take note"
Publishers Weekly on The Dead Season
"Professional-grade detection with a no-nonsense heroine"
Kirkus Reviews on The Dead Season
"Fans of golden age closed circle murder mysteries will enjoy this"
Publishers Weekly on Death in the Family
"This locked-room thriller has all of the requisite tangled motives and deductive crime-solving, along with a riveting introduction to edgy survivor Shana and Tim, her steady, easygoing foil"
Booklist on Death in the Family
Editions
Dead Wind by Tessa Wegert is available in the following formats
| | | | | | |
| --- | --- | --- | --- | --- | --- |
| Hardback | 9781448307128 | 5th April 2022 | 145 X 224mm | 240 | $28.99 |
| Hardback | 9781448307128 | 27th January 2022 | 145 X 224mm | 240 | £20.99 |
| Ebook | 9781448308422 | 1st March 2022 | N/A | 240 | $14.99 |
| Ebook | 9781448308422 | 1st March 2022 | N/A | 240 | £12.99 |
| Hardback - Large Print | 9781448310487 | 30th May 2023 | 145 X 220mm | 368 | $38.99 |
| Hardback - Large Print | 9781448310487 | 30th March 2023 | 145 X 220mm | 368 | £23.99 |
| Paperback | 9781448308439 | 29th November 2022 | 135 X 215mm | 240 | $17.95 |
| Paperback | 9781448308439 | 29th September 2022 | 135 X 215mm | 240 | £12.99 |
| Format | ISBN | Publication Date | Dimensions | Pages | Price |
The Shana Merchant Novel Series