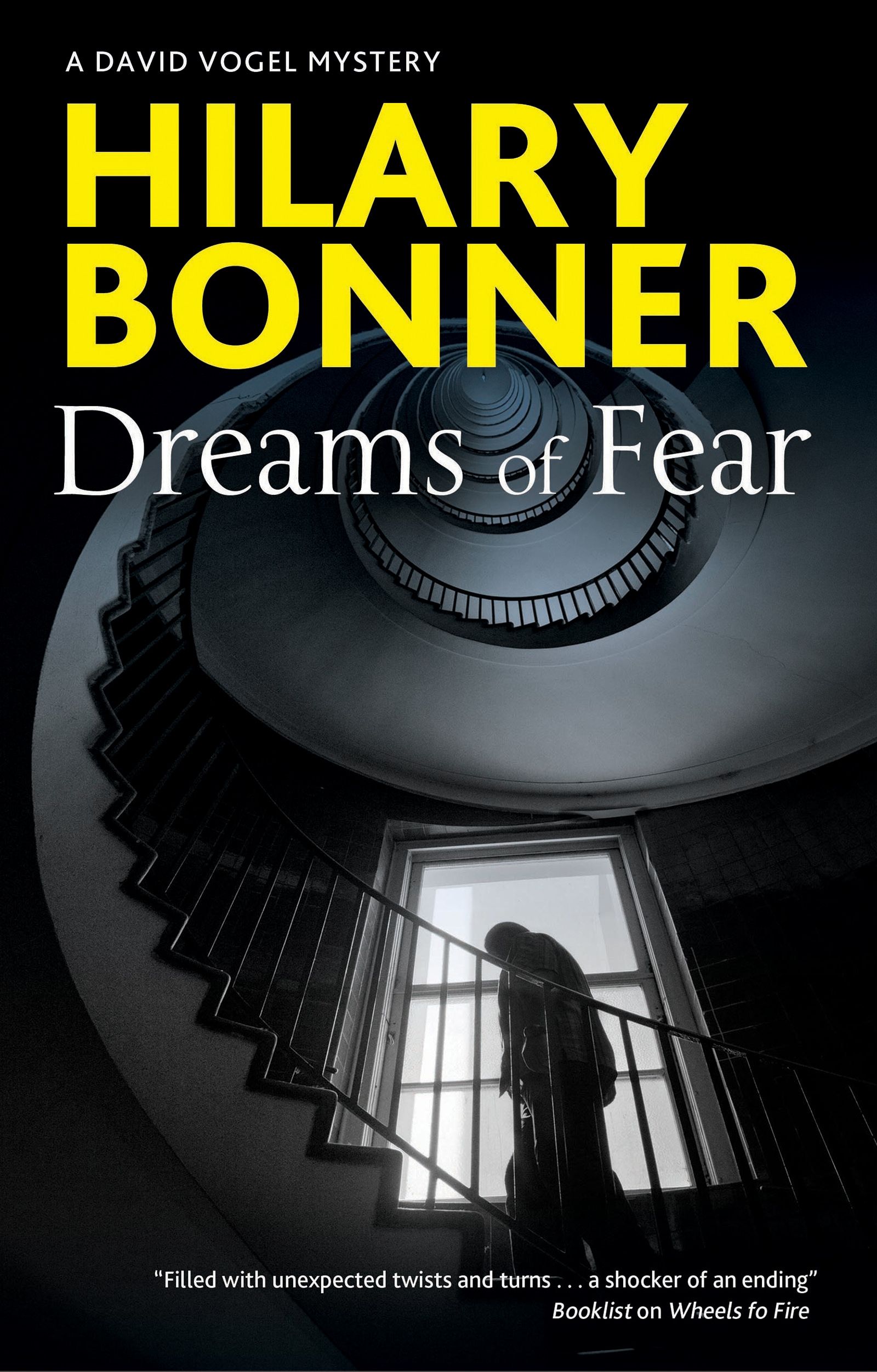 Dreams of Fear
by Hilary Bonner
A young mother's death leads Bristol detective David Vogel to uncover a shocking series of family secrets stretching back 30 years.
Jane Ferguson suffers from horrific nightmares which she claims not to be able to explain. And when her traumatised six-year-old daughter finds Jane dead, hanging by the neck in the hallway of the family's seaside home, it is assumed she took her own life.
But routine police enquiries reveal evidence indicating that Jane has been murdered, and her businessman husband Felix, commodore of the local yacht club, becomes the chief suspect.
Called in to launch a major inquiry, Detective Inspector David Vogel discovers that nothing connected with Jane Ferguson's death is as it seems. Gradually, he uncovers a deeply disturbing story involving a succession of shocking family secrets stretching back over three decades.
Reviews
"Fans of character-driven British police procedurals will be satisfied"
Publishers Weekly
"A cracking read, tautly suspenseful, and starring a notably engaging copper hero"
Booklist
"A crisply written crime novel that methodically reveals the pieces of a complex puzzle, effectively challenging armchair sleuths"
Kirkus Reviews
"This taut thriller is filled with unexpected twists and turns, leading up to a shocker of an ending"
Booklist on Wheel of Fire
"Belting Bristol-set cop story ... Ingenious"
Sunday Times Crime Club on Deadly Dance
"Bonner is now a formidable crime writer ... Packed with sharp eye for detail"
Daily Mail on Deadly Dance
"A gripping novel that will draw admirers of Peter James and Val McDermid"
Library Journal on Deadly Dance
"A suspenseful and disturbing page-turner … Fully fleshed characters, a masterfully constructed plot and a shock ending make for a gripping read"
Booklist on Deadly Dance
"A well-crafted series launch"
Publishers Weekly on Deadly Dance
"Bonner has a fine reputation for strongly written, disturbing novels. With a sparkling cast and engaging panache, this one twists and turns seductively, before revealing its secrets"
Daily Mail on Friends to Die For
Editions
Dreams of Fear by Hilary Bonner is available in the following formats
| | | | | | |
| --- | --- | --- | --- | --- | --- |
| Hardback | 9780727889072 | 4th February 2020 | 146 X 223mm | 256 | $28.99 |
| Hardback | 9780727889072 | 31st October 2019 | 146 X 223mm | 256 | £20.99 |
| Ebook | 9781448303687 | 1st December 2019 | N/A | 256 | $10.99 |
| Ebook | 9781448303687 | 1st December 2019 | N/A | 256 | £7.99 |
| Hardback - Large Print | 9780727892720 | 27th October 2020 | 145 X 225mm | 368 | $36.95 |
| Hardback - Large Print | 9780727892720 | 31st August 2020 | 145 X 225mm | 368 | £22.99 |
| Paperback | 9781780296531 | 26th January 2021 | 140 X 215mm | 256 | $17.95 |
| Paperback | 9781780296531 | 30th November 2020 | 140 X 215mm | 256 | £13.99 |
| Format | ISBN | Publication Date | Dimensions | Pages | Price |
The David Vogel Mystery Series