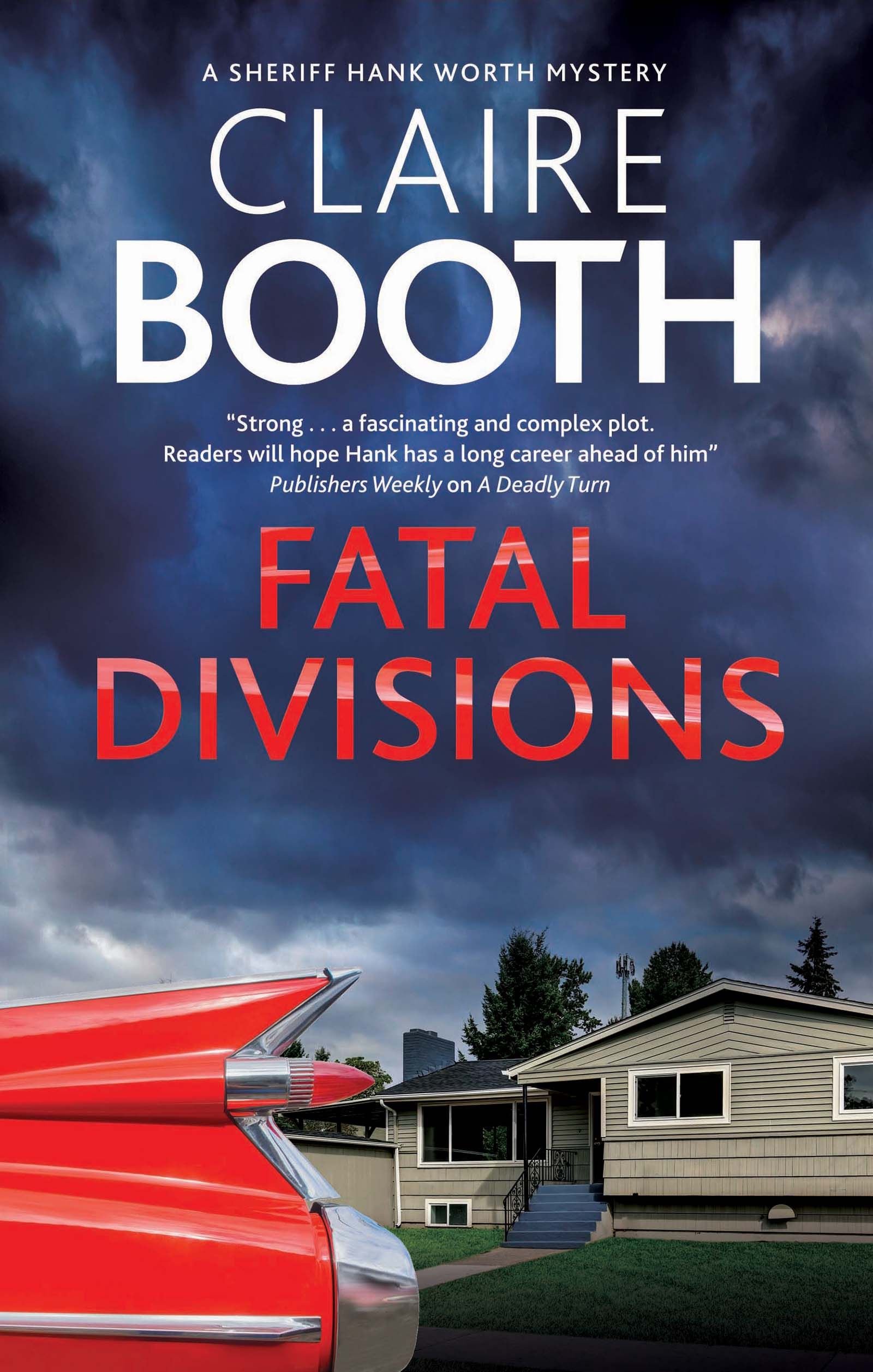 Fatal Divisions
by Claire Booth
Family secrets and internal police politics cause trouble for Sheriff Hank Worth and his Chief Deputy Sheila Turley in this compelling mystery.
Hank Worth has always been committed to his job as Branson sheriff, so getting him to take a break is difficult. But to everyone's surprise he agrees to take time off after a grueling case and visit a friend in Columbia, Missouri, leaving Chief Deputy Sheila Turley in charge. She quickly launches reforms that create an uproar, and things deteriorate even further when an elderly man is found brutally murdered in his home.
As Sheila struggles for control of the investigation and her insubordinate deputies, Hank is not relaxing as promised. His Aunt Fin is worried her husband is responsible for the disappearance of one of his employees, and Hank agrees to investigate.
The search for the missing woman leads to a tangle of deceit that Hank is determined to unravel . . . no matter the impact on his family.
Reviews
"Fans of police procedurals will appreciate the skillful, character-driven story that culminates in a fascinating conclusion to multiple cases. Readers of Steven F. Havill's "Posadas County" mysteries may want to try this series"
Library Journal Starred Review
"Booth skillfully combines police procedural elements with a sharp focus on the families and professional lives of her protagonists. This superior regional series reliably entertains"
Publishers Weekly
"Booth skillfully juggles two stories, punctuating the novel with a series of minor cliff-hangers to keep us interested in one story when she switches to the other … Booth, a former crime reporter, has a strong prose style: it really feels like she is writing about real people and events"
Booklist
"A pleasing procedural with thoughtful characters and enough plot twists to keep you guessing"
Kirkus Reviews
"Strong ... a fascinating and complex plot. Readers will hope Hank has a long career ahead of him"
Publishers Weekly on A Deadly Turn
"A thoughtful entry in an increasingly solid series, particularly for the added dimension it brings to the protagonist"
Booklist on A Deadly Turn
"Touches of sly humor add appeal to Booth's standout debut ... Promises to be a most engaging regional police series"
Publishers Weekly Starred Review of The Branson Beauty
"Booth imbues her fast-moving narrative with humor and humanity"
Booklist on The Branson Beauty
Editions
Fatal Divisions by Claire Booth is available in the following formats
| | | | | | |
| --- | --- | --- | --- | --- | --- |
| Hardback | 9780727889973 | 5th January 2021 | 140 X 225mm | 240 | $28.99 |
| Hardback | 9780727889973 | 30th October 2020 | 140 X 225mm | 240 | £20.99 |
| Ebook | 9781448304400 | 1st December 2020 | N/A | 240 | $14.99 |
| Ebook | 9781448304400 | 1st December 2020 | N/A | 240 | £12.99 |
| Hardback - Large Print | 9781448306077 | 30th December 2021 | 145 X 222mm | 352 | $36.95 |
| Hardback - Large Print | 9781448306077 | 28th October 2021 | 145 X 222mm | 352 | £22.99 |
| Paperback | 9781780297194 | 27th September 2021 | 139 X 215mm | 240 | $17.95 |
| Paperback | 9781780297194 | 29th July 2021 | 139 X 215mm | 240 | £12.99 |
| Format | ISBN | Publication Date | Dimensions | Pages | Price |
The Sheriff Hank Worth Mystery Series