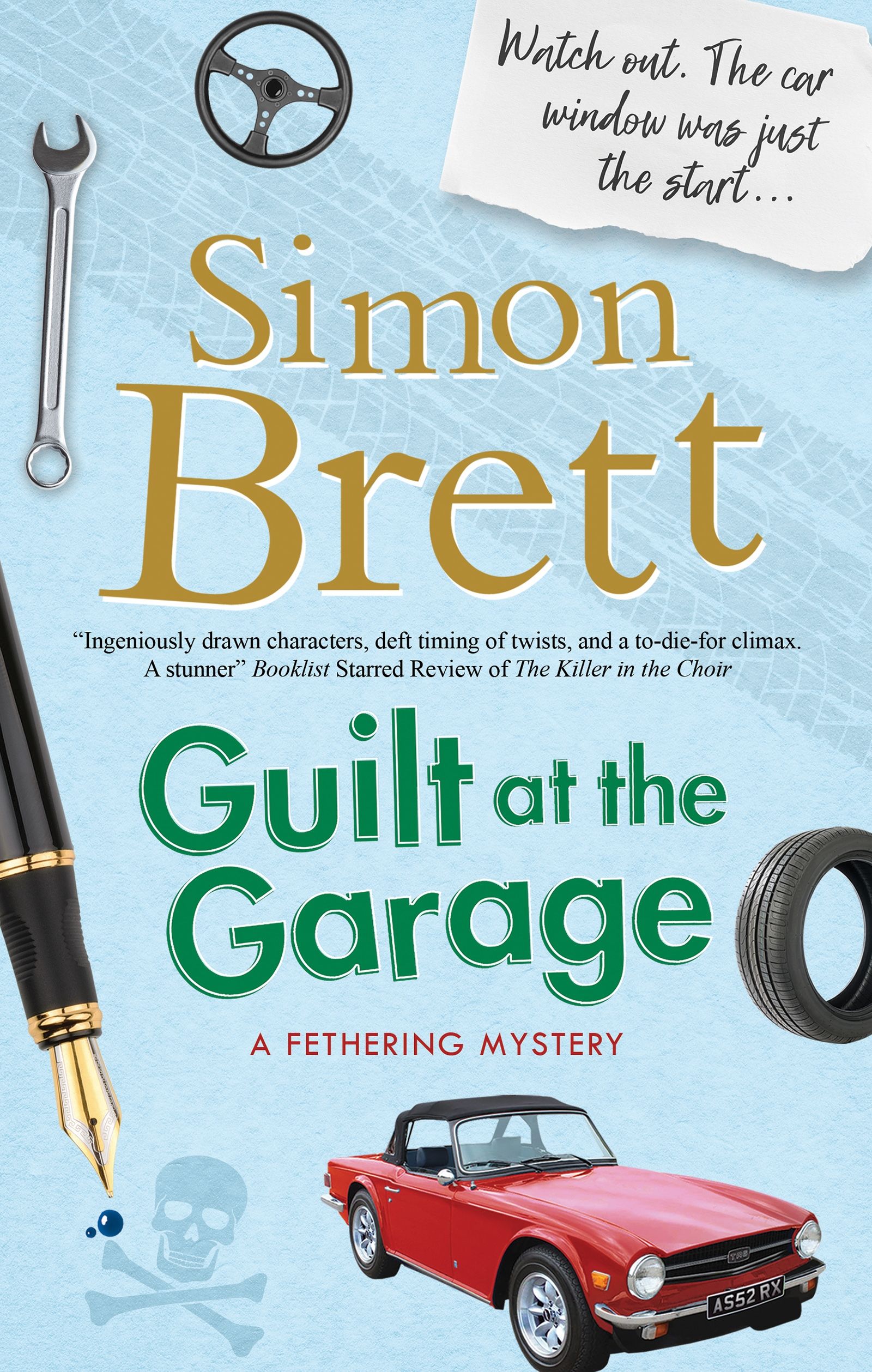 Guilt at the Garage
by Simon Brett
When Carole Seddon's car is vandalised, it heralds the start of a disturbing series of events in the witty and entertaining new Fethering mystery.
Carole Seddon's trusty Renault is one of her most treasured possessions. So when it is vandalised, there's only one person she will entrust with its repair: Bill Shefford has been servicing the vehicles of the good citizens of Fethering for many years. But how could something like this happen in Fethering of all places?
Then the note is shoved under Carole's kitchen door: Watch out. The car window was just the start. It would appear that she has been deliberately targeted. But by whom … and why?
Matters take an even more disturbing turn when a body is discovered at Shefford's Garage, crushed to death by a falling gearbox. It would appear to be a tragic accident. Carole and her neighbour Jude are not so sure. And the more they start to ask questions, the more evidence they uncover of decidedly foul play …
Reviews
"Brett fans will love this quirky, warmhearted mystery"
Booklist Starred Review of The Clutter Corpse
"A prolific and sharp-eyed observer of the British middle class's crimes and misdemeanours"
Kirkus Reviews on The Clutter Corpse
"Ingeniously drawn characters, deft timing of twists, and a to-die-for climax. A stunner"
Booklist Starred Review of The Killer in the Choir
"Peppered with wry wit, the story unfurls smoothly and swiftly"
Publishers Weekly on The Killer in the Choir
"A treasure trove of microgossip"
Kirkus Reviews on The Killer in the Choir
"The manner of murder is as satisfyingly bizarre as any Golden Age puzzler ... This may just be the best Brett novel yet"
Booklist Starred Review of The Liar in the Library
Editions
Guilt at the Garage by Simon Brett is available in the following formats
| | | | | | |
| --- | --- | --- | --- | --- | --- |
| Hardback | 9781780291321 | 2nd February 2021 | 145 X 220mm | 192 | $28.99 |
| Hardback | 9781780291321 | 30th November 2020 | 145 X 220mm | 192 | £20.99 |
| Ebook | 9781448304684 | 4th January 2021 | N/A | 192 | $14.99 |
| Ebook | 9781448304684 | 1st January 2021 | N/A | 192 | £12.99 |
| Hardback - Large Print | 9781780291727 | 27th July 2021 | 145 X 222mm | 272 | $36.95 |
| Hardback - Large Print | 9781780291727 | 31st May 2021 | 145 X 222mm | 272 | £22.99 |
| Paperback | 9781780297408 | 31st August 2021 | 140 X 217mm | 192 | $17.95 |
| Paperback | 9781780297408 | 30th June 2021 | 140 X 217mm | 192 | £13.99 |
| Format | ISBN | Publication Date | Dimensions | Pages | Price |
The Fethering Mystery Series