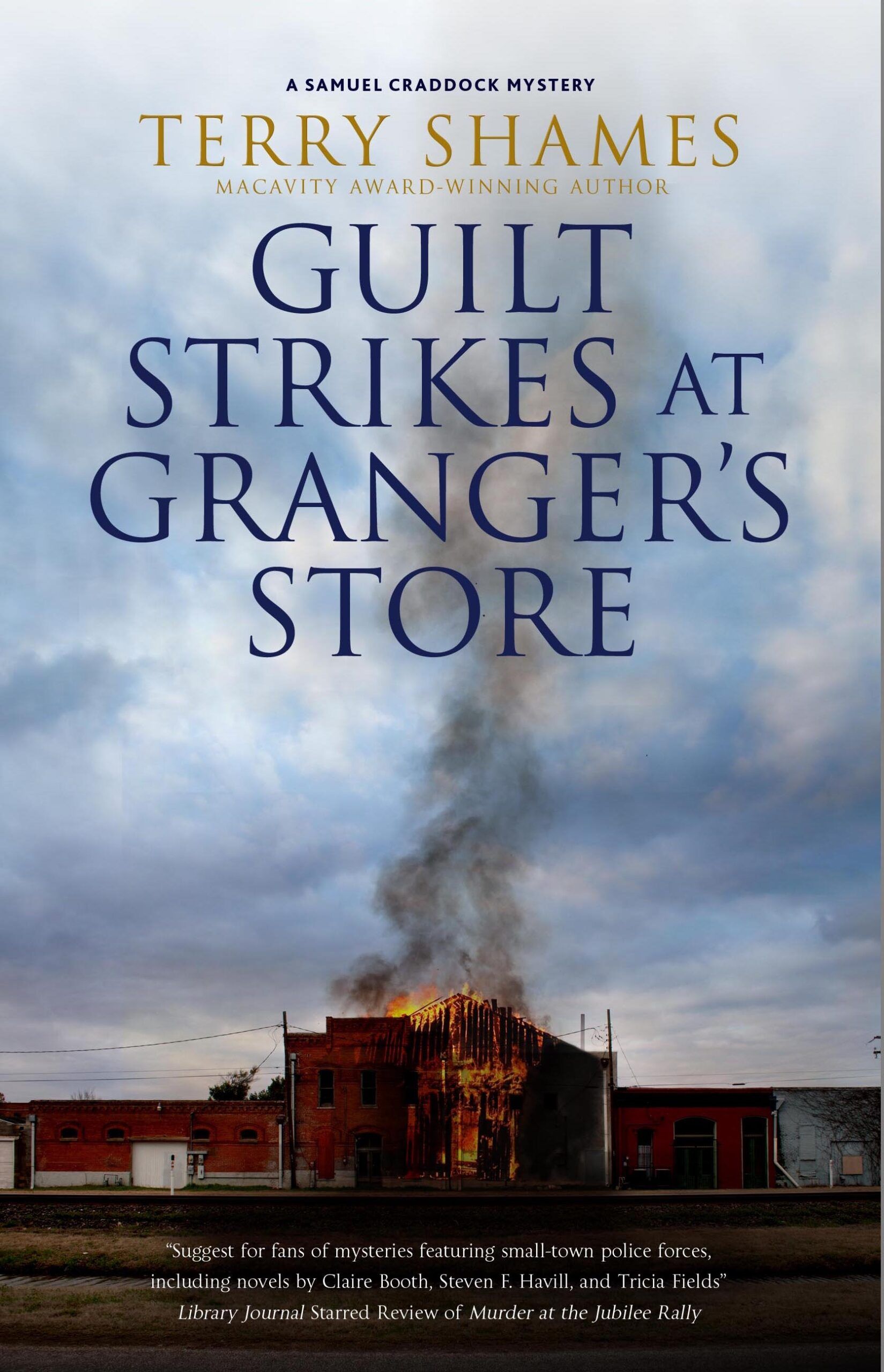 Guilt Strikes at Granger's Store
by Terry Shames
Trouble hits an animal feed store in a small Texas town, leading Chief of Police Samuel Craddock to uncover jaw-dropping secrets stretching back thirty years as he grapples to solve a deadly mystery.
Chief of Police Samuel Craddock is perplexed by increasingly troubling events at Granger's Feed Store. The shop's owner, Melvin Granger, recently had a stroke, and his son, Mark, has moved back to the small Texas town of Jarrett Creek to look after him and run the business. But it seems that some town folk are against Mark's plans to renovate and modernize the popular animal feed store . . . Could a devastating fire be linked to an attack on Mark and the threatening phone calls he's been receiving?
When the mummified body of a man originally from Jarrett Creek is found in the scorched shop, Craddock's investigation takes a sudden deadly turn. Who is determined to stop the renovation at any cost, and why? As Craddock investigates, he unearths explosive secrets stretching back thirty years . . .
Reviews
"The Samuel Craddock series may be the best regional crime series around today. This installment is no exception"
Library Journal Starred Review
"Readers of Shames' earlier Craddock adventures. . .will expect, and get, shocking revelations"
Booklist
"Long memories help solve a fascinating case in a small town with plenty of big problems"
Kirkus Reviews
"Suggest for fans of mysteries featuring small-town police forces, including novels by Claire Booth, Steven F. Havill, and Tricia Fields"
Library Journal Starred Review of Murder at the Jubilee Rally
"Craddock's understated first-person narration, the vivid secondary characters, and a nicely drawn small-town setting . . . Should win Shames new fans"
Publishers Weekly on Murder at the Jubilee Rally
"A neat character-intensive combo of clever police work and family angst"
Kirkus Reviews on Murder at the Jubilee Rally
"Shames's award-winning series will appeal to fans of Steven F. Havill and the late Bill Crider"
Library Journal on A Risky Undertaking for Loretta Singletary
"A surprise ending makes this entry one of Shames' best in an enjoyable series that raises small-town problems and their solutions to an art form"
Kirkus Reviews on A Risky Undertaking for Loretta Singletary
"Series fans and newcomers with a taste for well-wrought regional mysteries will be rewarded"
Publishers Weekly on A Risky Undertaking for Loretta Singletary
"Readers new to the series will find themselves quickly at home in Jarrett Creek"
Publishers Weekly on A Reckoning in the Back Country
Editions
Guilt Strikes at Granger's Store by Terry Shames is available in the following formats
| | | | | | |
| --- | --- | --- | --- | --- | --- |
| Hardback | 9781448311279 | 3rd October 2023 | 147 X 224mm | 240 | $31.99 |
| Hardback | 9781448311279 | 3rd October 2023 | 147 X 224mm | 240 | £21.99 |
| Ebook | 9781448311262 | 3rd October 2023 | N/A | 240 | $24.99 |
| Ebook | 9781448311262 | 3rd October 2023 | N/A | 240 | £20.99 |
| Format | ISBN | Publication Date | Dimensions | Pages | Price |
The Samuel Craddock mystery Series