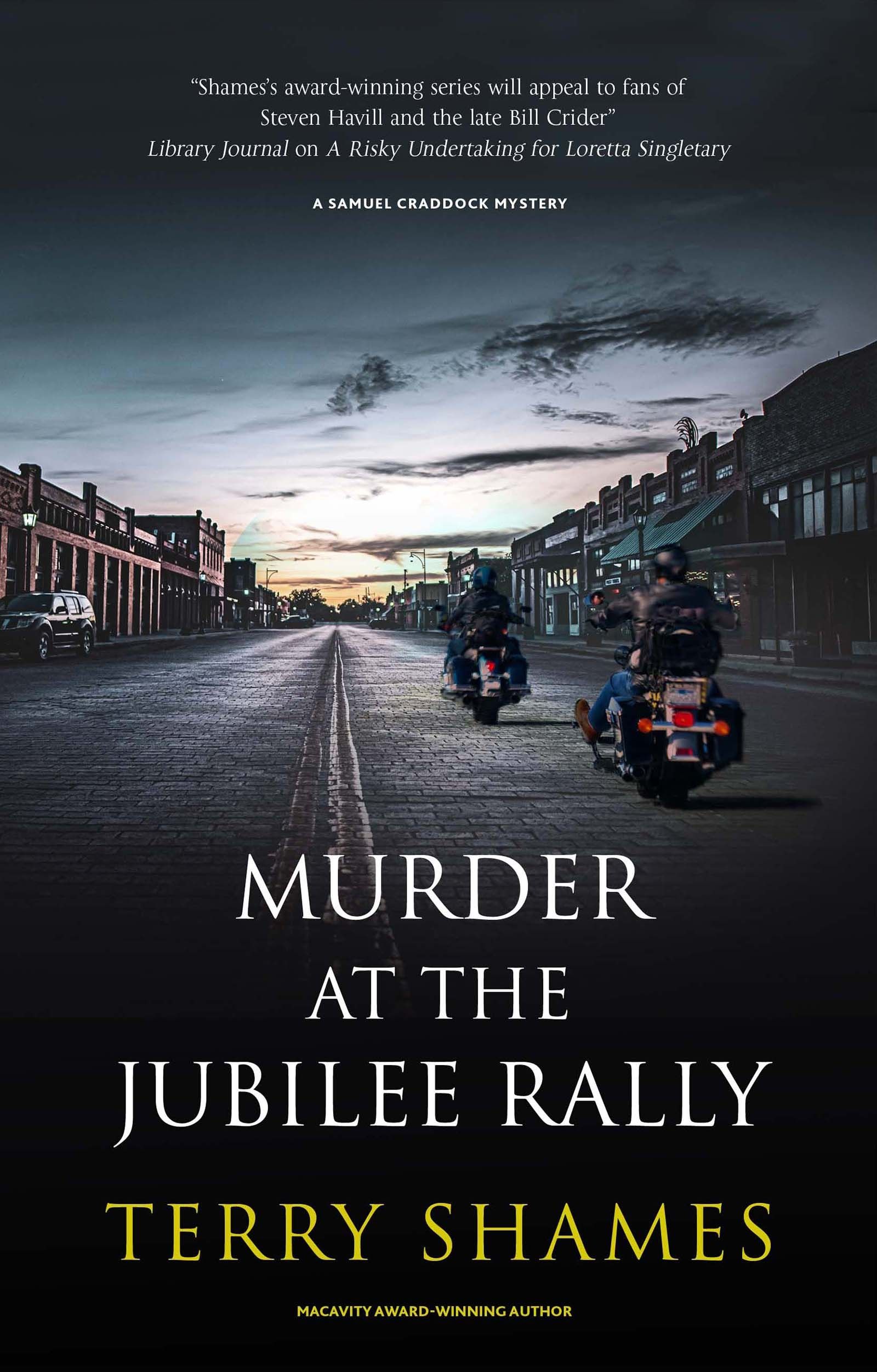 Murder at the Jubilee Rally
by Terry Shames
Chief of Police Samuel Craddock faces a race against time to solve a perplexing murder at a motorcycle rally before the event comes to an end.
With the annual Jubilee Motorcycle Rally approaching, Jarrett Creek residents are divided. Some despise the rowdy, unsavory behaviour of the bikers, but they bring welcome money to local merchants. What's to be done?
At a town meeting to find a solution, temperatures flare as Amber Johnson and Lily Deverell – family women on opposing sides of the debate – throw accusations at each other. Attempting to appease both camps, Chief of Police Samuel Craddock enacts a curfew to dissuade late-night revellers.
Nevertheless, trouble strikes. With the rally in full swing, Amber is found murdered at the event. Why did Amber leave her home that night? What secrets was she hiding from her family?
Craddock quickly faces more challenges as he offers to take in his rebellious teenaged niece, Hailey, whose parents are at their wits' end. He soon understands their pain. Can Craddock keep Hailey under control, or will dealing with her allow a murderer to escape justice?
Reviews
"Suggest for fans of mysteries featuring small-town police forces, including novels by Claire Booth, Steven F. Havill, and Tricia Fields"
Library Journal Starred Review
"Craddock's understated first-person narration, the vivid secondary characters, and a nicely drawn small-town setting . . . Should win Shames new fans"
Publishers Weekly
"A neat character-intensive combo of clever police work and family angst"
Kirkus Reviews
"Shames's award-winning series will appeal to fans of Steven Havill and the late Bill Crider"
Library Journal on A Risky Undertaking for Loretta Singletary
"A surprise ending makes this entry one of Shames' best in an enjoyable series that raises small-town problems and their solutions to an art form"
Kirkus Reviews on A Risky Undertaking for Loretta Singletary
"Series fans and newcomers with a taste for well-wrought regional mysteries will be rewarded"
Publishers Weekly on A Risky Undertaking for Loretta Singletary
"Readers new to the series will find themselves quickly at home in Jarrett Creek"
Publishers Weekly on A Reckoning in the Back Country
"Shames's superior sixth Samuel Craddock mystery [is] a timely story with resonance in the era of Black Lives Matter"
Publishers Weekly Starred Review of An Unsettling Crime for Samuel Craddock
Editions
Murder at the Jubilee Rally by Terry Shames is available in the following formats
| | | | | | |
| --- | --- | --- | --- | --- | --- |
| Hardback | 9781448309344 | 4th October 2022 | 142 X 223mm | 256 | $29.99 |
| Hardback | 9781448309344 | 4th October 2022 | 142 X 223mm | 256 | £20.99 |
| Hardback | 9781448313655 | 28th May 2024 | 147 X 222mm | 384 | $38.99 |
| Hardback | 9781448313655 | 28th March 2024 | 147 X 222mm | 384 | £23.99 |
| Ebook | 9781448309580 | 4th October 2022 | N/A | 256 | $14.99 |
| Ebook | 9781448309580 | 4th October 2022 | N/A | 256 | £12.99 |
| Paperback | 9781448309689 | 27th June 2023 | 140 X 15mm | 256 | $18.99 |
| Paperback | 9781448309689 | 27th April 2023 | 140 X 15mm | 256 | £13.99 |
| Format | ISBN | Publication Date | Dimensions | Pages | Price |
The Samuel Craddock mystery Series