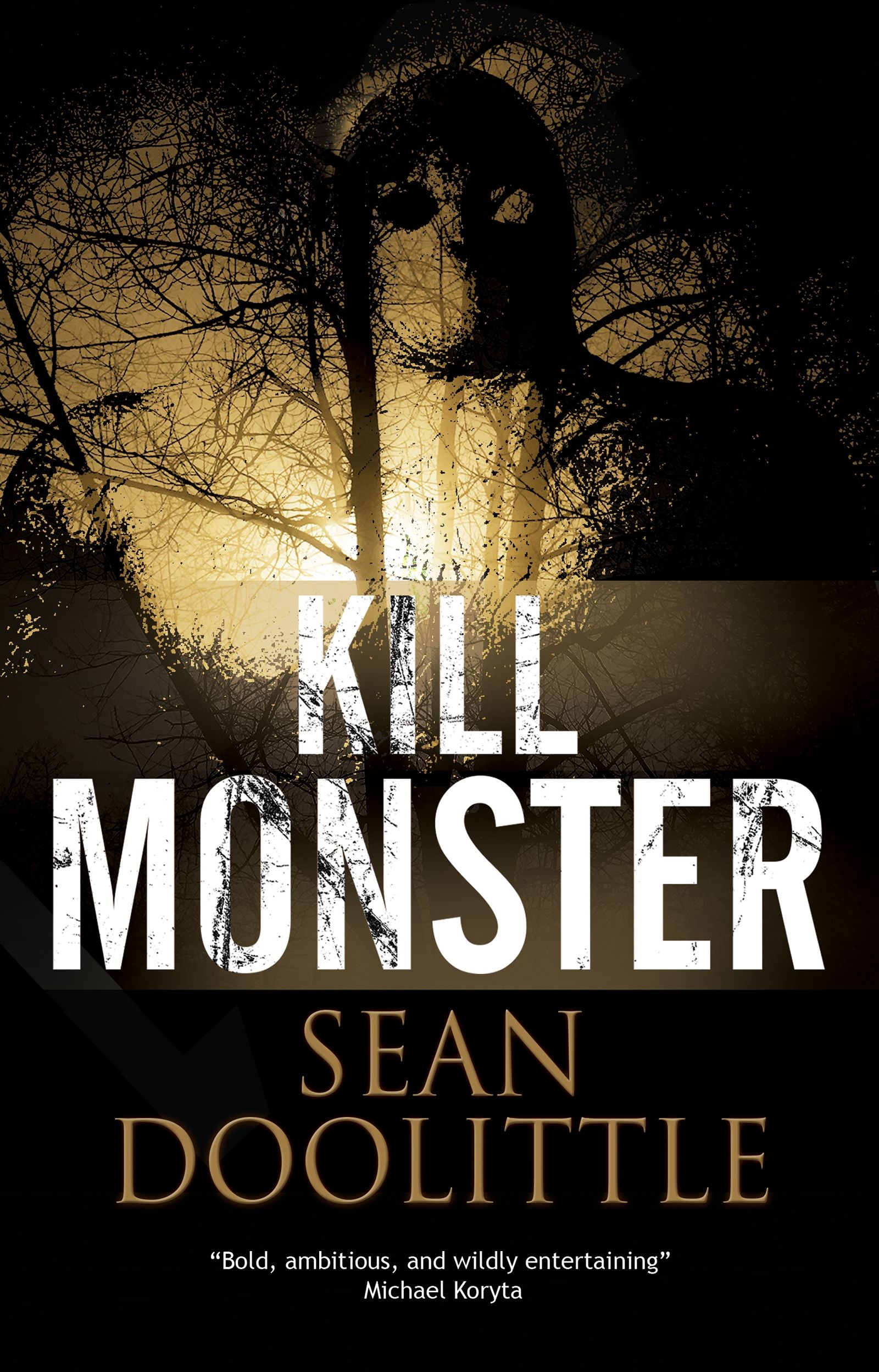 Kill Monster
by Sean Doolittle
"Doolittle delivers a rambunctious monster story that features precise wit, messy violence, aggressive pacing, and a charmingly incongruous cast" – Publishers Weekly Starred Review

A golem created to assassinate a criminal in 1856 is reawakened in the present … intent on targeting his victim's innocent descendants.
When treasure hunters excavate the long-lost wreck of the steamship Arcadia from a Kansas cornfield, a buried creature awakens – a mindless assassin of accursed earth, shaped like a man though in no way mortal, created to kill a slave trader in 1856.
With the original target long dead, the monster sets its sight on the man's closest surviving descendant . . . a burned-out IT technician named Ben Middleton. Nothing could have prepared Ben for the horror now aimed directly at his lackadaisical life. But he isn't only being chased by the monster, and it's not just his own life in danger.
Ben must pull himself together to not only save himself, but his estranged teenage son, Charley. Yet who are the mysterious people chasing him, and how do you stop a 150-year-old monster with no 'Off' switch?
Reviews
"Doolittle delivers a rambunctious monster story that features precise wit, messy violence, aggressive pacing, and a charmingly incongruous cast"
Publishers Weekly Starred Review
"Readers will find themselves rooting for the main characters, laughing at situational absurdity, and cringing at Doolittle's truly excellent use of gore"
Booklist
"Kill Monster is a yarn of magic and the mid-west, and it's as funny and wild as it sounds. For a long while now Sean Doolittle has been one of the best crime novelists working, and with Kill Monster he is making a serious bid to take over the fantasy field, as well"
Owen King, #1 New York Times bestselling co-author of Sleeping Beauties
"This bold, ambitious, and wildly entertaining supernatural thriller is a true joy. Kill Monster hits on every cylinder, delivering action, suspense, thrills, and chills all with originality and wit, and in the midst of the excitement offering a father–son story of deep emotional resonance. A page-turning winner"
Michael Koryta, New York Times bestselling author of How It Happened
"With heart, humor, genuine thrills, an intriguing premise, and a cinematic climax guaranteed to keep you turning pages, Kill Monster is the Sean Doolittle novel you've been waiting for. It's hardly my job to tell Simon Pegg what his next film project should be . . . but it should be this"
Victor Gischler, award-winning author of the Ink Mage trilogy
Editions
Kill Monster by Sean Doolittle is available in the following formats
| | | | | | |
| --- | --- | --- | --- | --- | --- |
| Hardback | 9780727889317 | 1st September 2019 | 148 X 223mm | 256 | $28.99 |
| Hardback | 9780727889317 | 31st May 2019 | 148 X 223mm | 256 | £20.99 |
| Ebook | 9781448302284 | 1st July 2019 | N/A | 256 | $10.99 |
| Ebook | 9781448302284 | 1st July 2019 | N/A | 256 | £8.99 |
| Hardback - Large Print | 9781448308736 | 26th July 2022 | 144 X 223mm | 368 | $36.95 |
| Hardback - Large Print | 9781448308736 | 26th May 2022 | 144 X 223mm | 368 | £22.99 |
| Paperback | 9781780296111 | 7th July 2020 | 140 X 215mm | 256 | $17.95 |
| Paperback | 9781780296111 | 31st March 2020 | 140 X 215mm | 256 | £12.99 |
| Format | ISBN | Publication Date | Dimensions | Pages | Price |