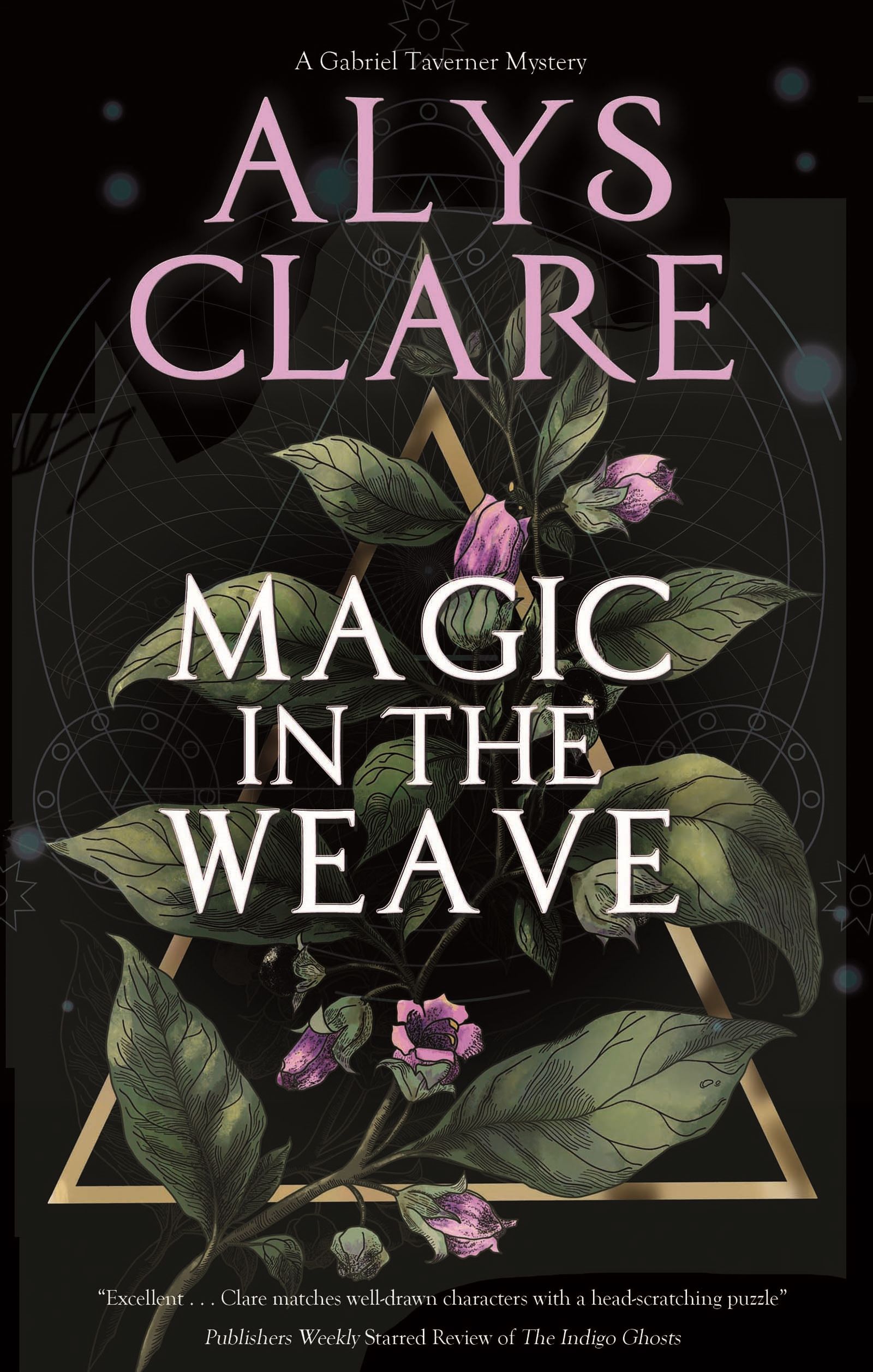 Magic in the Weave
by Alys Clare
A theatre company bring secrets, magic and murder along with them on their 'Plague Tour', in this bewitching historical mystery starring physician-sleuth Dr Gabriel Taverner.
"Plausible period detail and characters who feel real bolster the involving plot, and the prose and pacing are both top-notch. The prolific Clare shows no sign of running out of steam" – Publishers Weekly Starred Review
October, 1604. Plague has hit London, and the theatres are closed. But the capital's loss is Plymouth's gain, when a London theatre troupe, the Company, arrive on their 'Plague Tour'.
Country physician Gabriel Taverner is both bewitched and unnerved by the Company's sexually charged staging of Othello. The play thrums with magic and witchcraft – perilous subjects, with the King's deadly spies lurking around every corner.
When Gabriel's good friend, Coroner Theophilus Davey, tells him of a dangerous, whispered conversation overheard during a brief break, suggesting one of the cast fled London in possession of a terrible secret, Gabriel is even more relieved the Company will soon be on their way.
But then one of the actors collapses, and Gabriel finds himself caught in a waking nightmare, where nothing is as it appears. Death is stalking the Company – but how can Gabriel hope to catch a cold-blooded killer, if he can't even trust the evidence of his own eyes?
This page-turning historical mystery will appeal to readers who enjoy theatrical settings, head-scratching puzzles and creepy atmospherics.
Reviews
"Excellent … Clare matches well-drawn characters, in particular the charismatic lead, with a head-scratching puzzle and creepy atmospherics. Imogen Robertson fans will be pleased"
Publishers Weekly Starred Review of The Indigo Ghosts
"A gripping and unique page-turner that juxtaposes brutal realism with an astonishing, otherworldly, magical adventure … A real standout"
Booklist on The Indigo Ghosts
"Wonderfully authentic period details, larger-than-life characters, a thought-provoking plot, and an affecting and powerful conclusion make this one of Clare's best"
Booklist Starred Review of The Angel in the Glass
"Impressive ... The mystery satisfies with a tragic, far-reaching conclusion. Clare reinforces her place among the top rank of historical writers"
Publishers Weekly on The Angel in the Glass
"A superb storyteller whose clever, twisty plots; believable characters, and skilful writing will engross the reader from first page to last"
Booklist Starred Review of A Rustle of Silk
Editions
Magic in the Weave by Alys Clare is available in the following formats
| | | | | | |
| --- | --- | --- | --- | --- | --- |
| Hardback | 9780727890108 | 1st February 2022 | 146 X 223mm | 256 | $28.99 |
| Hardback | 9780727890108 | 25th November 2021 | 146 X 223mm | 256 | £20.99 |
| Ebook | 9781448307265 | 1st January 2022 | N/A | 256 | $14.99 |
| Ebook | 9781448307265 | 1st January 2022 | N/A | 256 | £12.99 |
| Paperback | 9781448307272 | 25th April 2023 | 139 X 217mm | 256 | $18.99 |
| Paperback | 9781448307272 | 23rd February 2023 | 139 X 217mm | 256 | £13.99 |
| Format | ISBN | Publication Date | Dimensions | Pages | Price |
The Gabriel Taverner Mystery Series