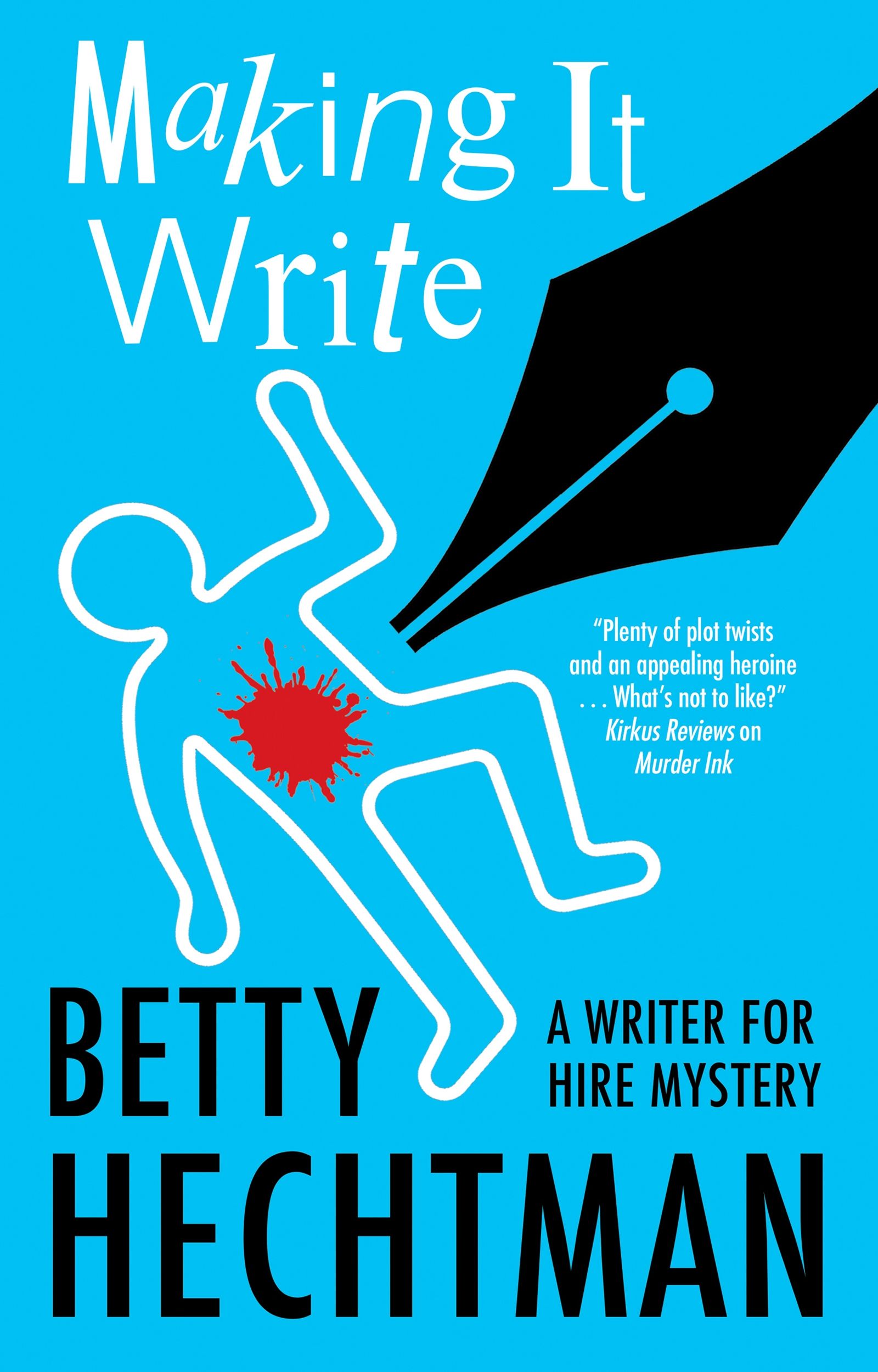 Making It Write
by Betty Hechtman
Writer for Hire Veronica Blackstone's latest client is writing a memoir with a shocking twist ending, until she's found dead before finishing it. Can Veronica unravel the clues within the memoir to discover the killer?
As a writer for hire, Veronica Blackstone puts her keyboard to use to help others. That includes writing advertising copy for local businesses or love letters for those with romantic troubles, or helping people publish their memoirs. Maeve Winslow needs the latter.
Maeve is the wife of a famous artist nominated for a prestigious award, and the memoir is to be released ahead of the ceremony. All of Maeve's notes are given to Veronica but for the final few pages. There's a huge surprise within those last pages, but Maeve won't reveal it yet.
When Maeve is found dead at the foot of her stairs it looks like an accident, but Veronica isn't convinced. Was the scene staged? Was Maeve murdered to keep her silent? Could clues to the surprise, and the identity of the murderer, be hidden within the notes? It's up to Veronica to figure it out and write the real story.
Reviews
"Plenty of plot twists and an appealing heroine . . . What's not to like?"
Kirkus Reviews on Murder Ink
"A sympathetic heroine . . . with an intriguing plot involving class and abuse. Readers will look forward to future instalments"
Publishers Weekly on Murder Ink
"Hechtman's lucky 13th is a character-driven cozy whose mystery is solid enough to raise it above the average"
Kirkus Reviews on Hooks Can Be Deceiving
"Cozy fans will have fun"
Publishers Weekly on Hooks Can Be Deceiving
Editions
Making It Write by Betty Hechtman is available in the following formats
| | | | | | |
| --- | --- | --- | --- | --- | --- |
| Hardback | 9780727850935 | 2nd August 2022 | 145 X 222mm | 224 | $29.99 |
| Hardback | 9780727850935 | 2nd August 2022 | 145 X 222mm | 224 | £20.99 |
| Ebook | 9781448307524 | 2nd August 2022 | N/A | 224 | $6.99 |
| Ebook | 9781448307524 | 2nd August 2022 | N/A | 224 | £4.99 |
| Paperback | 9781448307531 | 25th April 2023 | 139 X 217mm | 224 | $18.99 |
| Paperback | 9781448307531 | 23rd February 2023 | 139 X 217mm | 224 | £13.99 |
| Format | ISBN | Publication Date | Dimensions | Pages | Price |
The Writer for Hire mystery Series