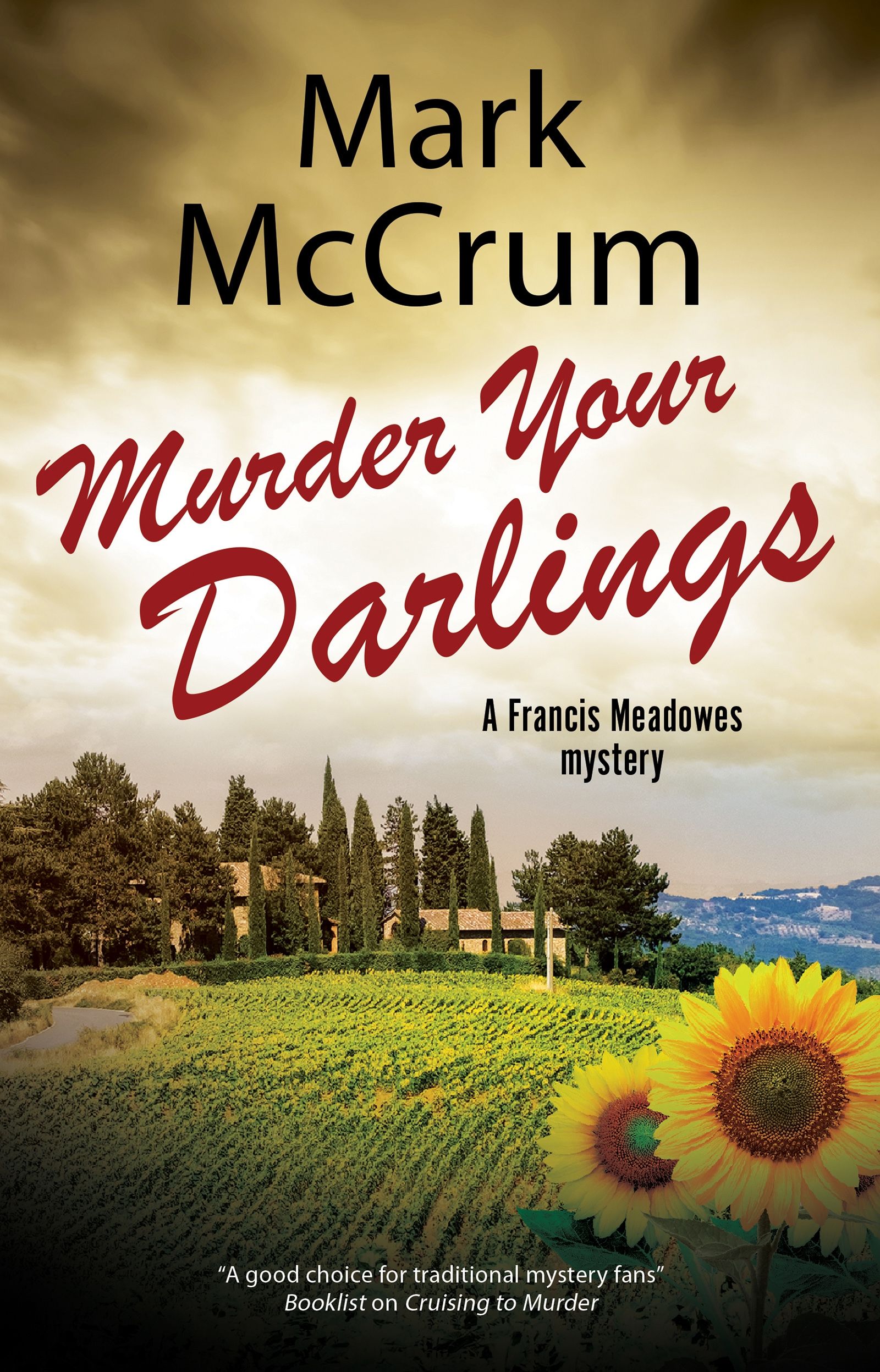 Murder Your Darlings
by Mark McCrum
Crime writer-sleuth Francis Meadowes discovers something dark hiding under the beautiful Umbrian sun when one of his writing group is found dead in Italy.
Francis Meadowes is soaking up the late summer sun in Italy, running a creative writing course at the beautiful Villa Giulia, deep in the remote Umbrian countryside. Recruited by the villa's owners, Stephanie and Gerry, Francis's students include snooty, irritating Poppy and her ex-ambassador husband Duncan, eccentric Northern Irishman Liam, quirky, self-styled 'Hampstead Jewess' Zoe, bossy Scottish Diana, kooky young American Sasha, mysterious 'spy' Tony and restless civil servant Roz.
But what should be a magical week under the Italian sun turns into something far more sinister when one of the group is found dead, and the local police quickly turn to Francis for help. Uncovering betrayal, lies, secrets and old scores to be settled, Francis soon realizes something very dark is lurking beneath the genteel and civilized veneer . . .
Reviews
"A neat twist on the classic English-country-house formula"
Kirkus Reviews
"Amusing ... Readers will have fun"
Publishers Weekly
"Readers will do best to relax and enjoy these quirky characters and their sun-drenched setting"
Booklist
"Those who prefer a traditional whodunnit, in which a limited pool of suspects is gradually eliminated until only the least likely remains feasible, will savour this third instalment in a piquant amateur sleuth series"
Morning Star
"A likable and smart series lead. A good choice for traditional-mystery fans"
Booklist on Cruising to Murder
"Entertaining … [a] riotous abundance of local color and exuberant characters"
Publishers Weekly on Cruising to Murder
"A beautifully judged homage to the golden-age detective novel – and an enjoyable travelogue to boot"
Mail on Sunday (Thrillers of the Month) on Cruising to Murder
"Back in the Golden Age of Detective Fiction … traditionalists will love this book"
Literary Review on Cruising to Murder
"The beautiful Umbrian countryside is wonderfully realised in this latest cosy-crime novel"
Mail on Sunday on Murder Your Darlings
Editions
Murder Your Darlings by Mark McCrum is available in the following formats
Hardback

*

9780727889935
3rd March 2020
145 X 222mm
224
$28.99
Hardback

*

9780727889935
29th November 2019
145 X 222mm
224
£20.99
Ebook

*

9781448303663
1st January 2020
N/A
224
$6.99
Ebook

*

9781448303663
1st January 2020
N/A
224
£4.99
Hardback - Large Print

*

9781780291536
2nd February 2021
146 X 223mm
336
$36.95
Hardback - Large Print

*

9781780291536
29th December 2020
146 X 223mm
336
£22.99
Paperback
9781780296685
23rd February 2021
140 X 220mm
224
$17.95
Paperback

*

9781780296685
31st December 2020
140 X 220mm
224
£12.99
Format
ISBN
Publication Date
Dimensions
Pages
Price
* Out of print
The Francis Meadowes Mystery Series