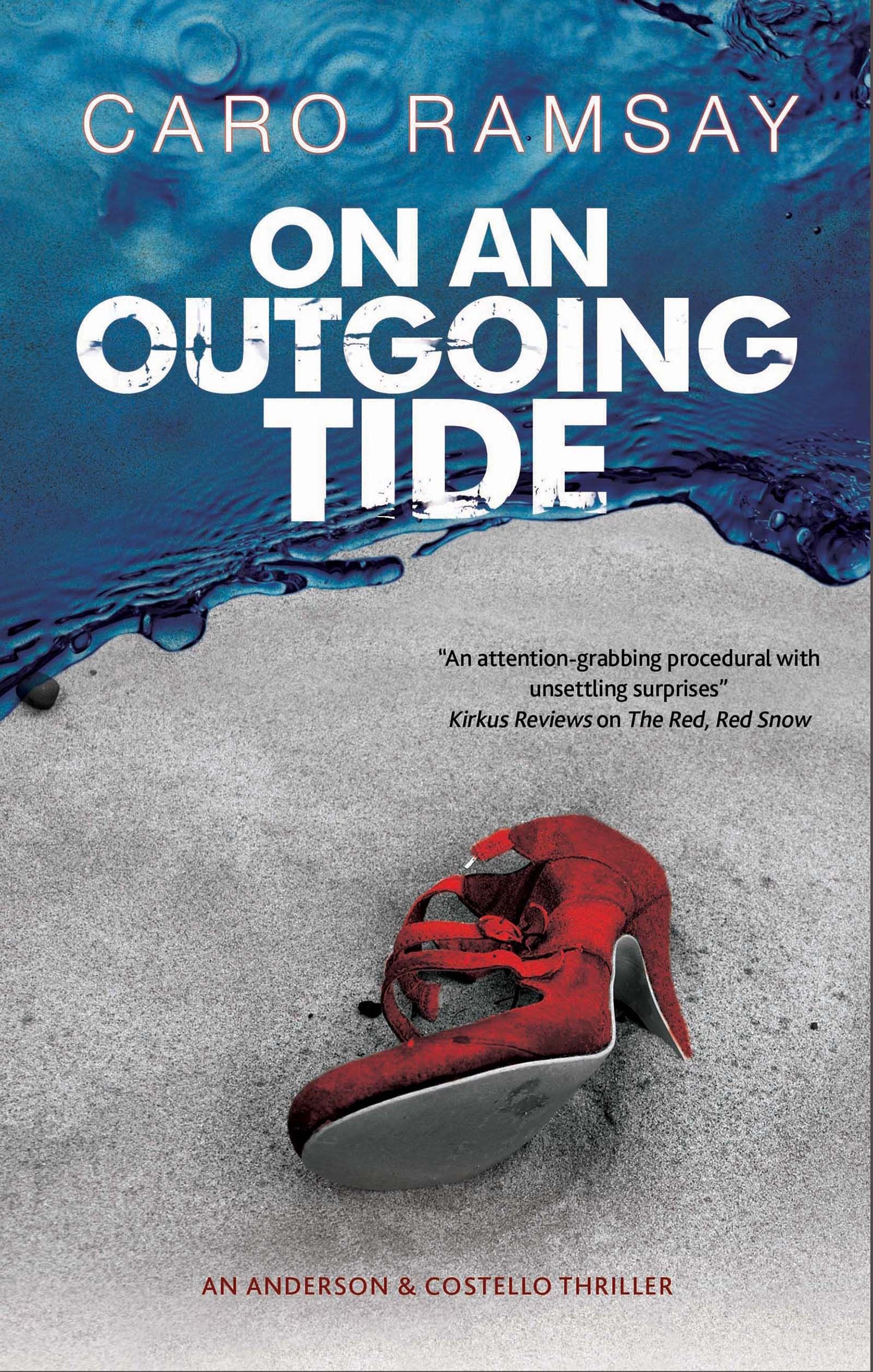 On an Outgoing Tide
by Caro Ramsay
Two murders, forty years apart. What links them? Detectives Anderson & Costello undertake their most baffling investigation to date.
The body is found in the early hours of the morning, drifting lifelessly on the outgoing tide. Twenty-three-year-old medical student Aasha Ariti had been enjoying a night out to celebrate the end of lockdown. Anthony Poole, the last person to have seen her alive, is the prime suspect.
Before detectives Anderson and Costello can make further headway, they are pulled off the case to investigate the murder of a pensioner in his own home. The body of eighty-one-year-old Jimmy Pearcey reveals evidence of prolonged, excruciating torture in the hours before he died. Of one thing DCI Anderson is certain: this killing was very close and very personal. But the victim was a loner, without friends or relatives.
As they dig deeper however, the two detectives uncover a number of secrets in the dead man's past. Secrets that link to another murder more than forty years before. What really happened on 21st June 1978? Someone is determined to ensure that Anderson and Costello never find out. Whatever it takes …
Reviews
"The plot is fast-moving and complex; the characters are quirky, with plenty of foibles; and the outcome is both satisfying and surprising … Fans of British procedurals who don't know Anderson and Costello should remedy that situation quickly"
Booklist
"An incisive novel by the queen of character-driven procedurals"
Kirkus Reviews
"Intricately plotted … Ramsay does a masterly job of weaving the cases together around the theme of lies masquerading as truth. This riveting police procedural is sure to please fans and newcomers alike"
Publishers Weekly
"A well-written police procedural"
Library Journal
"A multifaceted plot, complex characters, and plenty of suspense make this a good pick for fans of British procedurals"
Booklist on The Red, Red Snow
"An attention-grabbing procedural with unsettling surprises"
Kirkus Reviews on The Red, Red Snow
"Gripping ... Pithy dialogue, plenty of wintry Highland atmosphere, and villains that readers will love to hate"
Publishers Weekly on The Red, Red Snow
"A skillfully written thriller with a palpable sense of dread and disaster that will grab readers from the first page through to the shocking conclusion"
Booklist Starred Review of Mosaic
Editions
On an Outgoing Tide by Caro Ramsay is available in the following formats
| | | | | | |
| --- | --- | --- | --- | --- | --- |
| Hardback | 9780727890757 | 6th April 2021 | 148 X 225mm | 256 | $28.99 |
| Hardback | 9780727890757 | 29th January 2021 | 148 X 225mm | 256 | £20.99 |
| Ebook | 9781448305018 | 1st March 2021 | N/A | 256 | $25.99 |
| Ebook | 9781448305018 | 1st March 2021 | N/A | 256 | £18.99 |
| Hardback - Large Print | 9781448308538 | 31st May 2022 | 150 X 225mm | 368 | $36.95 |
| Hardback - Large Print | 9781448308538 | 31st March 2022 | 150 X 225mm | 368 | £22.99 |
| Paperback | 9781780297637 | 29th July 2021 | 120 X 165mm | 256 | £13.99 |
| Paperback | 9781780297637 | 27th September 2021 | 120 X 165mm | 256 | $17.95 |
| Paperback | 9781780297637 | 29th July 2021 | 120 X 165mm | 256 | £12.99 |
| Format | ISBN | Publication Date | Dimensions | Pages | Price |
The Anderson & Costello Mystery Series