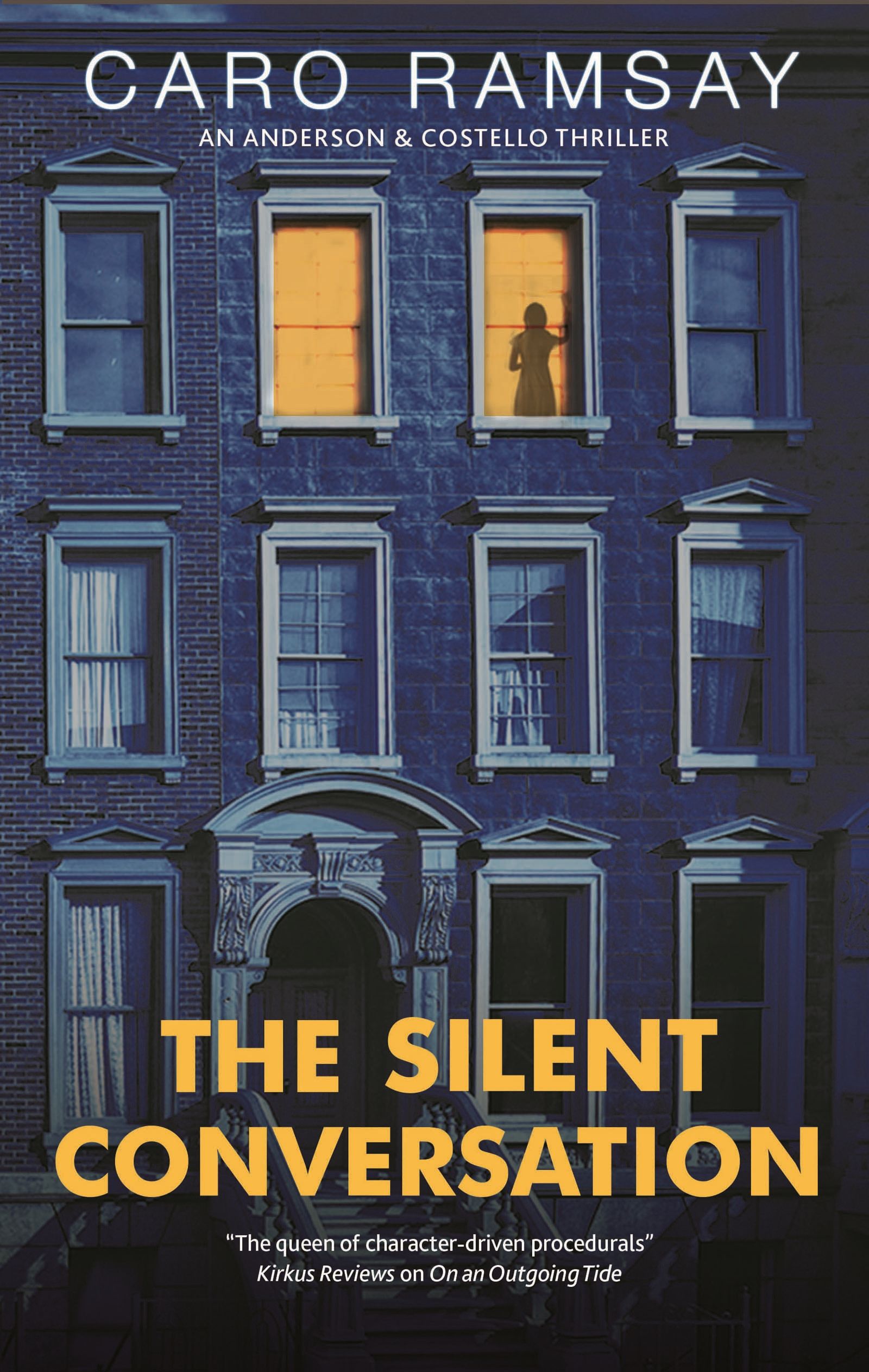 The Silent Conversation
by Caro Ramsay
When DNA evidence links a present-day murder to the disappearance of a young boy four years earlier, detectives Anderson & Costello are plunged into a baffling mystery.
It's been four years since four-year-old Johnny Clearwater disappeared without trace one hot summer afternoon. Now, a new TV documentary series is revisiting the case, dredging up memories perhaps best left forgotten.
On the night the TV show is broadcast, detectives Anderson and Costello are called out to investigate the murder of a female police officer. On arriving at the scene, they discover that nothing about this death is as straightforward as it would appear. What was the victim doing in the garden of the exclusive gated residence where she was found? How did she die? Why is the key witness so reluctant to speak to them? Even the off-duty police officer who was first on the scene isn't telling them everything.
The pressure intensifies when a link is discovered between the dead woman and the disappearance of Johnny Clearwater four years earlier. What secrets are lurking behind the closed doors of this small, exclusive community . . . and what really happened to little Johnny Clearwater?
Reviews
"This is an intelligent nail-biter"
Publishers Weekly
"Intricately plotted ... This riveting police procedural is sure to please fans and newcomers alike"
Publishers Weekly on On an Outgoing Tide
"The plot is fast-moving and complex; the characters quirky, with plenty of foibles, and the outcome is both satisfying and surprising"
Booklist on On an Outgoing Tide
"An incisive novel by the queen of character-driven procedurals"
Kirkus Reviews on On an Outgoing Tide
"A multifaceted plot, complex characters, and plenty of suspense make this a good pick for fans of British procedurals"
Booklist on The Red, Red Snow
"An attention-grabbing procedural with unsettling surprises"
Kirkus Reviews on The Red, Red Snow
"A skillfully written thriller with a palpable sense of dread and disaster that will grab readers from the first page through to the shocking conclusion"
Booklist Starred Review of Mosaic
Editions
The Silent Conversation by Caro Ramsay is available in the following formats
| | | | | | |
| --- | --- | --- | --- | --- | --- |
| Hardback | 9780727890764 | 7th December 2021 | 150 X 225mm | 256 | $28.99 |
| Hardback | 9780727890764 | 30th September 2021 | 150 X 225mm | 256 | £20.99 |
| Ebook | 9781448305957 | 1st November 2021 | N/A | 256 | $10.99 |
| Ebook | 9781448305957 | 1st November 2021 | N/A | 256 | £7.99 |
| Hardback - Large Print | 9781448309184 | 31st January 2023 | 142 X 220mm | 384 | $36.95 |
| Hardback - Large Print | 9781448309184 | 24th November 2022 | 142 X 220mm | 384 | £22.99 |
| Paperback | 9781448305964 | 26th July 2022 | 140 X 218mm | 256 | $17.95 |
| Paperback | 9781448305964 | 26th May 2022 | 140 X 218mm | 256 | £12.99 |
| Format | ISBN | Publication Date | Dimensions | Pages | Price |
The Anderson & Costello Mystery Series