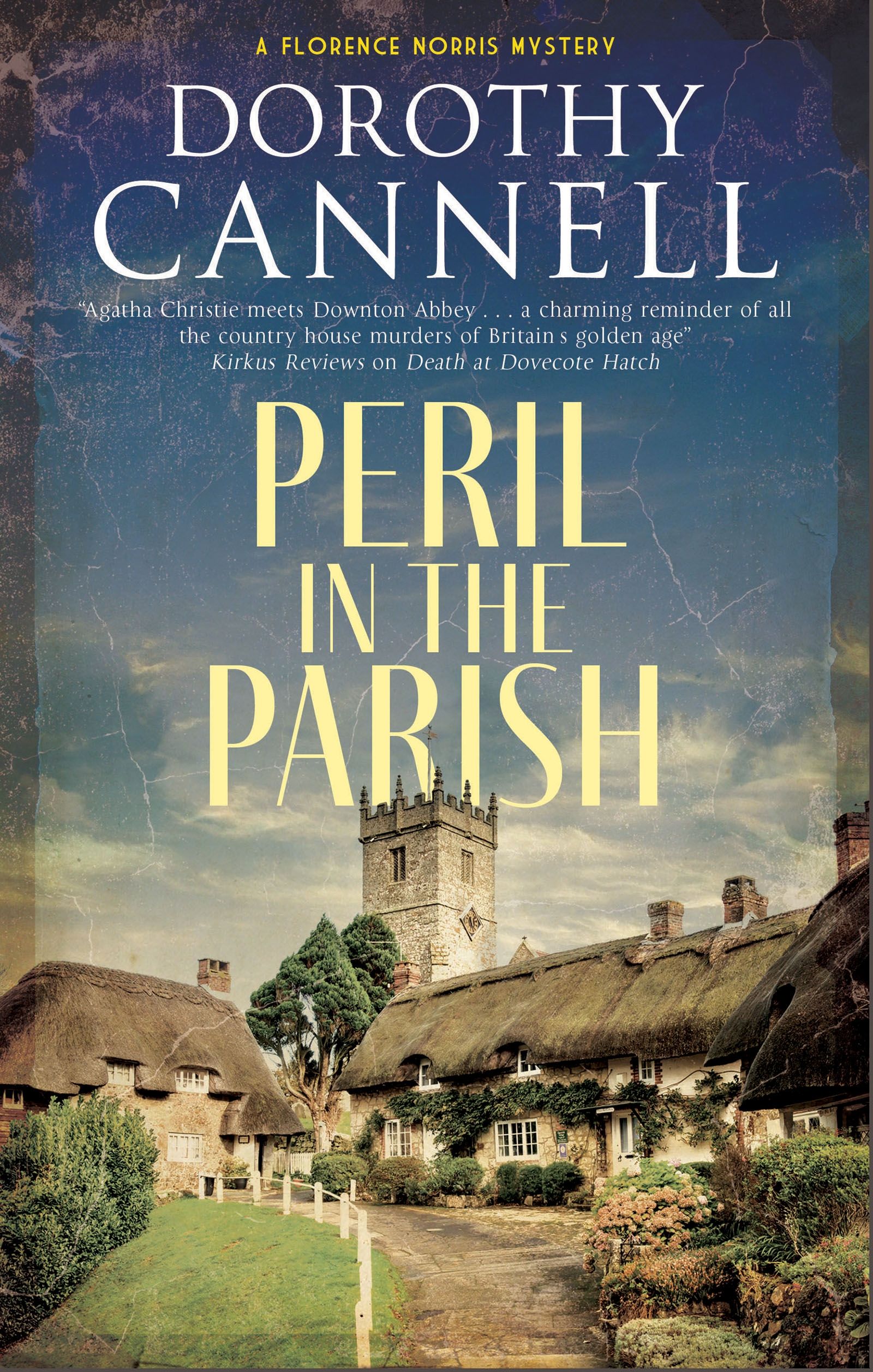 Peril in the Parish
by Dorothy Cannell
Secrets, mystery and wedding bells at Dovecote Hatch!
1933, Dovecote Hatch, England. Florence Norris knows she has found a good man in George 'Birdie' Bird, the landlord of the local pub, The Dog & Whistle. They are set to marry in the parish church of their beloved village of Dovecote Hatch. But when a mysterious stranger seeks out George, sharing family secrets and talks of an illegal burial years ago, an ominous dread falls over the happy couple.
Meanwhile, Agnes Younger, a local recluse whose health is ailing, calls upon her cousin Sophie Dawson to come home. Sophie is relieved to be escaping a scandal, not of her making, but is soon in the thick of something far more dramatic! There may just be a link between Agnes's imminent demise and the poor soul who was buried illegally.
As Florence and George are pulled reluctantly into this mystery, they uncover unpleasant truths and dark entanglements in this idyllic English village. Not everyone is as they seem . . . Will Florence and George have the beautiful church wedding they long for, or will the truth stand in the way of their well-deserved happily ever after?
Reviews
"Fans of traditional British mysteries will find much to like"
Publishers Weekly
"A haunting tale of love, death, and obsession"
Kirkus Reviews
"Agatha Christie meets Downton Abbey in Florence's second case, a charming reminder of all the country house murders of Britain's golden ages"
Kirkus Reviews on Death at Dovecote Hatch
"Cannell offers an Agatha Christie–like whodunit with touches of Olde World England and a soupçon of romance. With a multistranded plot, strong characters, and echoes of Rebecca, this mix of romance and crime will appeal to a wide range of readers."
Booklist on Murder at Mullings
""Downton Abbey fans will pick up on the tone immediately: imagine the ever-reliable Mrs. Hughes narrating a mystery. Stepping away from her long-running Ellie Haskell series, Cannell has created a fascinating and leisurely paced historical, excelling at period details and class distinctions.""
Library Journal on Murder at Mullings
"A strong cast of village characters and an intricate plot will keep cozy fans turning the pages"
Publishers Weekly on Death at Dovecote Hatch
Editions
Peril in the Parish by Dorothy Cannell is available in the following formats
| | | | | | |
| --- | --- | --- | --- | --- | --- |
| Hardback | 9781448308637 | 1st November 2022 | 145 X 223mm | 288 | $29.99 |
| Hardback | 9781448308637 | 1st November 2022 | 145 X 223mm | 288 | £20.99 |
| Ebook | 9781448309672 | 1st November 2022 | N/A | 256 | $14.99 |
| Ebook | 9781448309672 | 1st November 2022 | N/A | 256 | £12.99 |
| Hardback - Large Print | 9781448312672 | 27th February 2024 | 147 X 222mm | 432 | $38.99 |
| Hardback - Large Print | 9781448312672 | 28th December 2023 | 147 X 222mm | 432 | £23.99 |
| Paperback | 9781448309924 | 25th July 2023 | 138 X 21mm | 288 | $18.99 |
| Paperback | 9781448309924 | 25th May 2023 | 138 X 21mm | 288 | £13.99 |
| Format | ISBN | Publication Date | Dimensions | Pages | Price |
The Florence Norris Mystery Series