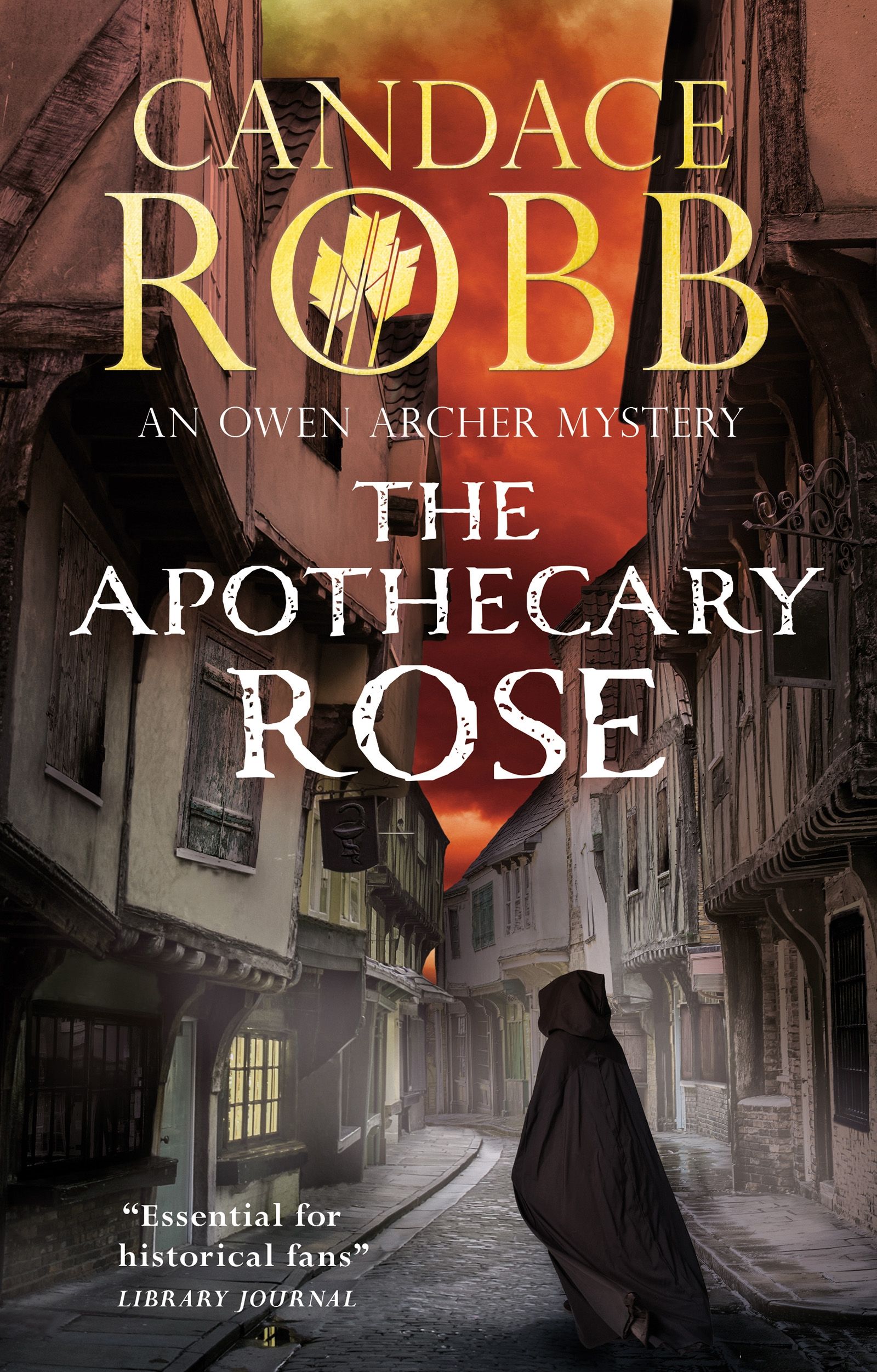 The Apothecary Rose
by Candace Robb
A healing remedy or a deadly poison? Owen Archer confronts a lethal mix of dangerous attraction and troubling secrets when two knights die unexpectedly.

York, 1363. Master apothecary Nicholas Wilton provides a healing potion for a wounded soldier at St Mary's Abbey.
A KILLER CURE?
When Brother Wulfstan administers the special physick to the pilgrim and a fellow knight, tragedy strikes. Is the poisonous potion an accident, or a deliberate act of murder? Owen is sent to investigate by the Archbishop of York, disguised as an apothecary apprentice assisting Wilton's wife, Lucie.
THE SINS OF A KNIGHT
He soon learns that the first victim, Sir Geoffrey Montaigne, travelled to York to atone a past sin, and had crossed paths with Nicholas before. What was the knight's past misdeed, and what is his connection to the apothecary?
IS FORBIDDEN LOVE A DEADLY DRUG?
Owen uncovers troubling links between the knight and others close to Nicholas – including Lucie, who has captured his heart. But is he falling in love with a killer?
Reviews
"Packed with detail that enriches . . . a story full of tension, incident, and emotion"
Kirkus Reviews
"Robb reinforces her place among the top writers of medieval historicals"
Publishers Weekly Starred Review of The Fox in the Fold
"A detailed ramble through 1376 York peopled by a brace of engaging characters"
Kirkus Reviews on The Fox in the Fold
"Magda, who's appeared in many of Owen's adventures, is the rightful star of this tale of murder, betrayal, and superstition"
Kirkus Reviews on The Riverwoman's Dragon
"Gripping and believable…you can almost smell the streets of 14th-century York as you delve deeper into an engrossing plot"
Prima on The Riddle of St. Leonard's
"Recommended for fans of historical writers such as C.J. Sansom, Ellis Peters and Sharon Kay Penman"
Library Journal on A Conspiracy of Wolves
"Meticulously researched, authentic and gripping"
Yorkshire Evening Post on Vigil of Spies
"Robb once again effectively blends crime with the politics of 14th-century England"
Publishers Weekly on A Choir of Crows
"A melange of medieval political plotting . . . Sure to please fans of historical mysteries"
Kirkus Reviews on A Choir of Crows
"A multitude of new and old supporting characters round out the delightful cast and contribute to the twists and turns of the compelling plot"
Booklist on A Conspiracy of Wolves
Editions
The Apothecary Rose by Candace Robb is available in the following formats
| | | | | | |
| --- | --- | --- | --- | --- | --- |
| Ebook | 9781448313235 | 12th December 2023 | N/A | 256 | $4.99 |
| Ebook | 9781448313235 | 12th December 2023 | N/A | 256 | £2.99 |
| Paperback | 9781448313419 | 12th December 2023 | 138 X 216mm | 256 | $18.99 |
| Paperback | 9781448313419 | 12th December 2023 | 138 X 216mm | 256 | £13.99 |
| Format | ISBN | Publication Date | Dimensions | Pages | Price |