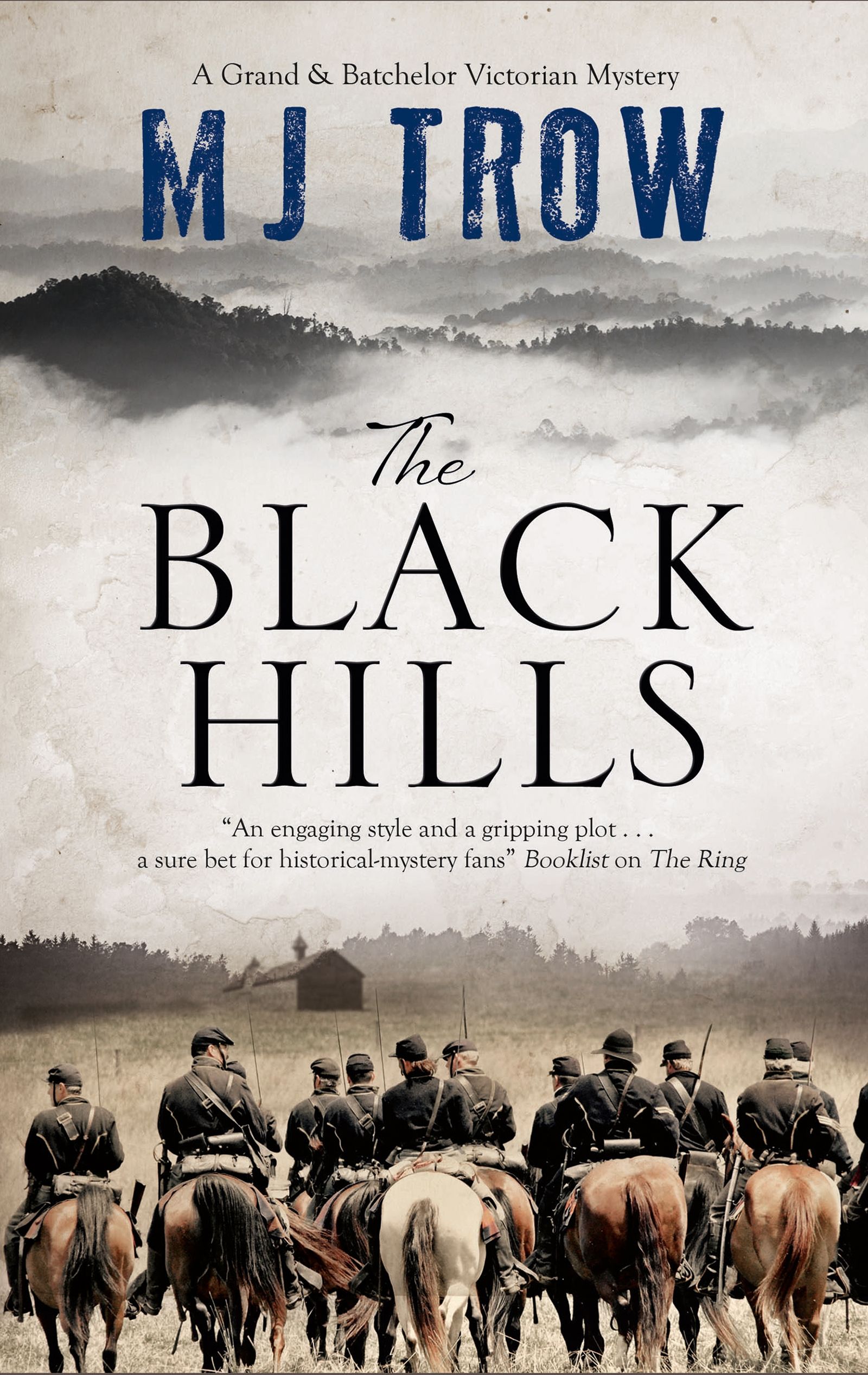 The Black Hills
by M.J. Trow
A Grand & Batchelor Victorian mystery

March, 1875. Although he has never had much time for George Custer, hero of the American Civil War and Commander of the 7th Cavalry, Matthew Grand feels duty bound to respond to a call for help from his West Point contemporary. Arriving at Fort Abraham Lincoln, deep in Dakota territory, private enquiry agents Grand and Batchelor discover the fort to be a powder keg of rumour and suspicion, petty rivalries, resentments – and closely-guarded secrets.
When a body is discovered during a routine scouting patrol, some of those secrets rise uncomfortably close to the surface. Are the Lakota Sioux responsible? Or does the killer lie closer to home? Could it have been a case of mistaken identity – and was Custer himself the real target? The General has made many enemies – but does someone have a good enough reason to kill him?
Reviews
"Another gripping adventure … Realistic depictions of 1800s army life in the West, a gripping story packed with a palpable sense of danger, and a shocker of an ending make for absorbing reading"
Booklist
"Provides juicy portraits of several historic figures"
Kirkus Reviews
"A great adventurous romp and a recommended historical fiction read"
Historical Novel Review
"An engaging style and a gripping plot ... a sure bet for historical-mystery fans"
Booklist on The Ring
"Dickensian portraits of period archetypes and a shrewdly layered puzzle"
Kirkus Reviews on The Ring
"The complex plot is gripping and more than a little chilling - though with agreeable flashes of subtle humor. Trow ... knows to mix period details and distinctive characters in just the right proportions"
Booklist on The Island
"A witty and clever tale"
Kirkus Reviews on The Island
"Good fun, gentle humor, historic detail, plenty of twists, and a likable pair of heroes make this well worth reading"
Booklist on The Angel
Editions
The Black Hills by M.J. Trow is available in the following formats
| | | | | | |
| --- | --- | --- | --- | --- | --- |
| Hardback | 9781780291215 | 7th January 2020 | 146 X 223mm | 224 | $28.99 |
| Hardback | 9781780291215 | 30th September 2019 | 146 X 223mm | 224 | £20.99 |
| Hardback | 9781780291215 | 7th January 2020 | 146 X 223mm | 224 | $28.99 |
| Hardback | 9781780291215 | 30th September 2019 | 146 X 223mm | 224 | £20.99 |
| Ebook | 9781448303502 | 1st November 2019 | N/A | 224 | $10.99 |
| Ebook | 9781448303502 | 1st November 2019 | N/A | 224 | £8.99 |
| Ebook | 9781448303502 | 1st November 2019 | N/A | 224 | $10.99 |
| Ebook | 9781448303502 | 1st November 2019 | N/A | 224 | £7.99 |
| Hardback - Large Print | 9781780291543 | 2nd February 2021 | 147 X 223mm | 304 | $36.95 |
| Hardback - Large Print | 9781780291543 | 29th December 2020 | 147 X 223mm | 304 | £22.99 |
| Hardback - Large Print | 9781780291543 | 2nd February 2021 | 147 X 223mm | 304 | $36.95 |
| Hardback - Large Print | 9781780291543 | 29th December 2020 | 147 X 223mm | 304 | £22.99 |
| Paperback | 9781780296517 | 27th April 2021 | 135 X 215mm | 224 | $17.95 |
| Paperback | 9781780296517 | 26th February 2021 | 135 X 215mm | 224 | £12.99 |
| Paperback | 9781780296517 | 27th April 2021 | 135 X 215mm | 224 | $17.95 |
| Paperback | 9781780296517 | 26th February 2021 | 135 X 215mm | 224 | £12.99 |
| Format | ISBN | Publication Date | Dimensions | Pages | Price |
The Grand & Batchelor Victorian Mystery Series