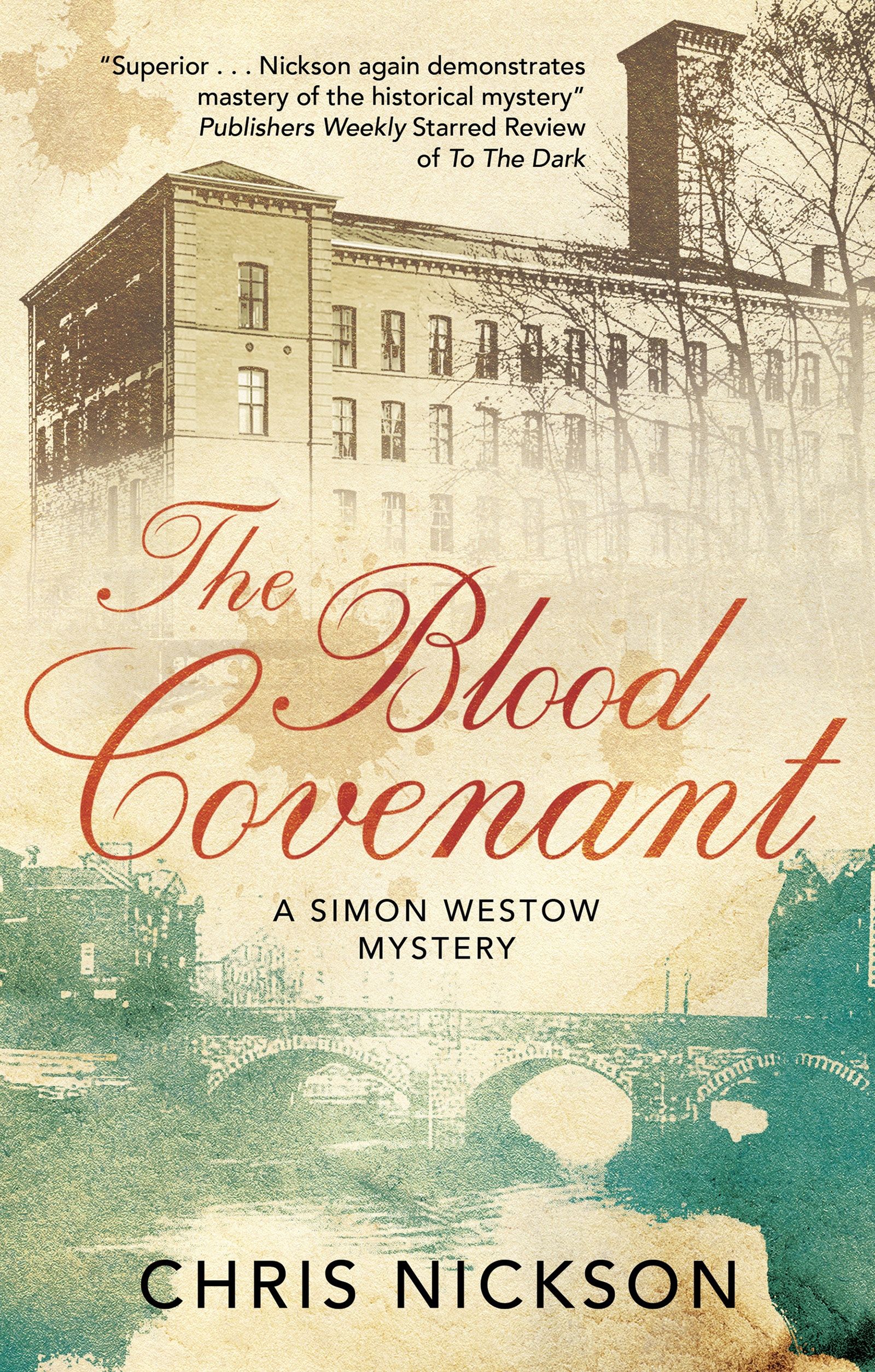 The Blood Covenant
by Chris Nickson
The brutal deaths of two young boys and a young man connected to a mill in Leeds propel thief-taker Simon Westow into a disturbing, twisty mystery that recalls his own traumatic past.
"Nickson does a superb job using the grim living and working conditions for the city's poor as a backdrop for a memorable and affecting plot. James Ellroy fans will be enthralled" – Publishers Weekly Starred Review
Leeds. October, 1823. When a doctor from the infirmary tells thief-taker Simon Westow about the brutal deaths of two young boys at the hands of a mill overseer, Simon's painful memories of his childhood reawaken. Unable to sleep, he goes for a walk – and stumbles upon the body of a young man being pulled from the river.
Simon and his assistant, Jane, are drawn into investigating the deaths, seeking a measure of justice for the powerless dead. But the pursuit of the truth takes them down a dangerous and deadly path. Can they overcome a powerful enemy who knows he stands above the law in Leeds – and the shadowy figure that stands behind him?
Reviews
"Nickson does a superb job using the grim living and working conditions for the city's poor as a backdrop for a memorable and affecting plot. James Ellroy fans will be enthralled"
Publishers Weekly Starred Review
"A gritty tale of perseverance, cruelty, rage, and redemption not for the faint of heart"
Kirkus Reviews
"A fine choice for fans of British historical mysteries"
Booklist
"Superior … The whodunit is enhanced by a grim portrait of life on the streets, embodied in a homeless child whom Jane befriends. Nickson again demonstrates mastery of the historical mystery"
Publishers Weekly Starred Review of To The Dark
"Another cleverly detailed mystery thick with historical atmosphere and nuanced characters"
Kirkus Reviews on To The Dark
"For readers who appreciate realistic historical atmosphere and details of the sometimes grim life in a 19th-century factory town. Fans of Jeri Westerson's "Crispin Guest" series will appreciate the mystery and ambiance"
Library Journal on To The Dark
"Another strong entry in a consistently satisfying series. Fine writing, a carefully crafted story, unexpected plot twists, plenty of human interest, and authentic descriptions of life in nineteenth-century Leeds make this a book with broad appeal for mystery fans"
Booklist on To The Dark
"Outstanding ... Historical mysteries don't get much better than this"
Publishers Weekly Starred Review of The Hocus Girl
"This historical tour de force reminds readers who come for the mystery that life hasn't changed for the disenfranchised"
Kirkus Reviews Starred Review of The Hocus Girl
Editions
The Blood Covenant by Chris Nickson is available in the following formats
| | | | | | |
| --- | --- | --- | --- | --- | --- |
| Hardback | 9780727850485 | 1st March 2022 | 145 X 225mm | 224 | $28.99 |
| Hardback | 9780727850485 | 30th December 2021 | 145 X 225mm | 224 | £20.99 |
| Ebook | 9781448307227 | 1st February 2022 | N/A | 224 | $14.99 |
| Ebook | 9781448307227 | 1st February 2022 | N/A | 224 | £12.99 |
| Format | ISBN | Publication Date | Dimensions | Pages | Price |
The Simon Westow mystery Series