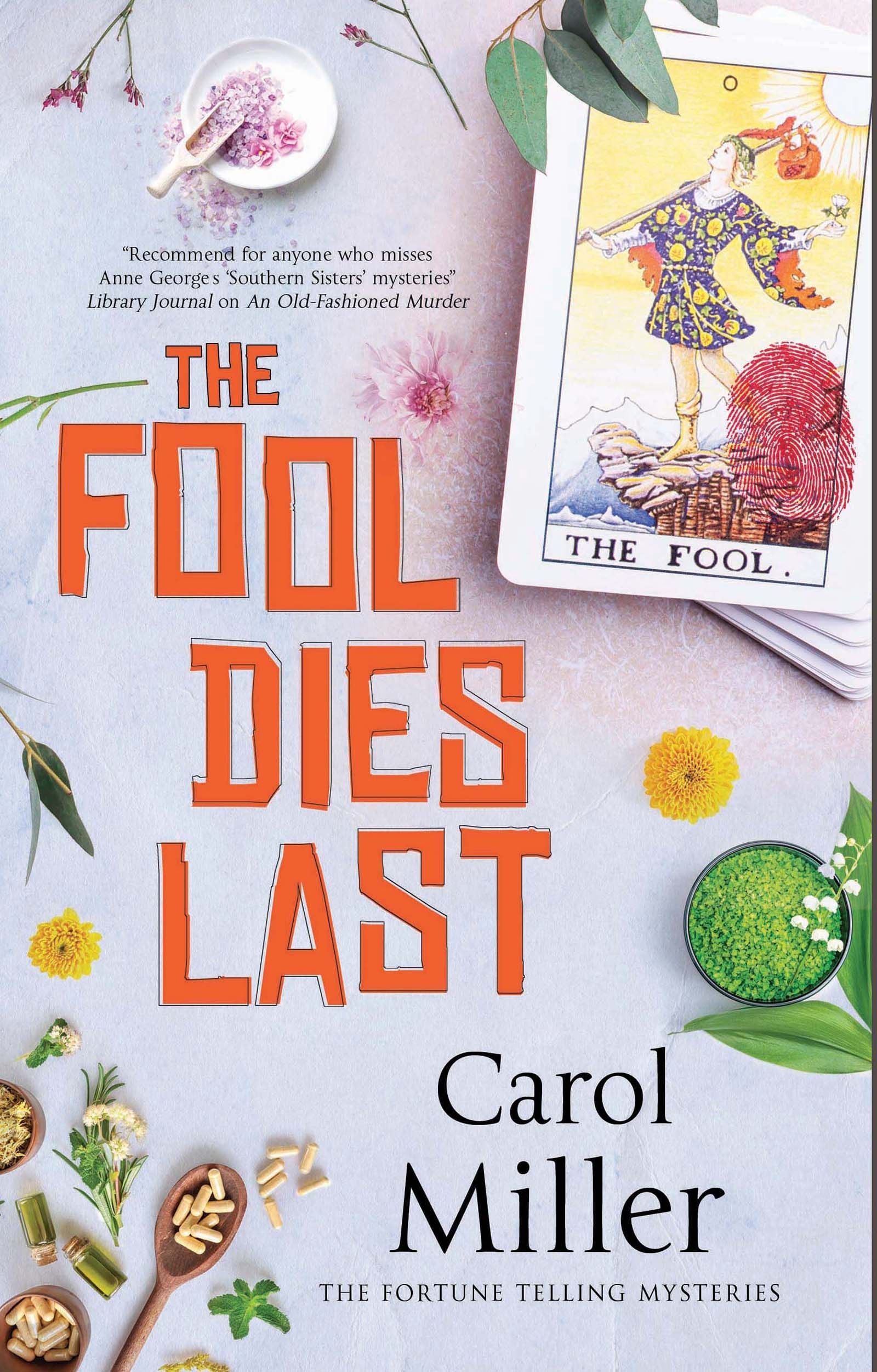 The Fool Dies Last
by Carol Miller
The Bailey sisters may be the only ones able to interpret the meaning behind a bizarre series of murders in the first entry in the hilarious The Fortune Telling Mysteries series.
Sisters Hope and Summer Bailey run Bailey's Boutique, a mystic shop in Asheville, North Carolina. While Hope's performing a palm reading a local doctor, Dylan Henshaw, bursts in accusing them of trying to kill his patient with a tincture.
During the confrontation the sisters' grandmother, Gram, interrupts: one of her friends has died suddenly. It looks like a simple allergic reaction . . . but why is there a solitary Tarot card – the Fool – with the body? When another of Gram's friends dies in similar circumstances, and in possession of a Fool card, it's surely no coincidence. What ties the victims together and could Gram be next?
Although Hope is hesitant to read the Tarot again following a recent tragedy, she might be the only one capable of deciphering the clues. Can she overcome her fear and uncover the card's meaning before the killer strikes again?
Reviews
"Ghosts in the attic, smokescreens, wacky characters, and a vengeful killer add up to good fun for cozy fans"
Booklist
"Fans of humorous cozies with a little mysticism will want to try this one"
Library Journal
"Pleasing characters spark the first entry in an often amusing mystery/romance series"
Kirkus Reviews
"Fans of Steven Hockensmith's Tarot mystery series may want to check out this cozy"
Publishers Weekly
"Miller adds an alluring Southern flavor to the classic country house whodunit. Her characters are lighthearted, and the dialog is quite clever ... Recommend for anyone who misses Anne George's 'Southern Sisters' mysteries"
Library Journal on An Old-Fashioned Murder
"The third in the Moonshine Mystery series [involves] a lively closed-house murder"
Booklist on An Old-Fashioned Murder
"Fans of mysteries set in rural Southern communities will identify with Miller's characters"
Library Journal on A Nip of Murder
Booklist on A Nip of Murder
Kirkus Reviews on A Nip of Murder
Editions
The Fool Dies Last by Carol Miller is available in the following formats
| | | | | | |
| --- | --- | --- | --- | --- | --- |
| Hardback | 9780727823038 | 5th April 2022 | 145 X 224mm | 224 | $28.99 |
| Hardback | 9780727823038 | 27th January 2022 | 145 X 224mm | 224 | £20.99 |
| Ebook | 9781448308408 | 1st March 2022 | N/A | 224 | $14.99 |
| Ebook | 9781448308408 | 1st March 2022 | N/A | 224 | £12.99 |
| Hardback - Large Print | 9781448311576 | 29th August 2023 | 146 X 222mm | 320 | $38.99 |
| Hardback - Large Print | 9781448311576 | 11th July 2023 | 146 X 222mm | 320 | £23.99 |
| Paperback | 9781448308415 | 29th November 2022 | 135 X 215mm | 224 | $17.95 |
| Paperback | 9781448308415 | 29th September 2022 | 135 X 215mm | 224 | £12.99 |
| Format | ISBN | Publication Date | Dimensions | Pages | Price |
The Fortune Telling Mysteries Series