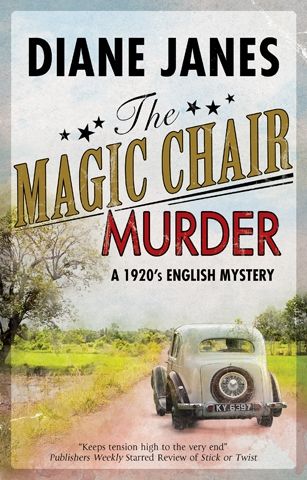 The Magic Chair Murder
by Diane Janes
A Black and Dod historical mystery

1929. The night before she's due to make a speech to the Robert Barnaby Society on the subject of the famous writer's 'magic chair', committee member Linda Dexter disappears. When her body is discovered two days later, fellow members Frances Black and Tom Dod determine to find out the truth about her death.
Could Linda have discovered something about Robert Barnaby that got her killed? Or does the answer lie in the dead woman's past? As they pursue their investigations, Fran and Tom find the Barnaby Society to be a hotbed of clashing egos, seething resentments and ill-advised love affairs – but does a killer lurk among them?
Editions
The Magic Chair Murder by Diane Janes is available in the following formats
Hardback

*

9780727887597
1st March 2018
146 X 224mm
224
$28.99
Hardback

*

9780727887597
30th November 2017
146 X 224mm
224
£20.99
Paperback

*

9781847518750
1st July 2019
140 X 215mm
224
$17.95
Paperback

*

9781847518750
30th April 2019
140 X 215mm
224
£12.99
Format
ISBN
Publication Date
Dimensions
Pages
Price
* Out of print
The Black & Dod Mystery Series