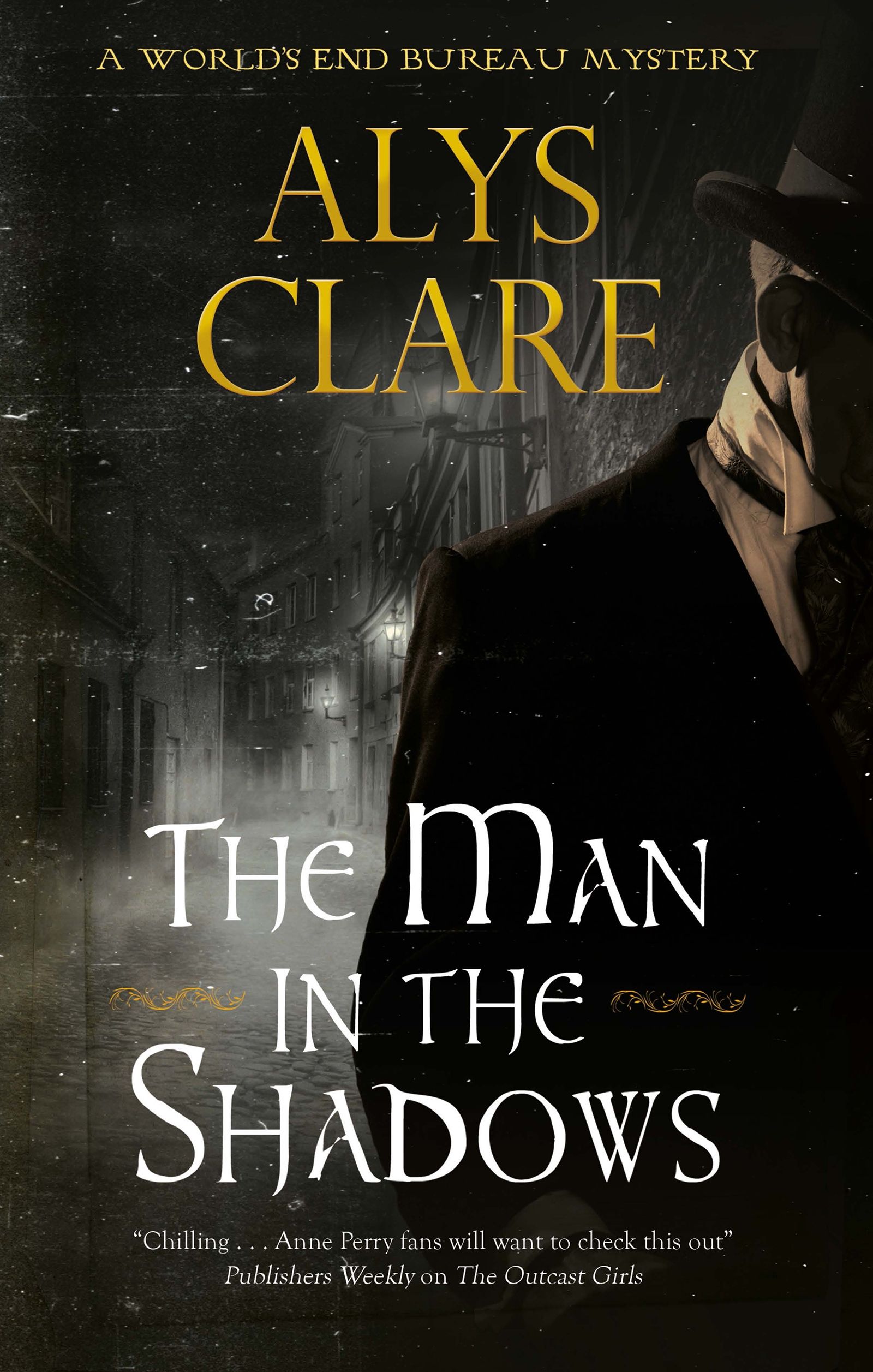 The Man in the Shadows
by Alys Clare
Private investigators Lily Raynor and Felix Wilbraham tackle a puzzling miscarriage of justice and the curious case of a missing child, in the new, gripping World's End Bureau Victorian mystery.
London, August 1881. After a difficult few months, the World's End Investigation Bureau is thriving. Affairs, sex scandals, divorces . . . Lily Raynor is delighted to have so much work for herself and her capable assistant, Felix Wilbraham, but she can't help wishing for a case that doesn't involve the rich, over-indulged – and not terribly moral – upper classes. It's a wish she soon has cause to regret.
The Reverend James Jellicote arrives at the Bureau, seeking help on behalf of an elderly Jewish refugee who fled the pogroms in Russia. Yelisaveta and her young grandson arrived safely in London, only for the unspeakable to happen: eleven-year-old Yakov disappeared, without a trace. The case is impossible to refuse, but seems equally impossible to solve.
And troubles don't come alone. Soon, Lily and Felix have another impossible puzzle on their hands. Hop-picker Abel Spokewright was hanged last year for murder, but his brother Jared is determined to clear his name. If Abel didn't kill cheerful, pretty dairymaid Effie, though, who did? Only one thing's certain: the murderer isn't going to be happy about having the past raked up . . .
Reviews
"Anne Perry fans will want to check this out"
Publishers Weekly on The Outcast Girls
"Mystery and social commentary combine in a heartbreaking and sadly relevant tale"
Kirkus Reviews on The Outcast Girls
"Impressive . . . the solid plotting, colorful Victorian settings, and fun detective duo bode well for future instalments"
Publishers Weekly on The Woman Who Spoke to Spirits
"Engaging, dark, atmospheric, and, at times, quite charming and humorous . . . A fine choice for all mystery collections"
Booklist on The Woman Who Spoke to Spirits
"The author's writing style, likable characters, and intriguing plot will draw in readers . . . Recommended for historical and traditional mystery lovers"
Library Journal on The Woman Who Spoke to Spirits
Kirkus Reviews on The Woman Who Spoke to Spirits
Editions
The Man in the Shadows by Alys Clare is available in the following formats
| | | | | | |
| --- | --- | --- | --- | --- | --- |
| Hardback | 9780727823045 | 2nd August 2022 | 147 X 223mm | 256 | $29.99 |
| Hardback | 9780727823045 | 2nd August 2022 | 147 X 223mm | 256 | £20.99 |
| Ebook | 9781448307487 | 2nd August 2022 | N/A | 256 | $14.99 |
| Ebook | 9781448307487 | 2nd August 2022 | N/A | 256 | £12.99 |
| Hardback - Large Print | 9781448311552 | 29th August 2023 | 160 X 240mm | 352 | $38.99 |
| Hardback - Large Print | 9781448311552 | 11th July 2023 | 160 X 240mm | 352 | £23.99 |
| Paperback | 9781448307494 | 28th November 2023 | 138 X 216mm | 256 | $18.99 |
| Paperback | 9781448307494 | 31st August 2023 | 138 X 216mm | 256 | £13.99 |
| Format | ISBN | Publication Date | Dimensions | Pages | Price |
The World's End Bureau Mystery Series