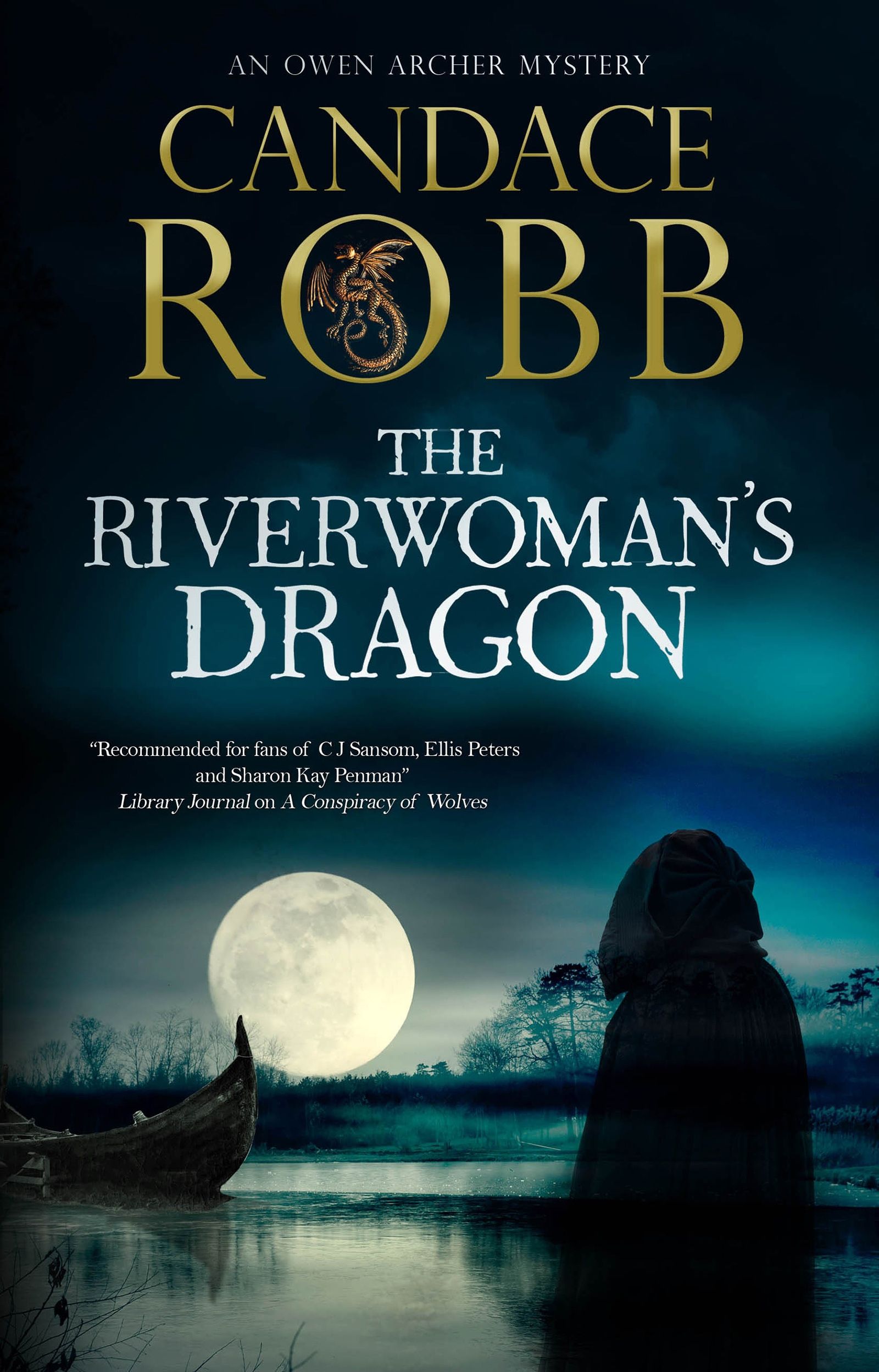 The Riverwoman's Dragon
by Candace Robb
When the wise woman Magda Digby is suspected of murder, Owen Archer sets out to prove her innocence in this intricately plotted medieval mystery.
May, 1375. Owen Archer returns from London to find York in chaos. While the citizens are living in terror of the pestilence which is spreading throughout the land, a new physician has arrived, whipping up fear and suspicion against traditional healers and midwives. With the backing of the new archbishop, he is especially hostile towards Magda Digby, the wise woman who has helped and healed the people of York for many years. At the same time, Magda is uneasy about the arrival of two long-lost kinsfolk. Though they say they are seeking her help, she senses a hidden agenda.
Magda's troubles deepen when she discovers a body in the river near her home – and finds herself under suspicion of murder. Days later, fire rips through a warehouse in the city. Amongst the charred debris lies the body of a man – not burned, but stabbed in the back. Could there be a connection to the corpse in the river?
Determined to prove Magda's innocence, Owen sets out to find answers – but the more he uncovers, the deeper the mystery becomes . . .
Reviews
"Magda, who's appeared in many of Owen's adventures, is the rightful star of this tale of murder, betrayal, and superstition"
Kirkus Reviews
"This is a highlight in a solid series"
Publishers Weekly
"Robb once again effectively blends crime with the politics of 14th-century England"
Publishers Weekly on A Choir of Crows
"A melange of medieval political plotting ... Sure to please fans of historical mysteries"
Kirkus Reviews on A Choir of Crows
"History and mystery combine in a fine, complex tale of love and hate"
Kirkus Reviews on A Conspiracy of Wolves
"A multitude of new and old supporting characters round out the delightful cast and contribute to the twists and turns of the compelling plot"
Booklist on A Conspiracy of Wolves
"Recommended for fans of historical writers such as C.J. Sansom, Ellis Peters and Sharon Kay Penman"
Library Journal on A Conspiracy of Wolves
Editions
The Riverwoman's Dragon by Candace Robb is available in the following formats
| | | | | | |
| --- | --- | --- | --- | --- | --- |
| Hardback | 9781780291369 | 2nd November 2021 | 145 X 225mm | 256 | $28.99 |
| Hardback | 9781780291369 | 26th August 2021 | 145 X 225mm | 256 | £20.99 |
| Ebook | 9781448305636 | 1st October 2021 | N/A | 256 | $14.99 |
| Ebook | 9781448305636 | 1st October 2021 | N/A | 256 | £12.99 |
| Hardback - Large Print | 9781448309566 | 28th February 2023 | 146 X 224mm | 384 | $36.95 |
| Hardback - Large Print | 9781448309566 | 29th December 2022 | 146 X 224mm | 384 | £22.99 |
| Paperback | 9781780298252 | 28th June 2022 | 140 X 216mm | 256 | $17.95 |
| Paperback | 9781780298252 | 28th April 2022 | 140 X 216mm | 256 | £13.99 |
| Format | ISBN | Publication Date | Dimensions | Pages | Price |
The Owen Archer mystery Series