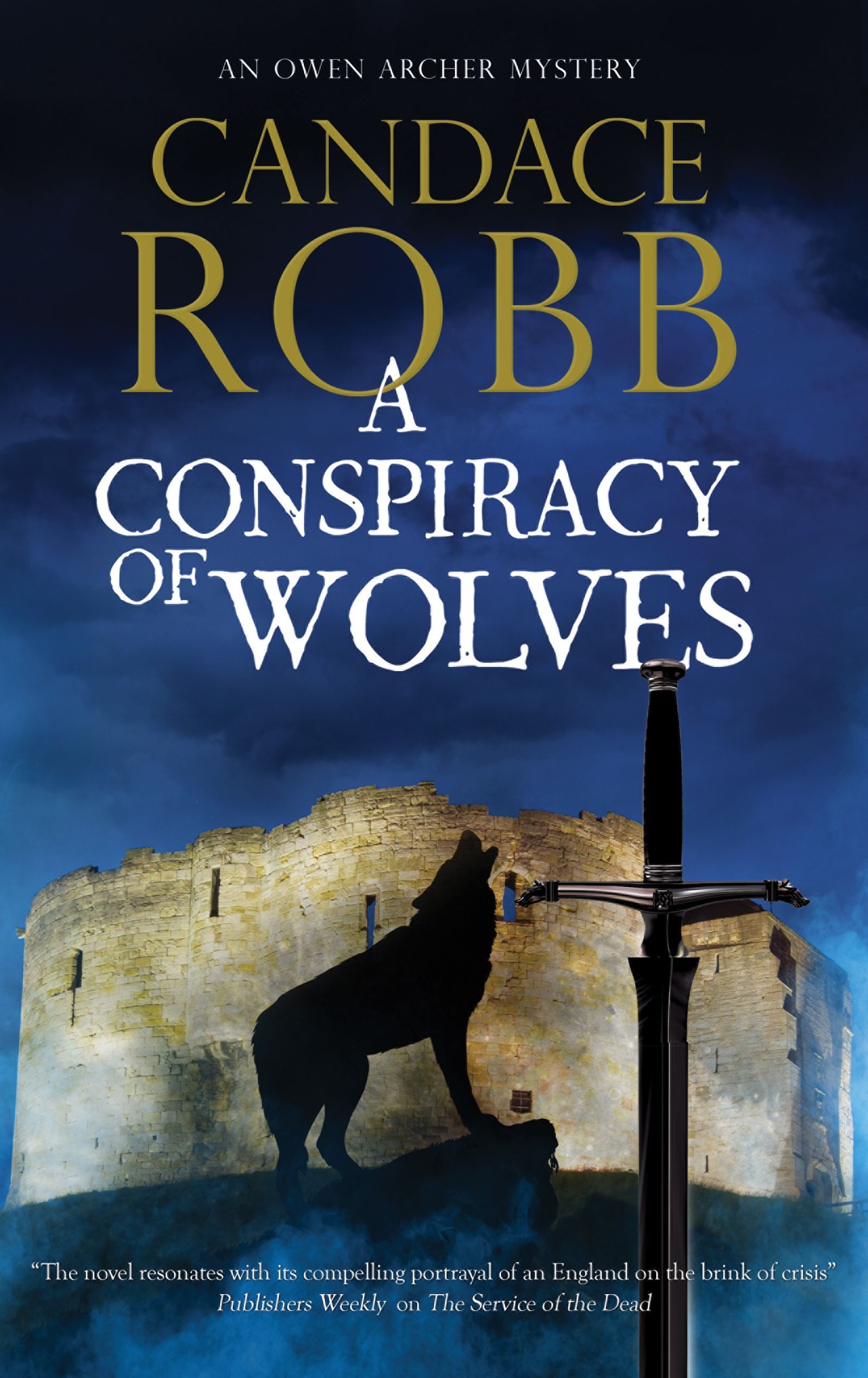 A Conspiracy of Wolves
by Candace Robb
When a prominent citizen is murdered, former Captain of the Guard Owen Archer is persuaded out of retirement to investigate in this gripping medieval mystery.
1374. When a member of one of York's most prominent families is found dead in the woods, his throat torn out, rumours spread like wildfire that wolves are running loose throughout the city. Persuaded to investigate by the victim's father, Owen Archer is convinced that a human killer is responsible. But before he can gather sufficient evidence to prove his case, a second body is discovered, stabbed to death. Is there a connection? What secrets are contained within the victim's household? And what does apprentice healer Alisoun know that she's not telling?
Teaming up with Geoffrey Chaucer, who is in York on a secret mission on behalf of Prince Edward, Owen's enquiries will draw him headlong into a deadly conspiracy.
Reviews
"A multitude of new and old supporting characters … round out the delightful cast and contribute to the twists and turns of the compelling plot"
Booklist
"History and mystery combine in a fine, complex tale of love and hate"
Kirkus Reviews
"Atmospheric … Alisoun raises the novel's energy whenever she appears"
Publishers Weekly
"Recommended for fans of other historical writers such as C.J. Sansom, Ellis Peters, and Sharon Kay Penman"
Library Journal
Editions
A Conspiracy of Wolves by Candace Robb is available in the following formats
| | | | | | |
| --- | --- | --- | --- | --- | --- |
| Hardback | 9781780291154 | 1st August 2019 | 145 X 223mm | 256 | $28.99 |
| Hardback | 9781780291154 | 30th April 2019 | 145 X 223mm | 256 | £20.99 |
| Ebook | 9781448302246 | 1st June 2019 | N/A | 288 | $6.99 |
| Ebook | 9781448302246 | 1st June 2019 | N/A | 288 | £4.99 |
| Hardback - Large Print | 9780727892423 | 31st March 2020 | 145 X 222mm | 368 | $36.95 |
| Hardback - Large Print | 9780727892423 | 31st January 2020 | 145 X 222mm | 368 | £23.99 |
| Paperback | 9781780296074 | 7th April 2020 | 138 X 217mm | 256 | $17.95 |
| Paperback | 9781780296074 | 31st January 2020 | 138 X 217mm | 256 | £13.99 |
| Format | ISBN | Publication Date | Dimensions | Pages | Price |
The Owen Archer mystery Series