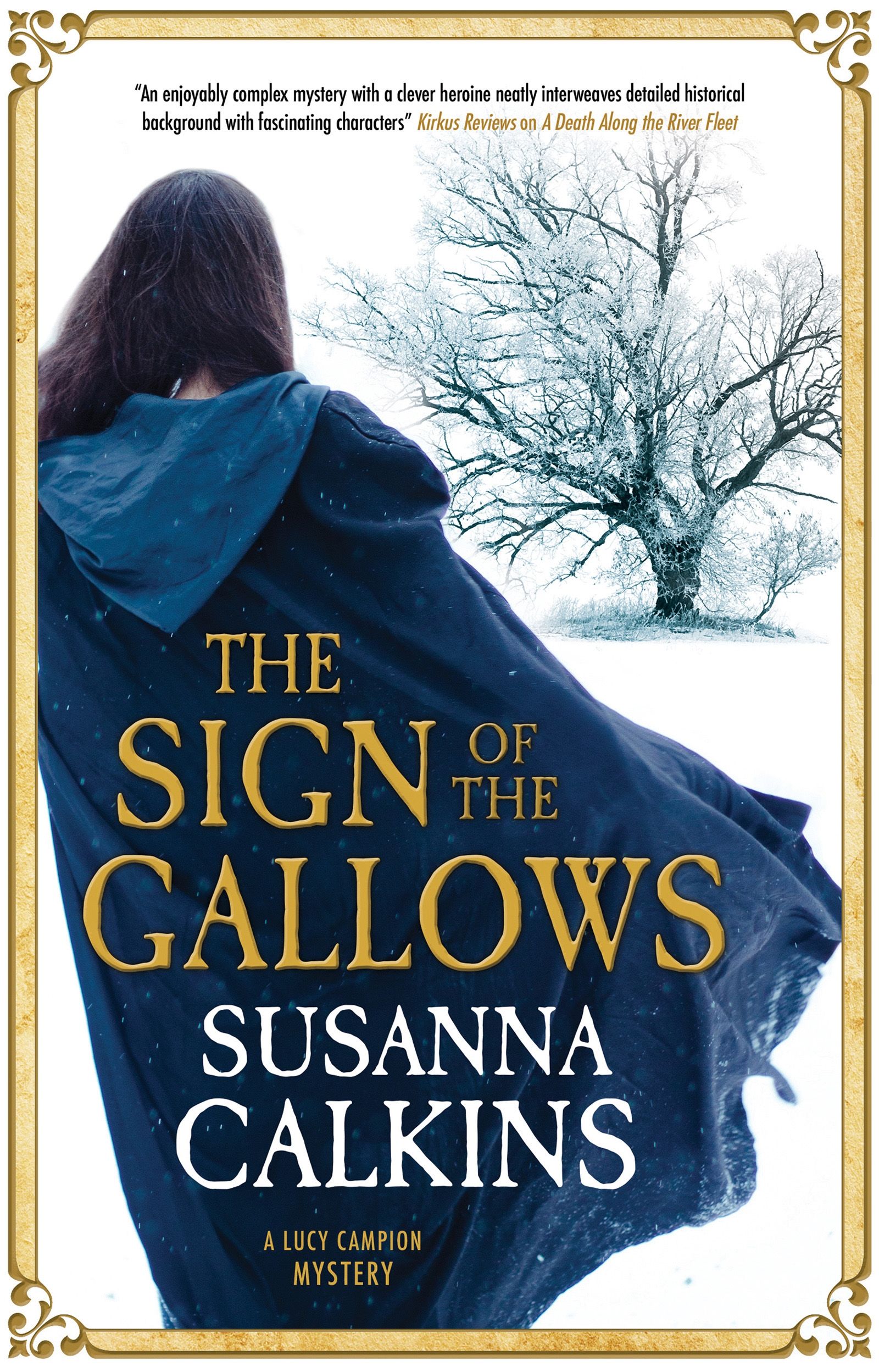 The Sign of the Gallows
by Susanna Calkins
A dead man at a crossroads. A secret message. A ring with a warning about death . . . Printer's apprentice Lucy Campion is caught up in a strange and puzzling murder case in this twisty historical mystery set in seventeenth-century London.
London, 1667. On her way to a new market to peddle her True Accounts and Strange News, printer's apprentice Lucy Campion quickly regrets her decision to take the northwestern road. Dark and desolate, the path leads her to the crossroads – and to the old hanging tree. She doesn't believe in ghosts, but she's not sure ghosts don't believe in her.
But before she even reaches the crossroads, she's knocked off her feet by two men in a hurry. What were they running from? To her dismay, she soon discovers for herself: there, dangling from the tree, is the body of a man.
Did he commit self-murder, or is there something darker afoot? The more Lucy learns, the more determined she is to uncover the truth. But this time, even the help and protection of magistrate's son Adam, and steadfast Constable Duncan, may not be enough to keep her safe from harm . . .
Reviews
"A crisply written, cleverly plotted, and nicely detailed historical mystery, with a lively heroine and a satisfying ending"
Booklist
"Lavish period detail, romantic tension, and a complex puzzle make the heroine's fifth adventure one of her best"
Kirkus Reviews
"Calkins makes fine use of advances in mathematics and cryptography of this period, while also drawing in the chaos of the Great Fire and plague in London as agents of change in society. For anyone interested in 17th-century England, this mystery is a treat"
Publishers Weekly
"Calkins is an excellent storyteller and draws the reader into Lucy's world effortlessly ... This is a wonderful series, a really wonderful array of characters, and best of all a great mystery at the center of things"
Aunt Agatha's Bookstore
"An enjoyably complex mystery with a clever heroine neatly interweaves detailed historical background with fascinating characters"
Kirkus Reviews on A Death Along the River Fleet
"An involving tale. Solid historical mystery, with intriguing hints about the future"
Booklist on A Death Along the River Fleet
"This fourth series entry stands well on its own . . . A nice option for devotees of Anne Rutherford and Samuel Thomas"
Library Journal on A Death Along the River Fleet
"Absorbing . . . Calkins' tantalizing clues and rich historical details depicting everyday life and class differences draw readers into the seventeenth century"
Booklist on The Masque of a Murderer
"Assured . . . Calkins's familiarity with the period and her use of obscure details, such as the fire court set up to adjudicate claims after the Great Fire of 1666, are a plus"
Publishers Weekly on The Masque of a Murderer
Editions
The Sign of the Gallows by Susanna Calkins is available in the following formats
| | | | | | |
| --- | --- | --- | --- | --- | --- |
| Hardback | 9780727889560 | 2nd February 2021 | 150 X 220mm | 240 | $28.99 |
| Hardback | 9780727889560 | 30th November 2020 | 150 X 220mm | 240 | £20.99 |
| Ebook | 9781448304691 | 1st January 2021 | N/A | 240 | $14.99 |
| Ebook | 9781448304691 | 1st January 2021 | N/A | 240 | £12.99 |
| Hardback - Large Print | 9781448308699 | 28th June 2022 | 145 X 224mm | 336 | $36.95 |
| Hardback - Large Print | 9781448308699 | 28th April 2022 | 145 X 224mm | 336 | £22.99 |
| Paperback | 9781780297415 | 27th July 2021 | 140 X 215mm | 240 | $17.95 |
| Paperback | 9781780297415 | 31st May 2021 | 140 X 215mm | 240 | £13.99 |
| Format | ISBN | Publication Date | Dimensions | Pages | Price |
The Lucy Campion Mystery Series